Achievements and announcements
Congratulations to Jamie Voyles, Ph.D. on receiving the College of Science's Hyung Shin Research Award!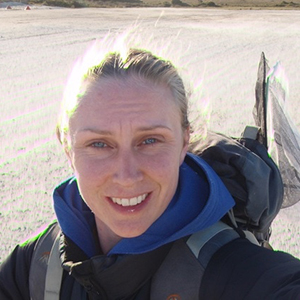 Congratulations to Dr. Jamie Voyles on receiving the College of Science's Hyung Shin Research Award for her outstanding research in the College of Science during the past three years (2017-2019). Dr. Voyles' disease ecology work focuses on the effects of chytrid fungi on amphibian populations, an important area of research as the disease has been implicated in amphibian population declines worldwide. Her hard work and remarkable science is clear from a variety of metrics, including articles published in Science, PNAS, and other excellent journals; more than 3600 citations; over $5 million in extramural research funding, including a highly prestigious NSF CAREER award; and media coverage from more than 50 media outlets.
Congratulations to Matt Forister on his recognition as Foundation Professor, one of the UNR's most prestigious awards!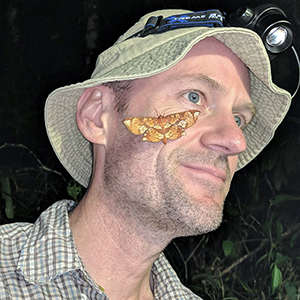 "Matt is an outstanding teacher and mentor, an amazing researcher, and a fantastic departmental citizen. He has extensive extramural funding and has published more than 100 papers. His papers have been cited more than 6000 times including more than 800 times in 2019 alone.... Anyone who knows Matt knows that he is an extraordinary colleague. His selection as Foundation Professor is very well deserved." - Jack Hayes, Department Chair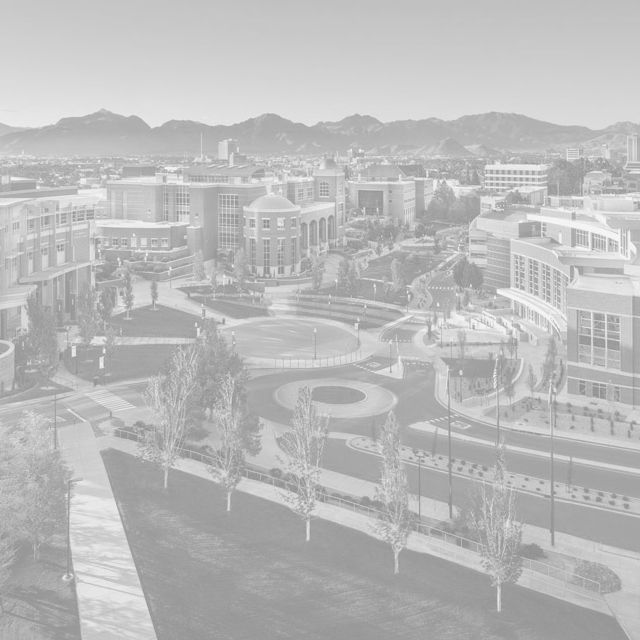 The Pravosudov lab takes AIARE Level 1 avalanche safety training course
Dr. Vladimir Pravosudov, post-doc Virginia Heinen, and graduate students Angela Pitera, Lauren Benedict, and Ben Sonnenberg, take a break during the field portion of avalanche AIARE Level 1 training. Their chickadee cognition research involves year-round field work, which in the Sierra Nevada means navigating difficult terrain via snowmobile to collect data in the winter. The skills learned from this avalanche basic safety course will help them make safer decisions while working in the backcountry.
Caterpillar loss in tropical forest linked to extreme rain, temperature events
Congratulations to Danielle Salcido, Matt Forister, Humberto Garcia Lopez, and Lee Dyer for their recent paper in Scientific Reports! Using a 22-year dataset collected from a protected forest in Costa Rica, Salcido et al. showed "staggering declines" in caterpillar and parasitoid diversity and density. Check out this Nevada Today article for a nice summary.
EECB alumni Ali Urza publishes two first-author papers
Shout out to Ali Urza, a former EECB Ph.D. student, for publishing two first-author papers in 2019. In one paper, Ali and coauthors investigated plant community responses to prescribed burns (i.e. resistance to invasion of annual grasses) in semiarid woodlands (Biol Invasions). In the other paper, Urza et al. developed and tested a conceptual framework for nurse shrub facilitation of tree establishment across different ontogenetic stages (New Phytologist).
Welcome Ciara Sheets to the Ph.D. program!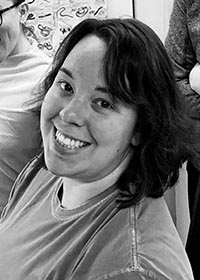 Shout out to Ciara Sheets, a former biology master's student and now officially an EECB Ph.D. student. Ciara joined the University of Nevada, Reno after finishing here undergrad degree at University of Tennessee. Her doctoral research will focus on disease ecology and the biology of a lethal fungal pathogen of amphibians with the Voyes Lab.
Adriana Parra gives a talk at the American Geophysical Union Fall Meeting
Shout out to Adriana Parra for her talk last month at the American Geophysical Union Fall Meeting in San Francisco. She presented some of her research in the Greenberg lab, using Landsat and airborne LiDAR/Hyperspectral data to analyze climate-driven changes in lifeform cover composition across the US from 1984 to 2015.
Keely Michelle Rodríguez selected as a 2020 Hitchcock Graduate Student Fellow
Congratulations to Keely Michelle Rodríguez, who has been selected as a 2020 Hitchcock Graduate Student Fellow in the Hitchcock Center for Chemical Ecology. Keely, a Ph.D. student in the Voyles Lab, aims to use this opportunity to find the identity and structure of proteins secreted by Panamanian frogs in defense against Chytrid fungus. Way to go!
Lacy Hankin one of 35 recipients of the Dean's Merit Scholarship for Fall 2019!
Congratulations to Lacy Hankin, one of only 35 recipients of the Dean's Merit Scholarship for Fall 2019! Learn more about the Graduate Dean's awards.
EECB student Trevor Faske's publication selected as "Best Paper" by Journal of Physiological Entomology
EECB graduate student Trevor Faske collaborated on the paper that was just selected as the best paper published in the Journal of Physiological Entomology over a two-year period. The study investigated how species adapt to thermal limits by exploring the range for sensitivity to high temperatures in different populations of gypsy moths. Trevor contributed to the 2017 paper as an undergraduate in Derek Johnson's lab at Virginia Commonwealth University and accepted the award in London on behalf of his team.
EECB student Haley Moniz wins the Henri Seibert award!
Congratulations to Haley Moniz of the Feldman lab for winning the Henri Seibert award in Physiology/Morphology at the Joint Meeting of Ichthyologists and Herpetologists!
EECB students take "Best Student Talk" at North American Duck Symposium
Two NRES/EECB graduate students had some recent successes at the North American Duck Symposium in Winnipeg, August 2019 -- congratulations to Thomas Riecke of the Sedinger Lab for winning the best PhD student talk and to Madeleine Lohman of the Williams lab for winning the best Masters student talk. Thomas also organized the session on 'Harvest Dynamics and Management', which was intended to bring about a change in the modeling approach used to inform current harvest management for waterfowl in the U.S.
Exciting paper on Chickadee research from Dr. Pravosudov's Lab
2/2019: Congratulations to EECB students Ben Sonnenberg and Angela Pitera, EECB alumna Carrie Branch, and Dr. Vladimir Pravosudov, for their new article in the journal Current Biology titled "Natural Selection and Spatial Cognition in Wild Food-Caching Mountain Chickadees." Find the article's full text and video.
2019 Chemical Ecology Hitchcock Graduate Student Fellows
3/19: Congratulations to the three EECB Students who received the 2019 Hitchcock Graduate Student Fellowship in Chemical Ecology. Devon Picklum, Danny Nielsen, and Anson Call were among four total students to receive competitive funding to conduct research in the field of chemical ecology.
Three EECB students awarded NSF awards
4/19: Three EECB students: Valentina Alaasam, Aramee Diethelm, and Ben Sonnenberg were awarded the prestigious Graduate Research Fellowship Award from the National Science Foundation. Congratulations to these researchers!
Interesting NY Times article related to EECB's Josh Jahner's research interests
2/2019: EECB's postdoctoral research associate, Josh Jahner, has diverse research interests, and has published on diverse topics that vary from bighorn sheep to gynandromorph butterflies; he was recently quoted in a NY Times note on bilateral gynandromorphism. Nice work, Josh.