On this day when many of us are commemorating Mexican culture and heritage and Mexican-American influences in our lives, University of Nevada, Reno graduate student Arturo Macías Franco provides yet another reason to celebrate. His path immigrating from Mexico to pursue his education hasn't been easy, but he has persevered, earning two bachelor's degrees and a graduate degree from the University's College of Agriculture, Biotechnology & Natural Resources. Most recently, Macías Franco was the first student at the University to be awarded the prestigious Paul and Daisy Soros Fellowship for New Americans, a $90,000 fellowship that will enable him to pursue his second master's degree, as well as his doctoral degree, at the University.
Macías Franco's youth in Mexico and tough start in the U.S.
Macías Franco, whose family has roots in pastoral agriculture, grew up hearing stories about his grandfather's life as a rancher. He was born in Torreon, Coahuila, an agricultural hub of northern Mexico. The town was torn apart by drug wars, causing businesses to close and impacting the lives and freedoms of its citizens. Not only were living conditions becoming more dangerous, but small producers such as his grandfather were eventually driven away from the agriculture industry by larger enterprises and worsening environmental conditions.
"My situation in Mexico became extremely dangerous, as the drug cartels scared off thousands of residents, including my family," Macías Franco said. "We had been natives of Torreon, and because of the uncertain safety conditions, my family was forced to move out of the area to a totally new location – Mexico City. My family who once enjoyed a comfortable life had to literally start all over again."
In order to be able to continue his education, Macías Franco immigrated to the United States alone during high school, hoping that his pursuit of an education would allow him the opportunity to create positive changes for himself, his family and his community. He completed his high school education while living with his aunts in Napa Valley and was later accepted to Napa Valley College to pursue becoming a veterinarian.
However, Macías Franco struggled to find a sense of belonging at the College, while also working multiple jobs to afford his tuition. Next to focusing on his studies, he was also battling food scarcity and, at times, homelessness. Challenges outside of class were not the only hardships Macías Franco faced, as being an undocumented student presented barriers to scholarships, funding and security.
"It was difficult to understand how I could ever drive progress as an undocumented immigrant," Macías Franco said. "As many others, I felt voiceless and without control of where my life could go."
Macías Franco finds his niche and support at University of Nevada, Reno
Looking for a change and facing hard times in California, Macías Franco was drawn to Nevada due to its research into sustainable agriculture and production under harsh, water-scarce environments that are seen worldwide, but especially in agricultural communities in Mexico. He decided to try to attend the University of Nevada, Reno, and managed to arrive and begin classes, but doubted that he would be able to stay on and continue due to financial struggles. He then met Associate Professor Mozart Fonseca and Professor Tamzen Stringham from the Department of Agriculture, Veterinary & Rangeland Sciences. Although his future in America was uncertain, their combined efforts, as well as continued departmental support from many faculty and staff throughout campus, resulted in finding funding and resources that, along with Macías Franco's hard work, allowed him to continue his studies and to graduate from the College of Agriculture, Biotechnology & Natural Resources.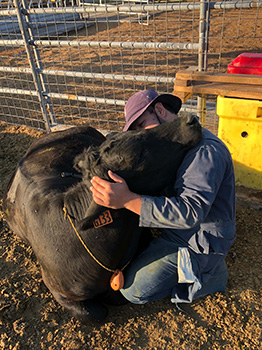 While he obtained a bachelor's degree in veterinary science as well as a bachelor's degree in agricultural science, he decided to focus his graduate studies on livestock production and rangeland sciences. Being at the University, he was able to find a sense of community in research and felt, for the first time since leaving Mexico, confidence in his decision to not only attend school in the United States, but to focus his area of study in agriculture.

"Anything I've accomplished is a representation of the support I've obtained from my time here," Macías Franco said. "I've been extremely lucky to get to work with the people I've worked with, and I'm thankful for everyone who's helped me. I truly feel at home here."

Continuing both his education and work in Fonseca's lab, the Mathematical Nutrition Modeling Laboratory, Macías Franco completed his master's degree in animal and rangeland sciences, with his work on nutritional supplements tailored to decrease the voluntary water intake of cattle.
Hard work rewarded by the Fellowship
Because of his dedication to making a change and developing vital research, Macías Franco is the first student in the agriculture field, and the first student at the University, to be awarded the Paul and Daisy Soros Fellowship for New Americans. With this fellowship, Macías Franco will continue his pursuit of obtaining his second master's degree in statistics and data science, as well as his doctoral degree in animal and rangeland sciences.
The Paul and Daisy Soros Fellowship was founded to support New Americans – immigrants and children of immigrants – as a way to give back to a country that afforded the Soros family so many opportunities. The selection process is focused on identifying promising New Americans who are working to make significant contributions to the country through their work. Macías Franco was one of 30 students chosen for the fellowship out of a pool of over 1,800 applicants from across the country in various academic fields.
"This fellowship means that I'm able to join this wonderful community of some of the most influential immigrants in the United States," Macías Franco said. "It's exciting to be part of this alongside researchers in many different fields across the country."
Macías Franco's $90,000 fellowship will support his studies into how agriculture producers can use technology, such as satellite imagery and drones, to create sustainable systems for livestock production and water usage in dry climates faced with drought. Not only is this work critical to supporting agriculture production in Nevada, but it may also have global impacts to other communities facing drier, hotter climates.
Macías Franco's research adds to the efforts of the Mathematical Nutrition Modeling Laboratory, which focuses on creating solutions to overcome food scarcity and create sustainability using mathematical models. His work includes the integration of artificial intelligence, machine learning and agriculture technology tools, and statistical and mathematical modeling to help improve the sustainability of agricultural operations in the face of climate change.
Mozart Fonseca (left), Arturo Macías Franco and students Aghata Elins Moreira da Silva and Tio Brody celebrate the announcement of Macías Franco's award.
Fonseca says he is glad to see the importance of Macías Franco's work recognized, and that it has been gratifying to see Macías Franco's growth as a scholar.
"As the first student to be awarded this fellowship for agriculture, it shows just how important the work Arturo is doing is, and that people are willing to recognize the importance of the field," Fonseca said. "It's been great to see him grow and become more confident that the work he is doing is important, not just for Nevada, but for communities around the world."
Continuing the work and supporting other students
Along with his research in agriculture and the Fellowship, Macías Franco is also participating as a National Science Foundation GAIN Scholar, a program developed to increase retention and success of historically underrepresented groups. Macías Franco hopes that his participation helps highlight the experiences of first-generation immigrants and that it assists others in similar positions to pursue higher education. Arturo also volunteers for the RUIOH, an oral history research project, which will give him the opportunity to voice and document the experiences of immigrants in Nevada and our university.
Macías Franco is also a current representative for the Graduate Student Association and helped to establish the first Undocumented Student Club at the university, wanting to help other students who are in similar positions as he was when he first joined the University. Looking forward, he hopes to continue his work in agriculture by continuing his research while remaining in academia. His ultimate goal is to assist others whose voices may be going unheard, and to make scientific contributions that will aid in the preservation of agricultural communities worldwide.
"After all the help I've been given by my peers and mentors at UNR, I think it would be gratifying to stay in academia, and it would allow my work to directly impact both my communities – the immigrant and the agricultural," Macías Franco said.