Wolf Pack Meats, the meat processing facility that is part of the University of Nevada, Reno's Experiment Station, has resumed its processing operations after a four-month hiatus. The team has hit the ground running with plans to increase production to better meet the needs of local ranchers, as well as offer more retail options for the community.
During those four months, a new boiler was installed and a Request for Proposal went out to find a consultant with whom to partner in order to expand processing capacity. As a result, Hoagland, CEO of his own processing plant in Homedale, Idaho, was awarded a two-year contract.
"We are excited to support Wolf Pack Meats in their continuing work to conduct our land-grant mission and continue to serve our students, faculty and stakeholders," said Bill Payne, dean of the College of Agriculture, Biotechnology & Natural Resources, of which the Experiment Station is a unit. "They play a vital role in the farming ecosystem in Nevada."
Wolf Pack Meats, which opened in 1967, harvests, processes and produces fresh meat from cattle, pigs, lamb and goats. This includes cattle raised by the University as part of its educational programs and for production. The facility provides students with the chance to not only see the commercial process in action, but also receive hands-on training and experience with a real commercial business in a critical industry.
Tom Kulas has served as the operations manager for Wolf Pack Meats since February 2022, and he will continue to serve as the University liaison for ranchers, educators and customers. He explained that the facility works closely with local farmers, ranchers and small producers to process and package livestock. This family-oriented ranch system in the state is supported and strengthened by the work that Wolf Pack Meats does, keeping a way of life alive for many local ranchers.
Ramping up to meet needs
"From the outside looking in, it will be really similar for our customers," Kulas said. "Hopefully, it will just be a lot easier to schedule their animals than it has been the last couple of years. In the past, we've had far more work than we had capacity to do, but now we'll be able to increase that capacity and provide a level of customer service higher than it's ever been."
An important part of these changes is a group of Reno residents who have been hired and trained by Hoagland. The new employees have already begun harvesting and processing animals, sometimes with support from Hoagland's employees from Idaho.
"The whole process can be a little bit overwhelming if you don't have people who are accustomed to it, so what we've done is bring in people who have been doing this for 30 years to help train the new team," Hoagland added.
Hoagland is also working with Kulas and co-workers to identify challenges and make plans to address them before the next round of production.
"That's what it's all about: finding bottlenecks and solving them," Hoagland said.
Kulas said having some newly trained staff with a fresh perspective has resulted in a renewed energy among the team.
"We're kind of beginning again, really looking at every step of the process and re-establishing the best ways to do this," Kulas said. "We have a drive to get to a level we haven't seen before. We can't do that overnight. You don't just flip a switch, but everyone knows the direction we are going."
Hoagland added the training includes ways to humanely process the meat and guard against contamination, both of which have always been priorities of the facility as one of a few United States Department of Agriculture-approved processing facilities in the state.
As part of his role at Wolf Pack Meats, Kulas is the main representative to the USDA, an important link in the chain for the business to succeed. Hoagland and Kulas agreed the relationship they have with the USDA provides value in both directions.
"We're excited about continuing to work with them on quality production and processing," Hoagland added. "And who knows – since we are a university facility, we can be an ideal place to train younger inspectors. We want to be part of that plan and a great model of a plant in that aspect."
Chris Pritsos, director of the Experiment Station, agreed that Wolf Pack Meats is off to a remarkable start since reopening its facility.
"Production levels are increasing, allowing us to better serve our local ranching community," Pritsos said. "All these efforts allow Wolf Pack Meats to fulfill its mission of enhancing teaching and research opportunities for our students and faculty, learning opportunities for youth groups such as 4-H, and more outreach to the community."
Kulas said that in the past, Wolf Pack Meats hasn't been able to break even due to a variety of factors. This will likely change with Hoagland on board, with his experience in running a high-production facility. Revenue generated at Wolf Pack Meats will be invested back into the facility to support the growth of its production capacity along with its teaching and research efforts.
"JD has expertise in running a much higher volume facility than what we've done in the past," Kulas said. "We're looking to essentially triple our volume, and that's dramatic. When we reach that level, that's when probability becomes possibility."
Products for sale, and looking ahead
During its brief pause in production, Wolf Pack Meats' retail store remained open, offering a variety of beef cuts, all produced from cattle owned by the University, including filet mignon, New York steak, ground beef, short ribs, beef liver, beef tongue and other items.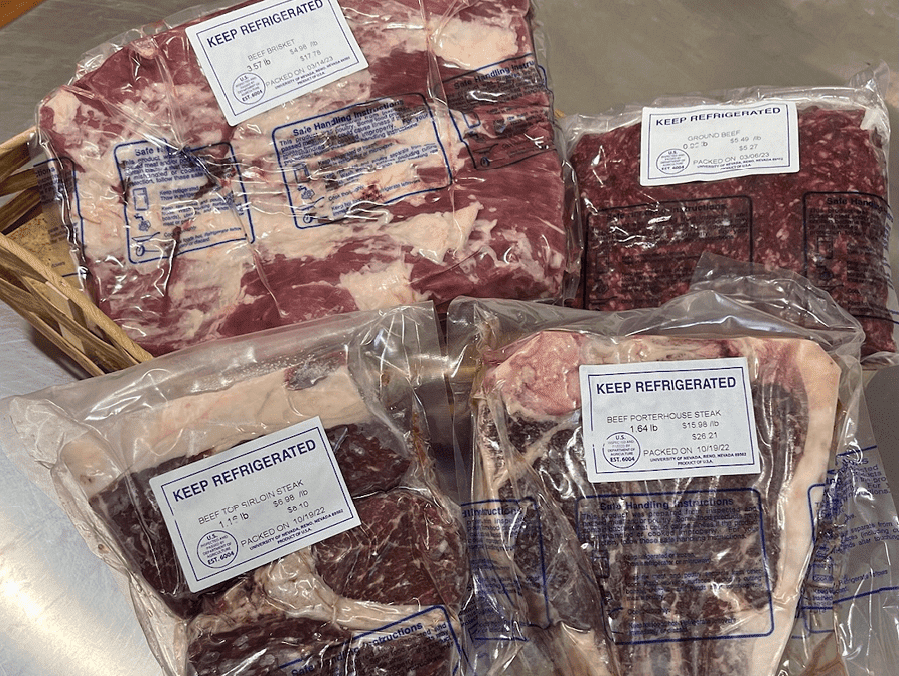 Among the shorter-term goals of Wolf Pack Meats is to expand its line of retail products. This includes beef jerky for public sale and a new line of sausages as part of an agreement with a local casino.

Kulas also wants to start a home delivery service in the future, feature more pork and lamb offerings, begin online sales, and establish a presence at farmers markets. Wolf Pack Meats would also like more partnerships, including becoming a meat supplier to the University system.

The two men are also eager to foster more opportunities for agriculture, nutrition and veterinary science students to get experience in meat production, packaging and distribution, including internships at Wolf Pack Meats. More research on nutrition, ecology and animal science could also take place.
Wolf Pack Meats is located at 5895 Clean Water Way. Its retail store is open to the public from 8 a.m. to 4 p.m., Tuesdays through Fridays. For more information on Wolf Pack Meats, call 775-857-3663 or visit the Wolf Pack Meats website.