As much as Nevadans would like to see relatively clear skies continue, those who have lived here the past several summers know what's around the corner: wildfires. And, all that comes with them: smoke-filled skies, checking air quality before outdoor activities, and even possible evacuation orders. University of Nevada, Reno Extension's Living With Fire Program and numerous partners across the state are kicking off the Nevada Wildfire Awareness Campaign this month to help Nevada communities prepare, with the ultimate goal of helping Nevadans stay healthy and safe.
"We've been doing a lot of work with our partners to produce some new information and to update recommendations in preparation for this summer," said Jamie Roice-Gomes, Living With Fire Program manager. "We have some new resources available, including on how to live with wildfire smoke, and are kicking off this year's campaign with a May 3 event in Las Vegas on reducing ozone and wildfire smoke impacts, and a May 4 event in Mount Charleston on evacuation and wildfire preparedness."
High ozone concentrations and dreaded smoky days, and nights
The kick-off event on May 3 comes on the heels of the Clark County Department of Environment and Sustainability issuing earlier this month a blanket wildfire smoke advisory in effect until the end of September. It's the first time the county has issued a wildfire smoke advisory for the season, to accompany the ozone advisory the county usually issues.
High ozone concentrations are a common concern during the summer in the Las Vegas area, due to factors that contribute to the buildup of the odorless gas, such as a larger population, more vehicles in use, almost constant sunshine, and even ozone coming in from Los Angeles.
"Concentrations are higher in urban areas, in general," said Mae Gustin, University of Nevada, Reno professor of natural resources and environmental science, who has conducted research on ozone concentrations across the state. "There are things that people can do, like drive less, have their cars smogged and other things, to help reduce it. But, some of it is coming in from out of the area as well. Vegas is influenced by Los Angeles, and Reno gets it from Sacramento and San Francisco, for example. In my research, we even found that the ozone concentrations measured at Great Basin National Park were influenced by air coming from China and Asia."
Gustin says that when ozone is inhaled, it irritates the respiratory system and can cause inflammation and damage to the airway and lungs. Particulate matter, generated from wildfire smoke, may result in cardiovascular effects such as cardiac arrhythmias and heart attacks, and respiratory effects such as asthma attacks and bronchitis. The May 3 presentation in Las Vegas will cover the ozone issue, as well as wildfire smoke impacts and how to reduce the impacts of both.
"While most of the Las Vegas area isn't at high risk of wildfires occurring, except Mount Charleston and a few other areas, Las Vegas residents certainly deal with the impacts of wildfires from outside the area, with the smoke blowing in and getting socked in to the Las Vegas Valley," Christina Restaino, assistant professor and Living With Fire Program director, said.
Restaino said the presentation, which will also be available online, will provide information useful to the rest of state as well, especially in regard to smoke impacts and staying healthy during what will likely be another smoky summer throughout much of the state. Details of the event include:
Clean the Air: How You Can Help Reduce Ozone and Wildfire Smoke Impacts
When: May 3, doors open at 5:30 p.m., presentations run 6 – 7 p.m.
Attend in person: At University of Nevada, Reno Extension; 8050 Paradise Road, Suite 100, Las Vegas. Admission is free, and appetizers will be provided. Registration for the Clean the Air event is required.
Attend the event online: Via Zoom.
Presentations include:
Ozone – Public Information Administrator Kevin MacDonald, Clark County Department of Environment and Sustainability
Wildfire Smoke Impacts – Manager of Advocacy and Clean Air Melissa Ramos, American Lung Association in Nevada
How to Reduce the Health Impacts of Wildfire Smoke – Outreach Coordinator Megan Kay, Extension's Living With Fire Program
Restaino said that Extension has also produced two new publications on coping with wildfire smoke, now available online: Living With Smoke, geared to helping Nevadans protect their own human health during wildfire smoke events; and, for those with animals that are not house pets, Best management practices for livestock and equine during wildfire smoke events.
Preparing for wildfire and evacuation, and the wildfire threat at Mount Charleston
In addition, Extension has worked with its partners to update the Wildfire Evacuation Checklist, now also available online, which contains information on how to prepare ahead of time for evacuation, as well as what to do when actually leaving your home.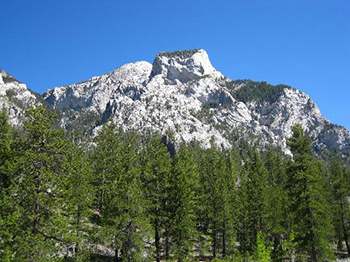 While wildfire evacuation orders aren't likely in most of the Las Vegas area, the same can't be said for the Mount Charleston area, about 40 miles west of Las Vegas. The popular hiking and recreating area in the Spring Mountains is also home to some Nevadans, and over the past decade, they have experienced their share of wildfires. One of the worst was the 2013 Carpenter 1 fire, which burned for eight weeks, consuming 28,000 acres and destroying six structures. Just last week, NV Energy shut off electrical power to almost 500 customers in the Mount Charleston area due to threatening wildfire conditions, including high winds and hot temperatures.
The effects of prolonged drought have already begun to be seen this spring, as two major wildfires have already occurred in the Southwest over the past couple of weeks. The first, the McBride Fire in Ruidoso, New Mexico, claimed the lives of an elderly couple and destroyed 207 homes. The second, the Tunnel Fire, just north of Tuscon, Arizona, caused more than 2,000 residents to evacuate and destroyed at least 25 structures last week.
To help residents of the Mount Charleston area prepare for wildfires and possible evacuation amid ongoing dry conditions, Extension has partnered with several agencies to host an information session May 4. While the event is geared toward residents of Mount Charleston, some of the information is applicable for residents in other areas of the state as well, such as preparing for evacuation, packing a go-bag, creating defensible space around the home, home hardening and more. In order to make the presentation accessible to more Nevadans, the event will be available online, as well in person at Mount Charleston. Details of the event include: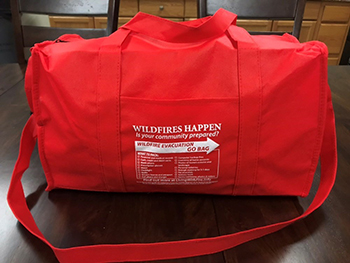 Evacuation and Wildfire Preparation

When: May 4, doors open at 5:30 p.m., presentations run 6 – 8 p.m.

Attend in person: At The Retreat on Charleston Peak, 2755 Kyle Canyon Road, Mount Charleston. Admission is free, and registration is not required. Appetizers will be provided.
Attend the Evacuation and Wildfire Preparation event online: Via Zoom.
Presentations include:
Fire Behavior and Evacuation – Chief Jorge Gonzalez, Mount Charleston Fire Protection District
Experiences From the Fire at Mount Charleston Lodge on 9-17-21 – Retired Chief Larry Haydu and Chief Brian O'Neal, Clark County Fire Department
Evacuation and Packing a Go-Bag – Sergeant Matthew Marlow, Las Vegas Metro Police Department
Emergency Alerts and Evacuation – Deputy Chief Billy Samuels, Clark County Office of Emergency Management
Defensible Space and Home Hardening – Program Manager Jamie Roice-Gomes, Extension's Living With Fire Program
Public Safety Outage Management and Fuels Reduction – NV Energy Fire Chief Mark Regan
Fuels Reduction and Shared Stewardship – Brett Waters, Nevada Division of Forestry; Raymond Dombroski, U.S. Forest Service – Humboldt-Toiyabe National Forest
Extension and its Living With Fire Program partners will be holding more presentations during the Nevada Wildfire Awareness Campaign, which runs through October. In early June, presentations on evacuation and wildfire preparation are planned for Elko's Spring Creek community, as well as for Topaz Ranch Estates in Douglas County, where last year's Tamarack Fire required evacuation of residents.
Funding and support for these events has been provided by NV Energy; University of Nevada, Reno Extension and its Clark County office; the Bureau of Land Management – Nevada State office; the Nevada Division of Forestry; and U.S. Forest Service.
For more information on the Nevada Wildfire Awareness Campaign and on how to reduce the wildfire threat, visit the Living With Fire website or email Roice-Gomes. Persons in need of special accommodations or assistance should call or notify Paul Lessick, civil rights and compliance coordinator, at Lessick's email or 702-257-5577 at least three days prior to the scheduled event.