When he was seven years old, Harry Greene first locked eyes with a Texas Horned Lizard and a Three Toed Box Turtle while visiting his grandparents farm in east Texas. It was love at first sight. Six years of plowing through reptile and amphibian books later, his father, who was serving in the U.S. Air Force and taking classes at Oklahoma University, came home and told Greene that a professor at the university wanted to meet him. The next day, a herpetologist was born.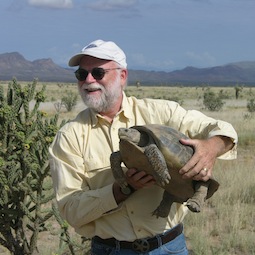 "I didn't know there were any careers out there," Greene, professor emeritus of ecology and evolutionary biology at Cornell University, said. "The next day I rode my bicycle down to the university and I met Dr. Chuck Carpenter and he showed me his laboratory with all these jars of preserved snakes. And he had all these big terrariums with live lizards, and he'd been all these exciting places. I came home that night and told my folks 'I want to be a professor some day because they get to take care of lizards.'"
Greene went on to get his doctorate and spend over 40 years teaching herpetology at both U.C. Berkeley and Cornell. Along the way he authored two books, Snakes: The Evolution of Mystery in Nature, which won a PEN literary award, and Tracks and Shadows: Field Biology as Art. In that time he also won Berkeley's Distinguished Teaching Award, the Edward O. Wilson Naturalist Award, and Cornell's Stephen H. Weiss Presidential Fellowship. He also served as president of the American Society of Ichthyologists and Herpetologists. In 2014, Business Insider named him one of Cornell's "Top Ten Professors" and he was elected to the American Academy of Arts and Sciences.
He has worked on the cutting edge of herpetology, taking part in several discoveries, the most significant of which has helped to let laypeople see snakes with the same fondness that Greene does.
"The most exciting thing that I helped discover was that this group of snakes called the pit vipers, they have maternal care," said Greene. "It's really interesting scientifically because the dogma is that most reptiles don't have parental care. They just lay their eggs and birth their young and that's it. The other reason it is interesting is because it turns out that a lot of people don't like snakes, and if you're trying to convince people to appreciate unpopular animals it helps to give them something that they can empathize with. Everyone likes a good mom."
Greene will be bringing his considerable expertise and sense of wonder to the University of Nevada, Reno on Tuesday, May 9 as the closing lecturer in this year's Discover Science Lecture Series.
"I'm going to talk about how natural history influences values," Greene said. "By natural history I mean what organisms do in nature. But I'm also interested in how the facts that we learn as scientists influence our values, like the example I gave about parental care in rattlesnakes."
Greene's lecture is intended for all ages, and will cover a diverse range of topics.
The Discover Science Lecture Series, in its sixth year, was founded by the University's College of Science with the aim of bringing top scientists from around the United States to the University to share their knowledge with the community.
As a speaker in the series, Greene joins such other scientific luminaries as renowned astrophysicists Neil deGrasse Tyson and Michio Kaku; Robert Ballard, who discovered the wreck of the Titanic; and Bill Nye the Science Guy.
Greene's lecture is free to the public. It will be held in the Redfield Auditorium in the Davidson Mathematics and Science Center on the University campus at 7 p.m. He will be signing both his books outside the auditorium following the lecture and limited quantities of each book will be available for purchase. Free parking for the event can be found at the top level of the Brian J. Whalen Parking Complex on North Virginia Street, next to the E.L. Wiegand Fitness Center. For more information, call 775-784-4591 or visit the Discover Science Lecture Series website.