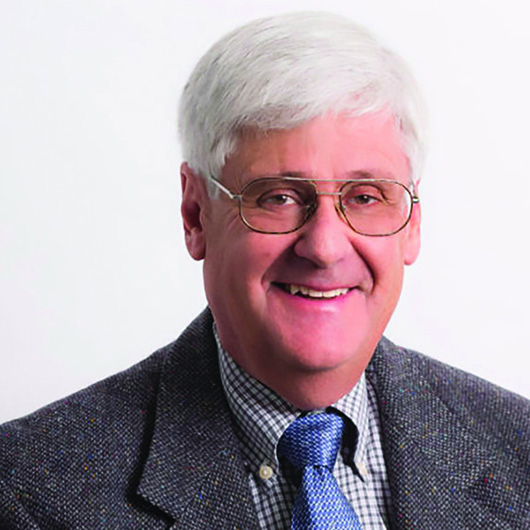 Bill Payne, Dean of the College of Agriculture, Biotechnology & Natural Resources, announced Louis S. Test as this year's Outstanding Agriculturist Award recipient.
The award, initiated in 1967, recognizes community members who have made significant contributions to the advancement of Nevada agriculture.
The first to receive the award was Florence Bovett, an executive secretary with the Nevada State Farm Bureau. John Ascuaga was honored with the award in 1980. Test, a long-standing agriculture advocate, leader and educator, now joins their prestigious ranks.
Test's long history with Nevada agriculture began in his childhood. Test's father, Peter Test, was the College's fiscal officer under then-Dean Dale Bohmont. The College was building strong agriculture programs and establishing field laboratories throughout the state. Through his father's work, Test was exposed to and developed a strong foundation in agricultural instruction, research and engagement.
"Louis understands and supports the tripartite mission of agricultural education throughout Nevada," Ron Pardini, a Biochemistry & Molecular Biology professor emeritus with the College, said.
Under Pardini's tenure as interim dean and director and during a time of extreme budget cuts at the University, Test was appointed co-chair of the College's advisory committee. Under Tests' leadership, the committee was instrumental in providing advice, support and communication regarding maintaining and developing strong programs in the College. Test continues today as co-chair of the committee.
Through his committee service, Test has been influential in helping to protect, support and expand the facilities and programs of the College and its research and engagement units, Nevada Agricultural Experiment Station and University of Nevada Cooperative Extension.
Test also serves Cooperative Extension as a 29-year volunteer with its Washoe County 4-H Program. Test and his wife Joni, who received the Outstanding Agriculturist Award in 2006, provide active leadership to 4-H programs in livestock production. The pair have helped to organize 4-H livestock shows, sales and auctions and have provided personal contact for young agriculturists.
Louis has also served as president of the Nevada Agricultural Foundation, provided support in fundraising activities for agricultural programs, and addressed Nevada Cattlemen and state legislature committee meetings in support of the College and agriculture interests. He has worked on supporting rangeland allotments for cattle and sheep and protecting water right issues for Nevada agriculture.
Pardini said, "Because of his long, dedicated and effective support and leadership in agricultural education and broader statewide agriculture issues, I offer my enthusiastic support for Mr. Test's recognition as Outstanding Agriculturist."