Each semester, the University of Nevada, Reno and the Alumni Association honor an undergraduate student from each school or college who meets the exceptional Senior Scholar program standards.
With a 3.99 grade-point average, Frank Gonzalez is the senior scholar for the University's College of Science. During his time at the University, Gonzalez was also chosen as the college's Westfall Scholar for the highest GPA in the biology department. After graduating in May with a bachelor of science in biology, Gonzalez plans to attend Harvard Medical School.
"I am so grateful to everyone who has been there for me along the way," Gonzalez said. "I'm pretty excited about my next step."
Seven other seniors like Gonzalez will be graduating May 16 and 17. Their accomplishments have helped develop the University as a center of academic excellence. The seniors will be recognized at an honors banquet hosted by the University and Alumni Association Wednesday, May 14. The event begins at 6 p.m. in the Milt Glick Ballroom C on the fourth floor of the Joe Crowley Student Union.
As a celebration of their time at the University, the Senior Scholar reflect on their time and the University and honor the faculty mentor who played the most significant role in his or her scholastic achievement.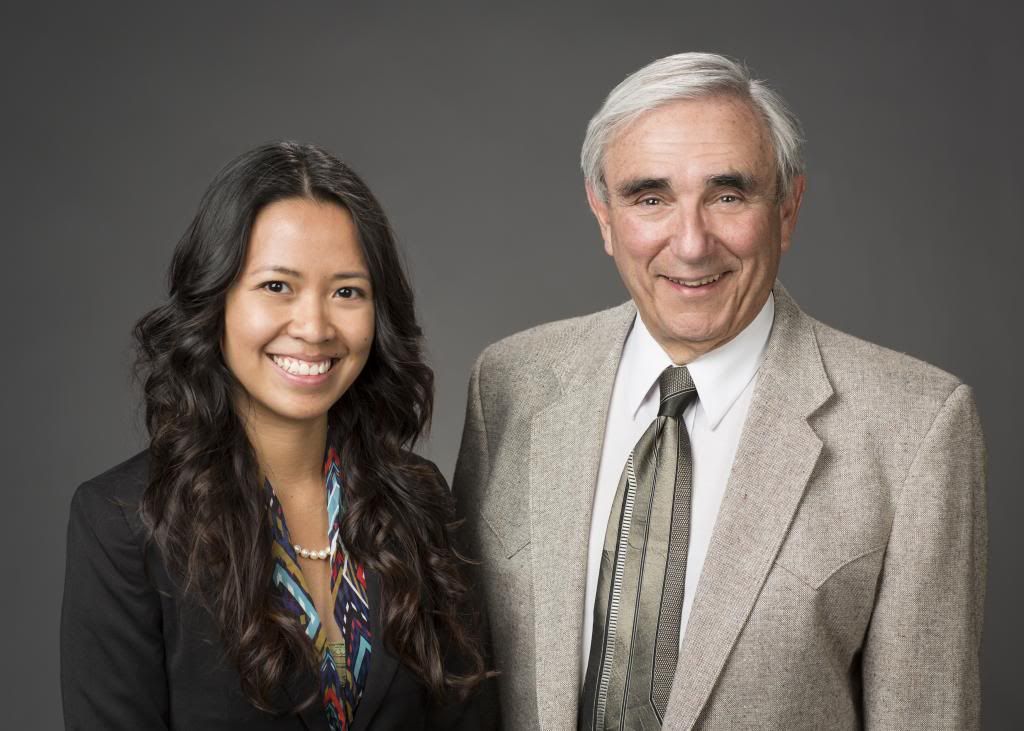 Erika Vicente and mentor Ronald Pardini
College of Agriculture, Biotechnology and Natural Resources
Erika Vicente
Mentor: Ronald Pardini
4.0 GPA
Erika Vicente says her time at the University has been a "blur" of teachers, lectures, friendships, stress, tests and more tests. Throughout it all, knowledge has been the constant.
"Whether taking core classes, upper-level biochemistry classes or working in a research lab, I am grateful to have learned so much," Vicente said. "I come from a family that puts great value on education. I have always been told the story of how, being widowed at a young age, my grandma moved from the Philippines to the United States to seek a better job in order to support her children's college education.
"The value of a good education has not been lost on me and I hope to continue to take advantage of the opportunities I am lucky to be presented with," Vicente added.
Mentor Thomas Odegaard and Nathan Tewalt
College of Business
Nathan Tewalt
Mentor: Thomas Odegaard
3.983 GPA
After his first few months as an undergraduate at a university in Washington, Nathan Tewalt says the experience left him "thoroughly disillusioned." He left school with no intention of returning.
Thankfully, Tewalt said, time has a way of weakening youthful resolve. The reality of the job market, coupled with a general lack of fulfillment, led him back to higher education. He enrolled at the University of Nevada, Reno, and found the educational experience he had envisioned all along.
"After the disappointment of my previous academic endeavor, my expectations were understandably subdued," Tewalt said. "Even so, there was a small part of me that longed for the college experience of my boyhood imaginings. Amazingly, that is exactly what I found from the first moment I met Professor Thomas Odegaard. His mastery of the subject matter was truly dazzling, yet his explanations lacked even a trace of condescension. He answered even the most inane questions with superhuman respectfulness, actively encouraging and facilitating an environment of free inquiry. Above all, his conduct provided a shining example of integrity and decency that was more valuable then all of the material combined."
Mentor Murat Yuksel and Dipto Moni
College of Engineering
Dipto Moni
Mentor: Murat Yuksel
4.0 GPA
Dipto Moni's family immigrated to the United States from Bangladesh in hopes of a better future.
"My parents always believed that the best way to attain that better future is through a good education," Moni said. "Now, I am graduating with a degree in electrical engineering. In every step of my journey, there was help and inspiration from faculty members and my fellow classmates."
Moni said his accomplishments would not be possible without the scholarships he received from donors, "who are equally responsible for my success."
"My success is not just the result of my own hard work, but rather the result of many individuals who stood alongside me every step of the way," he said. "I am very grateful to the University and all the individuals who have been a part of this amazing journey."
Breanna Hall and mentor Melissa Burnham
College of Education
Breanna Hall
Mentor: Melissa Burnham
3.992
Breanna Hall chose a career in education because of her love for learning and dedication to the success of the next generation.
"I have the desire, demeanor and passion to work with today's youth, and I want the best opportunities for them in the future," Hall said. "I see potential and a fire for greater things through children, and I want to spend my life harnessing and fueling this fire and drive for the greater good of society and their own personal lives as they grow into adulthood."
Hall strives to be a positive role model for her students.
"I want my students to be inspired to become good citizens and do great things," Hall said.
Mentor Katherine Fusco and Linda Enwald
College of Liberal Arts
Linda Enwald
Mentor: Katherine Fusco
3.930
After a "lifetime" working in the private sector, Linda Enwald envisioned a new adventure in academia.
"There were many reasons not to embark," Enwald said, "but they were all helpless against the voice inside of me bellowing, 'Just do it!' And so I did."
Reaching graduation wasn't easy, she said. "I worked hard, and then I worked harder. My meager talent was stretched upon the scholarly rack. I loved every minute!"
For Enwald, a journey into the world of academia meant living a life "off script."
"For me, it has meant the birth of the interest in the difficulty of postmodern literature with its characteristic disjointedness and uncertainty and inaccessibility," Enwald said. "A love/hate relationship has been planted. I intend to nurture it."
Frank Gonzalez and mentor Elena Pravosudova
College of Science
Frank Gonzalez
Mentor: Elena Pravosudova
3.99
During his first visit to the University, Frank Gonzalez gazed across the snow-covered Quad and thought, "This is going to be amazing."
"As my four years at the University of Nevada, Reno come to a close, I look back and think about how right I was," Gonzalez said. "From working in a research lab to leading discussion groups for biology students, I have had so many opportunities that I could not have gotten anywhere else."
Gonzalez is grateful to everyone who has supported him along the way.
"As I go on to the next stage of my life, I do so knowing that attending the University of Nevada, Reno has given me the academic and life skills necessary to achieve even my wildest dreams," he said. "It truly has been amazing."
Mentor Nora Constantino and Brooks Klein
Division of Health Sciences
Brooks Klein
Mentor: Nora Constantino
3.984
From the age Brooks Klein could hold a baseball bat, his life has revolved around the sport. When his career as a student-athlete ended last year without the opportunity to play professionally, his disappointment began to dissipate as the field of exercise physiology became his "new obsession."
"Instead of daydreaming about baseball, I was anxious to perform graded exercise tests and caloric expenditure experiments, but that was only the tip of the iceberg," Klein said. "Next, Dr. (Nora) Constatino introduced me to CrossFit. Until CrossFit, I felt as though my identity as an athlete had disappeared. Now, I have a new outlet for my competitive spirit.
"I cannot thank Dr. Constatino enough for her guidance this past year and for renewing my passion and learning," he added.
Mentor Alison Gaulden and Jessica Fagundes
Reynolds School of Journalism
Jessica Fagundes
Mentor: Alison Gaulden
3.992
Growing up in Fallon, Nev., Jessica Fagundes spent her summers raising baby goats on her parents' dairy farm alongside her twin sister and three siblings. A dedication to both agriculture and academia led her to the University of Nevada, Reno, where she dual majored in journalism and Spanish and participated in the University Honors Program.
"The guidance of many dedicated professors helped me obtain multiple internships in public relations, including one at the Nevada Department of Agriculture, where I plan to work full time after graduation," Fagundes said.
Among her accomplishments, Fagundes lists competing in two national communications competitions and receiving the 2013 Reynolds School of Journalism Outstanding Strategic Communications Student Award.