With wildfires burning across the state and much of the West, many residents are shaking their heads, wondering how we got to the point where smoke-filled skies are just something we have to accept as part of living in Nevada. A new podcast from the Living With Fire Program seeks to shed some light on that, as well as share perspectives and stories from land managers, scientists, fire professionals and community members about how wildfire is currently managed, the impacts of wildfires, and the role that humans play in living more safely with wildfire.
The Living With Fire Program has been working with the firefighting community since 1997, educating Nevadans on how to live more safely with the threat of wildfire. Today, the multiagency effort led by University of Nevada, Reno Extension launched a new podcast funded by the Bureau of Land Management – Nevada State Office.
Since its inception, the program has provided educational, research-based information and opportunities to help residents reduce the threat of wildfire in their communities. In that spirit, Extension's Living With Fire team has now created the podcast to add to their library of resources. The podcast seeks to:
dig deeper into the issues surrounding our wildfire challenges,
share personal accounts from those have battled the fires and those who have been impacted by them,
and provide insight from those who research the topic and try to manage our lands and wildfires to prevent catastrophic loss of lives and property.
The Living With Fire Podcast is available on Apple Podcasts, Spotify, Stitcher and other platforms. The first two episodes were released today:
Episode 1: How did we get here? The History of Wildfire in Nevada
Brad Schultz, professor and Extension educator in Humboldt County, discusses the role of fire in Nevada, historically. As an expert in rangeland management, he has looked at wildfire from a "big picture" perspective across the state and across the West.
"Across a large landscape, fires would occur periodically, but at different places at different times," he says. "You would get a very strong mosaic pattern of predominantly grasses in some areas, predominantly shrubs in others, and most of it being a mix in between."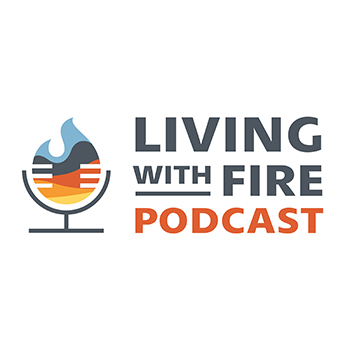 Schultz says this mosaic pattern of discontinuous vegetation across the landscape conferred many benefits to the ecosystem and created natural fuel breaks, or areas of less flammable vegetation that changed the behavior and reduced the intensity of wildfire. Today our open lands are often lacking in such natural fuel breaks, allowing for larger, more intense wildfires. Schultz also says that how often fire happened in Nevada and how widespread it was is still somewhat speculative, and explains in the podcast some of the challenges of finding physical evidence of historic fires in Nevada.
Episode 2: Living With Fire
Members of Extension's Living With Fire Program team give their perspectives on what it means to live with fire, and talk about some of the innovative ways the program and its partners are expanding the program, not only into the airwaves with the podcasts, but also in the schools, for example. Spencer Eusden, special projects manager, has a background in science education and discusses the new fire science curriculum he is creating for northern Nevada high schools that can be integrated into a variety of different sciences classes.
Jamie Roice-Gomes, the program manager, talks about how the program has evolved and how collaboration has been integral to the success of the program, with the program's educational materials having been adapted for use in more than 25 other states and 25 other countries.
Christina Restaino, director of the program and assistant professor and natural resources specialist, gives some insight and helps set the stage for the upcoming episodes, emphasizing the podcast will complement the educational resources that the program already offers about wildfire preparedness.
"We have to be prepared for wildfire because it exists here and it's a part of the landscape and the history," she said. "I think that these stories in the podcast help to paint that entire picture."
Megan Kay, program outreach coordinator, Tessa Putz, program natural resources associate, and Jordan Buxton, program content creator, round out the guest list for Episode 2.
More to come
Some of the other episodes that will be available later in the summer include:
Fire Management in Nevada, with Paul Peterson, fire management officer with the Bureau of Land Management, Nevada; and Gwen Sanchez, fire management officer with the USDA Forest Service – Humboldt Toiyabe National Forest
Cultural Fire on Washoe Lands, with Helen Fillmore and Rhiana Jones, environmental specialists with the Washoe Environmental Protection Department
Stories From Nevadans Impacted by Wildfire, with Jon Griggs, ranch manager at Maggie Creek Ranch in Elko, Nevada; and Jole Rector and Todd Ballowe, Washoe County residents
Fire Ecology in Nevada, with Matthew Brooks, supervisory research ecologist with the U.S. Geological Survey; and from the USDA Forest Service – Rocky Mountain Research Station, Stanley Kitchen, research botanist, and Alexandra Urza, research ecologist
Perspectives From Wildland Firefighters, numerous local wildland firefighters
To learn more, go to the podcast website, or email Roice-Gomes.