Biology major Lily Liu was the recipient of the Spring 2021 Herz Gold Medal. The honor is bestowed upon the graduating senior who has the highest University grade-point average with the most letter-graded credits (beyond 120) that have been earned at the University. Liu earned a 4.0.
Liu earned dual minors in chemistry and business administration and was also selected as Senior Scholar from the Honors College where she served as Honors Student Council president before graduating. She continued on to medical school this fall.
Lily Liu, Class of 2021
The first six years of my life were marked with the humid heat of rural China. Under the careful eye of Gong Gong (grandfather), I was free to dip my feet in the village's rice paddies, observe the growing green algae around our drainage systems, and swim in the cold waters of a nearby river. Gong Gong would always say two things about me: 1) I loved to pick at his mustache and 2) I was an inquisitive child. I had a puzzle of questions, often about the shrinking of boiled bok choy or the red rusting of our neighbors' doors as we handed food throughout the village. Of course, as someone from rural China, Gong Gong didn't know the answers to these academic questions, but instead he'd tell me, when I went to school, I would learn enough to answer them myself. My parents expressed the same sentiments when I returned to the States. As recently naturalized immigrants who never received a post-secondary education, they too could not answer these inquiries, but instead supported my curiosities by pushing for an education. Even when school started, my questions remained unanswered—how could I ask when I struggled to say "two" instead of "èr"? Although Gong Gong could not help me scholastically, he would always cook my favorite foods after school as a way of cheering me on. Over time, with the thoughtful tutelage of my school teachers and the continual support from Gong Gong, I would slowly piece the puzzles of my childhood together.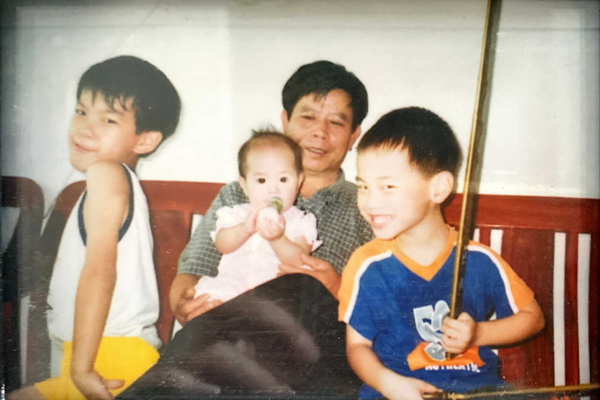 As I near the end of my undergraduate career, I am reminded of my family who provided me with opportunities they never got to experience, privileges that have helped me to succeed. However, I quickly understood during my time here that my story is shared by so many others who are still adjusting to their lives as first-generation students. While I was fortunate enough to find a supportive environment with many great research and leadership opportunities presented to me early on, I realized that others might be struggling to find their place at the University. Thus, throughout my undergraduate career, it was one of my goals to utilize the resources and connections I held to help those students. This was most visible within the last year when my efforts culminated with my participation in the Living Lab Founding Committee. The Living Lab was a team-based, research pilot program that resulted from the combined efforts of Student Conduct, Undergraduate Research, Honors College and the Graduate School of the University of Nevada, Reno. I was luckily recommended to be placed as one of the founding committee members due to my previous role as a Director of the Peer Mentor Program for the Honors College. During our efforts to provide research opportunities for historically underrepresented and first-generation students, I had the chance to meet "Joann." Early on, she expressed to me that she never considered research or higher education to be a suitable career for herself. However, this conception did not stem from her abilities but rather, from the lack of opportunity to indulge in these fields. Yet, her interactions with researchers, mentors and faculty through the Living Lab helped her to gain confidence and overcome her previous beliefs. She soon discovered newfound research interests. The stipend she received also clearly helped alleviate some of her financial burden and motivated her to learn even more.
I am reminded that, despite the fact that everyone has different opportunities in life, everyone deserves an equal chance to try, learn and grow.
As we talked, I could tell that she was becoming more enthusiastic about her group's research project as she was given autonomy and trust that she hadn't received before. As I watched her discover her passion for science and research, I thought about the potential of so many other students like her who didn't have the chance to be encouraged the same way. From these experiences, I am reminded that, despite the fact that everyone has different opportunities in life, everyone deserves an equal chance to try, learn and grow. Perhaps, it isn't too late for Gong Gong—so the next time I walk through the village, I will tell him all about the answers I've learned.