Have an idea or new technology that could move forward with early-stage funding? If so, keep an eye on Friday, Sept. 15, 2017, the application deadline for the InNEVenture Fund. This proof-of-concept funding source is available to help University of Nevada, Reno faculty, students, staff and recent graduates determine if their technologies and business ideas have commercialization potential, and to help these entrepreneurs and innovators navigate the gap between concept validation and obtaining seed funding.
Offered through the Nevada Research and Innovation Corporation (NVRIC), the InNEVenture Fund process is open to entrepreneurial efforts across all of the University's colleges and schools. Teams or opportunities that represent diversity or a multidisciplinary approach are especially encouraged to apply.
In the inaugural round of the InNEVenture Fund, a total of $100,000 was invested in four proof-of-concept projects and companies:
Tahoe Clarity: As a photographer and journalist, Dylan Silver has considerable experience capturing images and stories about Lake Tahoe. In 2015 he took his camera below the surface to document Tahoe's underwater world. The images became the basis for Tahoe Clarity, a fine-art photography business founded in 2016.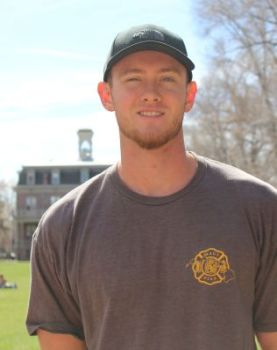 Available online and in retail outlets, Silver's photographs are more than just art. They record water quality and some of the unique threats facing Tahoe, such as old equipment and structures at the lake's bottom. Silver, who earned his master's degree from the Reynolds School of Journalism in spring 2017, believes this documentation will help people understand and reduce their environmental impact. The InNEVenture Fund investment allows Silver to purchase new equipment, budget for marketing expenses and complete a table-top book of his work.
Rooftop Solar Power and Water Heating: As Andrew Sheets received his bachelor's in mechanical engineering in spring 2017, he was already exploring his idea for a new and more cost-effective mechanism to capture solar-energy and generate power for electricity and water heating. The InNEVenture Fund investment allows him to continue to build, refine and test his patent-pending prototype, as well as test potential business models.
"If the proof-of-concept moves forward, there is a huge market ahead - there's a lot of upside," said Sheets, who has long been interested in the idea of renewable and pollution-free energy.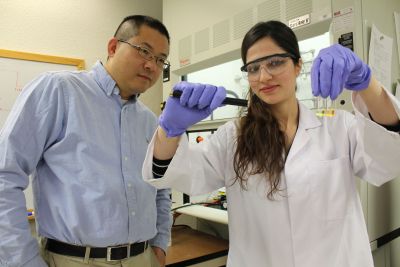 NPLuminescence: Engineered nanoparticles are catching significant attention in biomedical research and industry, and Xiaoshan Zhu, an associate professor in electrical and biomedical engineering, is exploring new ways to apply nanomaterials to enhance disease diagnosis and prognosis.
A faculty member in the College of Engineering and collaborator in the University's multi-disciplinary Center for Integrative Neuroscience, Zhu has formed a company, NPLuminescence, which has a patent pending on his concept to create or improve point-of-care devices that diagnose bacterial-infectious and other diseases. The InNEVenture Fund investment supports prototype creation and testing. Zhu has benefitted from new connections to business mentors and the resources available at The Innevation Center University of Nevada, Reno - Powered By Switch, all gained through the process.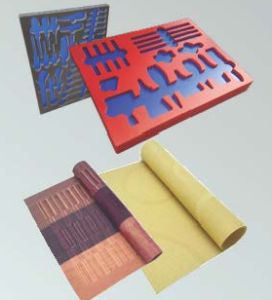 KIZI: Many companies and hobbyists have drawers and compartments full of loose tools, hobby kits, medical instruments and more. KIZI offers a simple and effective way to organize, protect and manage inventories of items by creating foam drawer liners customized to fit the drawer contents.
The brainchild of Sandra Haslem, director of Nevada Industry Excellence, the KIZI software program and app supports creation of customized, user-designed drawer layouts. Once the layout is designed, a liner or insert with stabilizing indentations is manufactured, packaged and shipped. The InNEVenture Fund investment will support further prototyping, software development and market analysis and testing.
***
"We were very pleasantly surprised at the number of submissions and we were also very pleasantly surprised at the diversity of the types of companies and the innovations, everything from musical instruments to nanotechnology," Ellen Purpus, the University's assistant vice president for enterprise and innovation, said of the inaugural funding process.
For the 2017-18 funding cycle, the three-step application process begins with an online application through which the business concept is explained. An investment committee with members from inside and outside the University will select applicants to advance through two additional steps: a detailed project plan and an in-person presentation of the project. Investments will be made by January 2018.
NVRIC is an independent, nonprofit organization with the sole mission of supporting research, discovery, innovation and commercialization at the University of Nevada, Reno. Much of what NVRIC does is technology transfer which, Purpus explained, is the process of ushering innovations to the commercial marketplace through business development and licensing of intellectual property.
"Many of this country's most notable research universities have corporations or foundations of this type," said Purpus, who guided development of the corporation. "It is a model that has proven to be successful for researchers and entrepreneurs, the universities and regional economies."
"It provides a mechanism to help move the discoveries and research of faculty, staff and students into the marketplace where their work will have impact," Marc Johnson, University president, added.
The InNEVenture Fund is supported by the Governor's Office of Economic Development and the State of Nevada Knowledge Fund.