Think of it as earth-science researchers' high-tech version of a store that rents specialized equipment to homeowners for their weekend projects they could never afford themselves – and provides some helpful tips about the gear before and after it's used.
Hundreds of scientists around the nation in the past 15 years have relied on state-of-the-art environmental sensing instruments leased by the Centers for Transformative Environmental Monitoring Programs – CTEMPs, for short – for research that stretches from the ice of Antarctica to a creek flowing through the heart of New York City.
Now the program has landed new funding that will bring more technology, more training and more sponsoring institutions.
Since its creation in 2008, CTEMPs has been overseen by the University of Nevada, Reno, and Oregon State University. The National Science Foundation, the primary funder of CTEMPs since its beginning, recently approved a $3 million round of renewal funding, and the two founding universities will be joined by the Desert Research Institute and Colorado School of Mines as sponsors.
Adrian Harpold, who is now coordinating the program, is an associate professor of mountain ecohydrology at the University of Nevada, Reno in the College of Agriculture, Biotechnology & Natural Resources. Besides teaching in the College's Department of Natural Resources & Environmental Science, he also conducts research as part of the College's Experiment Station. Harpold said researchers lease three types of technology from CTEMPs for projects that can last anywhere from a few days to many months:
Distributed temperature sensing systems that rely on fiber-optic cable to measure even tiny differences in temperature every few inches but over miles in length. Users include hydrologists laying fiber optic cables in streams, glaciologists measuring Antarctic ice melting, and atmospheric scientists hanging cables from balloons to research temperature fluctuations.
Distributed geo-acoustic testing, a new addition to CTEMPs that uses vibrations along fiber-optic cables to provide highly detailed data that's revolutionizing understanding of seismic and groundwater processes.
Advanced drone-mounted sensors that can collect airborne datasets for geophysics researchers and plant scientists.
A fourth major component of the program, a makerspace initiative to develop new environmental sensors, is operated at Oregon State University.
"Important work for the future of our planet is undertaken by scientists who partner with CTEMPs," Harpold said. "Their research provides significant understanding of natural processes that range from the health of mountain streams to the large-scale effects of climate change."
The technology provided by CTEMPs has been used for projects on all seven continents, according to Scott Tyler, professor emeritus in the Department of Geological Sciences at the University of Nevada, Reno's College of Science, who formerly co-coordinated the program with Oregon State University Distinguished Professor John Selker, in the University's College of Agricultural Sciences. In fact, the germ of the idea that became CTEMPs emerged in Switzerland, where Tyler and Selker saw early tests of long-range sensing devices that used fiber optics.
When they returned to the U.S., they landed a National Science Foundation grant to launch CTEMPs. The most recent $3 million funding represents the fourth renewal of funding for the project. University of Nevada, Reno already had some experience with the distributed sensor technology, having purchased an $80,000 system for monitoring of Walker Lake with federal funds.
Harpold, who succeeds Tyler as coordinator of CTEMPs this year, said the program will continue to expand the training programs that have been at its heart since the purchase of the first technology 15 years ago.
CTEMPs provides workshops that teach researchers how to use the technology and fire their imaginations about possible uses of CTEMPs equipment. That's particularly important, Harpold said, for early career researchers who often don't have access to the expensive, sophisticated systems they can lease affordably from CTEMPs.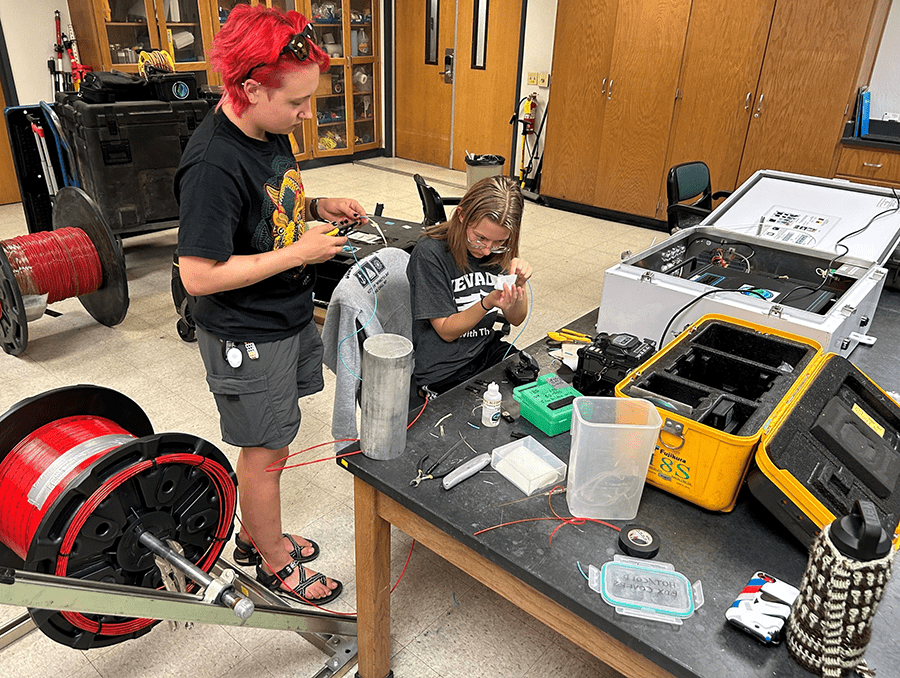 "We are training and empowering the next generation of scientists," he said.

The training doesn't end with workshops. Chris Kratt, CTEMPs laboratory coordinator and researcher in the Department of Geological Sciences and Engineering, routinely provides technical support to researchers who can encounter challenges when they're deploying the technology in the field. At any given moment, five teams of scientists typically are using CTEMPs equipment at locations around the globe.

Along with valuable assistance it provides to researchers, CTEMPs delivers good value to taxpayers, Harpold noted. Rather than search for funds to buy technology that can cost tens of thousands of dollars – even hundreds of thousands of dollars in some instances – scientists working for universities and public agencies can lease systems from CTEMPs for far less.
"This program not only advances science, but allows important research funds to be stretched further," he said. "With the renewal of funding from the National Science Foundation, the four leading institutions that sponsor CTEMPs expect to support a growing number of exciting research projects."
For more information on CTEMPs, see the website or contact Harpold.