October is a busy time for Nevada youth who participate in 4-H Youth Development Programs throughout the year. Many 4-H youth and their families will gather in Winnemucca, Oct. 3-6, for the Nevada 4-H Expo Competition. As that wraps up, National 4-H Week, Oct. 6-12, kicks off, when 6 million youth across the country celebrate 4-H and the accomplishments of youth involved in the nation's largest youth development and empowerment organization.
Nevada 4-H Expo Competition returns Oct. 3-6 after several years of hiatus
This year's 4-H Expo, held at the Winnemucca Events Complex, will give Nevada's 4-H youth the opportunity to showcase their projects and activities, as well as to compete against one another and, in some cases, to qualify to compete at the national 4-H level.
Check-in and some preliminary activities are on Oct. 3, followed by two full days of competitions and demonstrations Oct. 4-5, and the awards brunch at 10 a.m., Oct. 6. Youth will be showing and competing in several categories, including raising and showing various animals, communications, photography, food science and nutrition, robotics, computer science, and many more categories. According to organizers this once-annual event in Nevada has been sorely missed in its absence for several years.
"It's a really big deal to be able to bring this back for the kids," said Carrie Stark, Nevada 4-H Program director. "The Expo is really a culminating event for 4-H'ers. Due to the generosity of several donors, along with much time and effort from dedicated staff and volunteers, we are able to bring back this annual event this year, and we hope to be able to keep it going every year from now on," she said.
Stark said that, along with many individual donations, the support of the Humboldt County Commission and the Winnemucca Convention and Visitor's Bureau were key to making the Expo's return possible. The Commission donated $3,000, and the Convention and Visitor's Bureau waived the $7,000 that would have normally been charged for the use of facilities for the event.
"And, the University has also come through with support for additional staff that we need, if we are to be able to put on statewide events like this one," Stark added.
The 4-H experience
Across the country, 4-H programs are run by 110 land-grant universities and the universities' Cooperative Extension units. Here in Nevada, 4-H is a program of University of Nevada, Reno Extension, administered by the University of Nevada, Reno. But, more than 54,000 Nevada youth in rural and urban communities across the state participate in the various 4-H programs throughout the year – from afterschool programs and 4-H camps, to a variety of clubs offering everything from activities in raising animals, to building robots and rockets, to doing GPS tracking and mapping.
No matter which activities youth are focusing on in their activities throughout the year, and at the Expo this October, 4-H activities build life and leadership skills, and encourage civic engagement and sportsmanship. In fact, youth involved in 4-H are five times more likely to graduate from college and four times more likely to contribute to their communities. Nevada Senate Chief Majority Whip Joyce Woodhouse said her experiences in 4-H played a major role in developing her life skills, as well as her leadership skills.
"I learned you have to stick to it, get your projects ready on time, be on time to meetings and have your projects ready for the fair," she said. "4-H helped me in school by teaching me time management, that I had to get my work done on time and to the best of my ability, and to always do my best. I always wanted those blue ribbons, not the white or red ones," she said.
In fact, Woodhouse said 4-H helped fund her college education.
"In high school when I was in 4-H, I always showed and sold a steer at the fair, and all that money went into my college fund," she said.
National 4-H Week, Oct. 6-12, "Inspires Kids to Do"
Finally, National 4-H Week kicks off Oct. 6, when youth in 4-H will showcase the broad experiences that 4-H offers young people, and will highlight the work 4-H youth do to make a positive impact on those around them.
The theme of this year's National 4-H Week is Inspire Kids to Do, which highlights how 4-H encourages kids to take part in hands-on learning experiences in areas such as health, science, agriculture and civic engagement.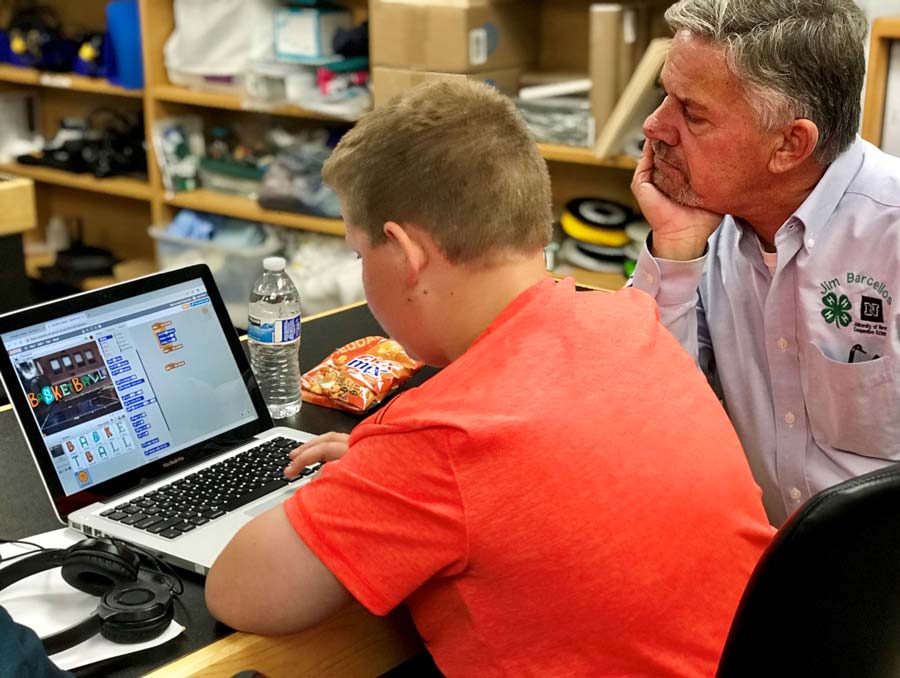 One of the most anticipated events of National 4-H Week every year is 4-H National Youth Science Day, when youth across the nation take part in the world's largest youth-led STEM challenge. This year's Game Changers activity, developed by Google and West Virginia University Extension Service, will teach kids coding skills through fun exercises including gaming, puzzles and physical activity.
"Many of our 4-H activities now teach use of technology and STEM skills," said Stark. "This is really a great time of year for kids to contact their local Extension office and see what 4-H has to offer in their community. There is such a wide a variety of activities offered now, that there is something for everyone."
To find out more about local 4-H activities and clubs, as well as National 4-H Week activities and the Nevada 4-H Expo Competition, contact your county's University of Nevada Extension office. For office locations and phone numbers, go to www.unce.unr.edu or call 775-784-7070.