It's o-fish-al! The world's largest freshwater fish has made its debut in the 2024 Guinness Book of World Records. The 661-pound stingray, caught in June 2022, was over 13 feet long, from snout to tail. The fish was hooked in the Mekong River, which flows through several countries in Southeast Asia, including Cambodia.
When the fish was caught, fishers called researchers with the Wonders of the Mekong project. Wonders of the Mekong is a USAID-funded collaboration between the Cambodian Fisheries Administration and the Global Water Center at the University of Nevada, Reno and other partners, including the California-based environmental consulting firm FISHBIO Many fishers along the river are part of a conservation partnership established by the Wonders of the Mekong project and have agreed to contact researchers when they catch giant or endangered fish.
For Zeb Hogan, director of the Wonders of the Mekong and biology professor at the University, the recognition is another important milestone in the study and protection of this and other fish species in the Mekong River.
"Developing relationships with fishers along the Mekong River allowed us to officially measure, tag, and then release this fish, so she can go back to her habitat and provide our team with information that could help bring the species back from the brink," Hogan said.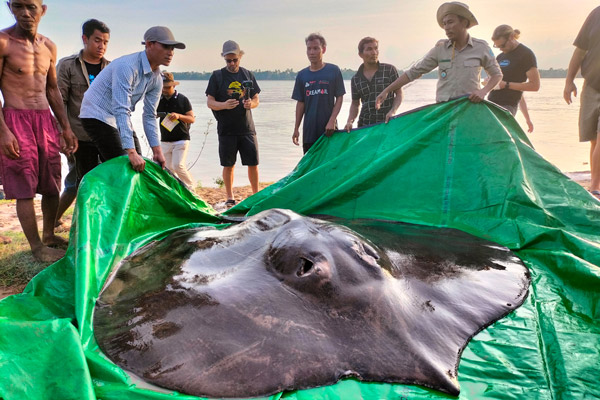 The giant fish, which the fishers named "Boramy," or "Full Moon" in English, was fitted with an acoustic tracker so the researchers can identify important habitat for the endangered fish. In the year since the fish was caught, researchers, working in tandem with local communities, found that the stingray typically stayed within one deep pool of water. This indicates the importance of developing fish reserves to protect endangered species.
Hogan hopes the fish's feature in the book will inspire young people to learn more about conservation of endangered megafish, like the stingray.
"Reaching people in innovative ways has been paramount to the mission of the Wonders of the Mekong, and finding a record-breaking fish raises awareness about the incredible importance of the Mekong River and its extraordinary and irreplaceable aquatic life.," Hogan said. "Recognition by the Guinness Book of World Records is a point of pride for many Cambodians and helps build momentum for future conservation efforts.".
To learn more about megafish like Boramy, visit the Monster Fish exhibit at the Terry Lee Wells Nevada Discovery Museum in downtown Reno. The Discovery is offering free admission to University students, faculty and staff with a valid University ID until January 7.