University of Nevada, Reno's Grant Cramer, professor emeritus with the Department of Biochemistry & Molecular Biology, is retiring after three decades of teaching and research that excelled Nevada's reputation in the wine grape growing industry.
Cramer joined the College of Agriculture, Biotechnology & Natural Resources in 1988 as a crop physiologist. His work included teaching a course on plant physiology and conducting research as part of the College's Experiment Station unit. He studied the mechanisms of how salinity impacted and inhibited plants to make crops more salt tolerant. In 1995, his research focus shifted when the first vineyard was planted at the University.
Although the grapes were struggling the first couple of years, they were surviving, which made Cramer interested in how to make the grapes thrive. His initial work with the vineyard included research into abiotic stress, or the negative impact of nonliving factors, on the grapes. He studied the effects of drought and cold on the vines, which are major factors in northern Nevada.
"Grant is leaving a tremendous legacy," Bob Ryan, professor and department chair, said. "He's been here 33 years, and he's had a large impact through his published work and his training of students, who will carry on this tradition and knowledge as he retires."
During his time working with the Experiment Station, Cramer oversaw two vineyards at the Valley Road Field Lab, one of which grew 12 varieties of red and white grapes. This vineyard served as a varietal trial to understand how well these varieties would do in northern Nevada. The second vineyard included chardonnay and cabernet sauvignon grapes, which were used in irrigation trials that revealed the vines needed a lot less water than previously thought.
Cramer became the project lead and collaborated with multiple faculty and staff in the College, including Associate Professor and Extension Horticulture Specialist M.L. Robinson, Associate Professor Wayne Johnson and Associate Professor Felipe Barrios-Masias. Cramer, Barrios-Masias and Robinson partnered with Oregon State University to investigate a hormone called abscisic acid and its role in drought- and salt-tolerant grapes.
Additionally, Cramer, Professor John Cushman and Professor David Schooley worked on a grant-funded project for the National Science Foundation, where they studied the impact of water deficit on grapevine physiology and grape quality. They found that wine grapes under moderate water deficit improved wine quality, further proving that water could be conserved while growing grapes. From that research, Cramer and Cushman developed the first wine grape microarray, a tool used to detect the expression of genes, which allowed for further, large-scale studies to be conducted on wine grapes.
"Dr. Cramer has really been a pioneer in wine grape functional genomics, which has led to the continued work on wine grapes in Nevada," Cushman said. "The decade we worked together was really productive and put UNR on the map in terms of wine grape research."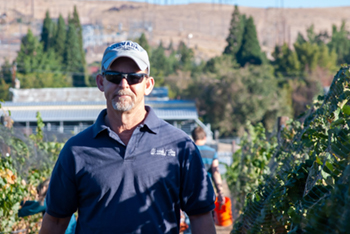 Cramer earned his doctorate in plant physiology at University of California, Davis in 1985 before joining the University. After his research focus shifted to growing wine grapes, so did his teaching. He started two new classes, one on viticulture and winemaking and the other an advanced course in systems biology in biochemistry. In addition to this work, he was also heavily involved in community outreach and education. He conducted workshops on grape growing and winemaking, and for two years he hosted a weekly wine tasting event where he presented on various topics on viticulture. Cramer also created a volunteer program where he encouraged those in his classes to adopt a section of the vineyard so they could learn hands-on skills and best practices for taking care of and pruning grape vines.
"These classes and workshops had a large impact, and a number of people started up wineries after attending," Cramer said. "I'm glad that my teaching had that influence on the students and the community."
Two of these students included Mike Steedman and Alynn Delisle, owners of Nevada Sunset Winery. They recently won Best of Class for their gewürztraminer and riesling wines in the San Francisco Chronicle Wine Competition, which is the biggest wine tasting competition in North America.
As he settles into retirement, Cramer is looking forward to spending time sailing in California and continuing to make viticulture and winemaking videos for his YouTube channel to share his wealth of knowledge with the public while continuing some research at the University.
"I feel very lucky to have had the opportunity to do what I did, and I'm thankful for the University and the Experiment Station for the support," Cramer said. "They've supported projects that I've done throughout my whole career that have had impacts on Nevada and on an international scale. I'm so thankful to have had the chance to serve the community and the University."