Biochemist and expert drug developer for Gilead Sciences, Inc. Mick Hitchcock will be speaking at the Davidson Math and Science Center on April 5 for the final Discover Science Lecture of the 2017-2018 season.
Hitchcock's contributions to the field of virology and health care are astounding. In 2001, Hitchcock, along with his colleague John Martin, developed the once-daily treatment of HIV called Viread that today treats eight out of 10 newly diagnosed AIDS patients. In the mid-90s, AIDS was treated with a "cocktail" of up to a dozen pills taken throughout the day that caused horrible side-effects such as nausea, liver damage, a ghastly gauntness in the face, and anemia. Viread, with its minor side-effects and ease of use, liberated patients facing the chronic disease. The simplicity of use has allowed widespread global access to these therapies, with over 10 million HIV-infected patients on treatment.
More recently, Hitchcock and his team applied a similar methodology to finding antiviral drugs for the treatment of Hepatitis C. In 2006, he helped to develop Solvadi and Harvoni, the simple daily-treatment regimens that are curative in around 95% of Hepatitis C patients and with as little as eight weeks of therapy, curing over 1.5 million patients in the last several years.
"It is very gratifying to have made such an impact in the lives of so many people.," Hitchcock said. "Day to day, when you are working to develop drugs, this is not on your mind. But when you see several years later effects on people, villages, even whole countries it is mind-blowing."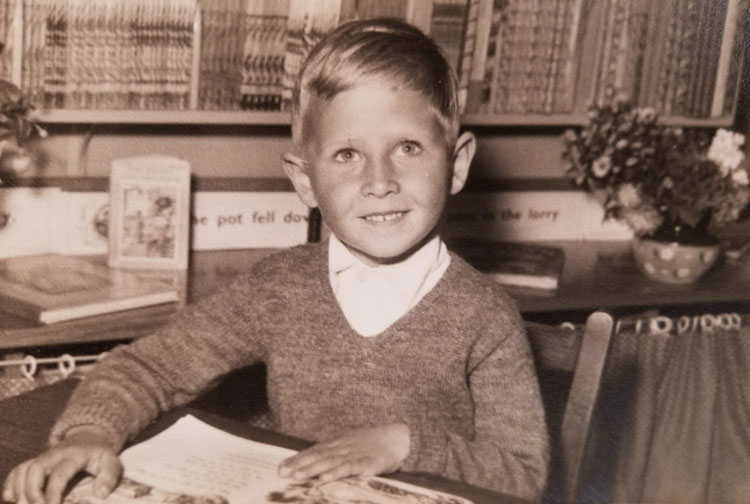 Hitchcock received his undergraduate and master's degrees in biochemistry at the University of Manchester Institute of Science and Technology, and his Ph.D. in microbiology at the University of Melbourne. As a post-doc at Georgetown University, he had the opportunity to sit in on a course on virology. That one class is what ultimately led to first his job in virology at the National Institutes of Health.
"This class gave me enough working knowledge that I took a job in virology at NIH having never worked in the lab with viruses," Hitchcock said. "Fortunately, I learned quickly!"
From NIH, Hitchcock was offered a position at the virology department at Bristol-Myer and then Gilead Sciences, Inc. where his groundbreaking work happened.
"It takes ambition, persistence and time to be successful, and often where you end up is not a straight line from where you came or intended to go," Hitchcock said. "Having a plan is good, but being flexible enough to change it when opportunities arise is the way to make the most of where you find yourself."
Currently, Hitchcock serves as Senior Advisor at Gilead, and he has high hopes for the future of antiviral drug development.
"There are new viruses to be reckoned with, such as Ebola and Zika," Hitchcock said. "There are also next steps in old viruses like HIV and HBV where, although we have good treatments, people want cures. It will certainly be more challenging, but if it can be done, we want to do it."
Hitchcock's lecture, scheduled for April 5 at 7 p.m. in the Davidson Math and Science Center, explores the complexities that arise not only in science but also in life.
"I think the story is a good example of how science can help us prevail over the challenges of our environment," Hitchcock said. "It has some twists and turns and frustrations that occur in science as you progress the art. But it is also a nice illustration of the success that can be achieved when it finally all comes together."
"I did not start out in life with this dream. It has been a constant evolution of thought and direction as I have picked up new skills and knowledge and could see what was possible. This comes from the many friends, colleagues and other smart people that I have been able to interact with and rely on along the way. Their contributions to my success are gratefully acknowledged."
Hitchcock's Contributions to the University
Hitchcock has substantially supported a wide range of projects at Nevada, including renovation of the undergraduate microbiology teaching lab, equipment for the Nevada Newborn Screening Lab and support of the Chemical Ecology Center. He has also provided funding for graduate assistantships, and for equipment for the Genomics Center and the Nevada Proteomics Center which will facilitate research across multiple disciplines and programs. In 2014, Hitchcock established the Mick Hitchcock, Ph.D. Endowed Chair in Medical Biochemistry.
Hitchcock was named a University of Nevada, Reno Foundation Trustee in 2015 where he serves on the Planning and Governance Board and the Audit and Finance Committee. He also serves on the Advisory Board for the College of Science. Hitchcock has been recognized for his philanthropy in the University's Honor Court where he was inducted as a Founder in 2014 and a Philanthropist in 2015.
More about the Discover Science Lecture Series
The Discover Science Lecture Series was founded by the University's College of Science in 2010, with the goal of bringing the country's top scientists to the University to share their knowledge, research and wisdom with the community.
Hitchcock's lecture will close out the 2017-2018 series. Past speakers in the series include astrophysicists Michio Kaku and Neil deGrasse Tyson; Robert Ballard, who discovered the wreck of the Titanic; and Bill Nye the Science Guy.
Discover Science Lectures are always free to the public. They are held at the Redfield Auditorium in the Davidson Mathematics and Science Center on the University's Reno campus at 7 p.m.
Free parking for the event is available in the lot south of the Davidson Mathematics and Science Center on the south-east corner of Evans Avenue and Record Street. For more information, call the College of Science at 775-784-4591 or visit the Discover Science Lecture Series website.