From development of strategies to deal with climate change on tribal lands to the careful archiving of papers detailing a long legal battle over Shoshone grazing rights, the University of Nevada, Reno, remains closely engaged with Native American and tribal peoples.
The engagement involves a wide swath of the University - from its Cooperative Extension Program to its art galleries and from its hydrology research teams to its Center for Student Cultural Diversity.
A medley of events during November, which has been highlighted as Native American Heritage Month nationally, spotlights the many ways the University serves Native American communities.
A sampling of the University's work includes:
Climate resiliency in focus
Native Waters on Arid Lands, a regional program based at the University, seeks to increase the resiliency of tribal communities in the Great Basin and American Southwest as they face the effects of tribal change.
The project, which kicked off with a Tribal Summit in Las Vegas in early November, brings American Indian farmers and ranchers, natural resource managers and tribal communities together with university researchers.
They'll look at factors ranging from the ways that ancient communities dealt with climate change to the modern-day costs of adapting to climate change.
Maureen I. McCarthy, executive director of the University's Academy for the Environment, is director of the project, and other University personnel playing leadership roles include Loretta Singletary and Staci Emm of University of Nevada Cooperative Extension and Helen Fillmore, a graduate student Hydrologic Sciences.
Historic documents on exhibit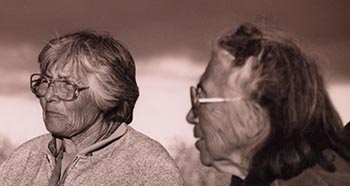 The historical treasure represented by the papers of two Shoshone sisters who took on the federal government over grazing rights are on exhibit through March at the Mathewson-IGT Knowledge Center Special Collections.
The papers were donated by Carrie Dann, who joined with her sister, Mary, in a decades-long, but unsuccessful, legal battle to affirm tribal grazing rights in the Ruby Valley of northeastern Nevada. The case ultimately was decided by the U.S. Supreme Court.
Mary Gibson, a cousin to the Dann sisters, spent a year cataloging and archiving the 120 cartons of documents through a grant from the National Historical Publications and Records Commission.
Nancy Mithlo: Global Indigeneities in Art
Nancy Marie Mithlo, chair of American Indian Studies at the Autry Museum of the American West in Los Angeles, will discuss Native self-representation in the arts as a growing global phenomenon.
Mithlo, a curator, teacher, photographic archivist and critic, explores how distinct identities are negotiated and how history is chronicled through the visualization of culture. Her work includes collaborative curatorial projects staged at the Venice Biennale, 1999- 2015.
Mitrovich earns Achievement Award
Saundra Mitrovich, outreach and retention coordinator in The Center for Student Cultural Diversity at the University, will be recognized as Nevada's American Indian Youth Services/Role Model of the Year.
Mitrovich will honored during the 2015 American Indian Achievement Awards Banquet at the Governor's Mansion on Saturday, Nov. 14. The banquet is a fundraiser for the historic Stewart Indian School in Carson City.
A first-generation college student herself, Mitrovich sits on numerous committees focused on preparing American Indian and Alaska Native youth for higher education. Her academic interests include aspects of tribal sovereignty, increasing rates of attendance in higher education within the American Indian and Alaska Native community, and outreach and retention of high school and college students.
Beginner farmers supported
For a quarter of a century, staff members of the University of Nevada Cooperative Extension have helped Native American farmers and ranchers - especially those who are just starting out - become more skillful.
The Beginning Farmers and Ranchers Project, as well as the Federally Recognized Tribes Extension Program, provide training for hundreds of Nevada farmers and ranchers in subjects such as financial management, entrepreneurship and marketing and basic farming and ranching skills.
Recent sessions have included one-on-one mentoring for beginning farmers, training in backyard poultry raising and programs on more effective herd and harvest programs.
Traditional duck decoys exhibited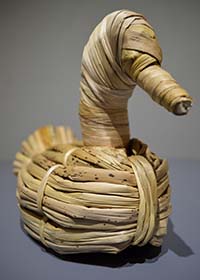 Joe Allen, who crafts tule duck decoys using 2,000-year-old traditional techniques developed by Nevada's native peoples, will share more than a dozen of his recent decoys in an exhibition at Sheppard Contemporary Gallery on campus.
Allen uses skills he learned through an extended apprenticeship with master-maker Martin George, who, in turn, comes from a long line of makers. The decoys are created only from cattail and tule reeds harvested around Stillwater and Fallon, Nevada. University Galleries is purchasing two decoys from Allen's exhibition for its permanent collection.
The exhibit runs through Jan. 22.
Veggies for Kids program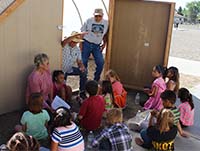 Nevada elementary school students at Paiute and Shoshone reservations, and in schools in nearby communities, learn about healthy eating and the value of native foods through a program overseen by the University Cooperative Extension since 2000.
Students in second- and third-grade classes grow their own food in school gardens, learn about native foods and benefit from in-school nutrition classes.
Hoop houses at the schools, meanwhile, produce fresh produce even after traditional growing seasons end.
Six schools in Hawthorne, Lyon, Elko and Washoe counties participate.
Emily Arthur: "Endangered"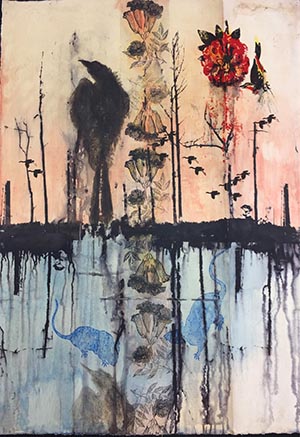 "Endangered," an exhibition by Emily Arthur at Sheppard Contemporary Gallery, provides a commentary on the history of expansion and government regulation that has changed the lives of American Indians over the last two centuries.
An artist currently teaching in the nation's top printmaking program at the University of Wisconsin-Madison, Arthur worked with scientists at Occidental College in Los Angeles to investigate the ongoing controversy surrounding the coastal California population of the gnatcatcher, a bird that lives across the United States.
"I seek the unbroken relationship between modern culture and ancient lands which uses tradition and story to make sense of the enduring quest to understand our changing experience of home," the artist says.
The exhibit runs through Jan. 22.