One hundred years ago, naturalists and other outdoor enthusiasts had the foresight to collect and preserve natural specimens unique to the Great Basin. Those collections have been entrusted to the Museum of Natural History at the University of Nevada, Reno where large green and gray cabinets are filled with long-dead birds, bugs, plants, mammals, fish and more. Postdoctoral scholar Behnaz "Nazy" Balmaki is making good use of those collections now.
Using specimens collected between 1910 and 2020, Balmaki has identified how butterflies have interacted with different plants over the past century and she is working on understanding how those relationships have changed as climate change has led to drought in the Great Basin and Sierra Nevada.
"Examining network changes over long periods of time provides the best methods to inform how plant-insect interaction webs may have changed with global climate change and to identify groups of butterflies and interactions that are most susceptible to disturbances," Balmaki said. Those disturbances include warming temperatures and habitat destruction.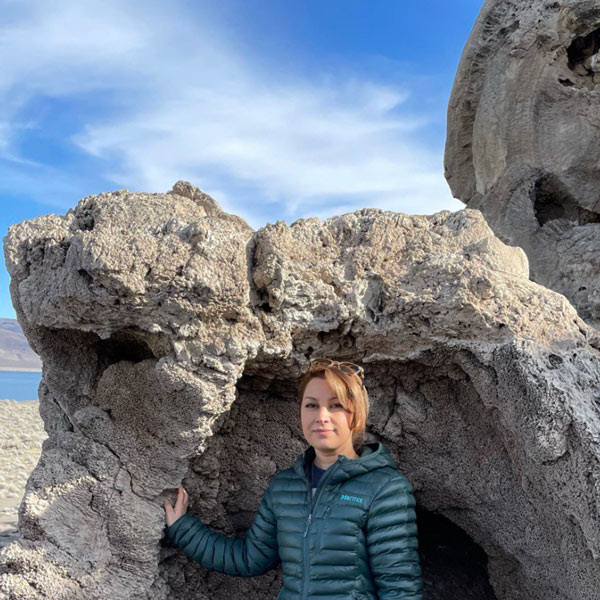 To study this, Balmaki developed a new method incorporating artificial intelligence technology to collect pollen grains from the butterflies in the museum's collections and compare it to pollen from plants in the museum collections.

It is a tedious and delicate process. First, a butterfly is rinsed with ethyl alcohol to collect most of the pollen. Balmaki then uses an entomological pin, which looks like a small, thin nail, coated in silicone oil to pick up any remaining grains from the butterfly's body. Some of the butterflies have thousands of grains of pollen on them, and the process can take hours. "I've gotten faster," she said. She places the pollen grains on glass slides which she peers at through a microscope to identify the plant species the pollen came from. Through this process of identification and comparison, Balmaki is able to identify how the butterflies' food sources have changed over the years.
To speed up the process, Balmaki designed an artificial intelligence model that uses a deep learning approach to identify the pollen grains in less than a second with 98.8% accuracy.
"Our research is the first comprehensive study in the U.S. to focus on automated pollen identification, with an initial focus on the Great Basin Desert and Sierra Nevada mountains," Balmaki said.
The deep learning approach Balmaki used is the Convolutional Neural Network (CNN), which works by receiving an image and using the objects in the image to identify and compare to one another. "The CNN method develops algorithms that can automatically extract discriminant features from images without human involvement," Balmaki said.
"I think some of the best projects are these 'bolt of lightning' ideas. It's the perfect combination of old and new, of tradition and innovation. It's a great way to push science forward."
The collections have been used for many other research projects over the course of the museum's history. But to collect pollen from insect collections and compare how the pollen type and amount has changed over time to construct historical representations of interactions is a new concept.
"Nazy's skill and innovation in this work is amazing," Elizabeth Leger said. Leger is a Foundation Professor in the Department of Biology and the director of the Museum of Natural History. "I think some of the best projects are these 'bolt of lightning' ideas. It's the perfect combination of old and new, of tradition and innovation. It's a great way to push science forward."
As drought and climate change have increasingly impacted the region, the habitats for plants and animals is changing, too.
"Analysis of pollen associated with insects is a more recently developed method that can be used for addressing questions related to insect food sources and habitats," Balmaki said.
Those questions could lead to policy decisions aimed at protecting butterflies. Insects have been heavily impacted by the negative consequences of a warming world, and their importance as pollinators makes them a target for conservation efforts.
"Plant-pollinator interactions are integral to the maintenance of terrestrial biodiversity," Balmaki said."In order to understand how biomes are changing in the long term, we need to understand how insect-pollen networks are changing."
And the networks are changing. The research found that the butterflies in the Great Basin tend to be specialized, meaning they only interact with a limited number of plants. Reduced pollination and reproduction of host plant species could be very harmful to the butterflies, as they are so dependent on such a limited number of plant species.
However, some species of butterflies are adapting to the changes by forming interactions with different plants. The Juba skipper, for example, typically associated with two plant species before the year 2000, is now associated with eight species.
"Constructing accurate pollination networks can help us understand how pollinators are responding to habitat reduction or fragmentation, climate change, invasive species, and changing communities generally," Balmaki said. "Our approach of carefully extracting pollen grains from an insect body does not require destructive sampling – leaving both insect and pollen specimens intact and available for preservation and future research."
The agricultural and societal implications of the research findings are obvious to Balmaki.
"Without pollinators we cannot feed our ever-warming planet," she said. "Because of the presence of pollen on curated insects, natural history museums are an important tool for recording taxonomic diversity. They can provide insight into native pollinator communities across spatial and temporal gradients. Museums and their collections are also a key part of efforts to document and predict the consequences of habitat loss, fragmentation, invasive species, and climate change."

"We are the premier repository for life in Nevada," Leger said. "It's an invaluable, irreplaceable collection to which thousands and thousands of people have contributed." The specimens were collected by a variety of people, not just scientists.
"Museum specimens are collected by volunteers, citizen scientists and researchers at the University and other institutes. Also, Earthwatch community scientists have collected and continue to collect data for the Museum," Balmaki said. Earthwatch is a global networking organization that supports researchers by connecting them with students, institutions and individuals.
"When you think back to the collector who did all of that work – going out into the field, finding the plant, collecting it, pressing it, sticking it to a piece of paper, making the label, getting it filed, getting it catalogued – that person had no idea what that plant would eventually be used for," Leger said. "Now Nazy is using it in ways they never imagined. When projects like Nazy's are developed, it just demonstrates how the museum is an active, living place, even though it's full of dead things. It's a place where knowledge is generated, still."