Kevin Carman, Executive Vice President and Provost, opened the 2019 "Honor the Best" ceremony, held Tuesday, May 14, in the Glick Ballrooms of the Joe Crowley Student Union. More than 350 people attended the ceremony and reception.
"Many thanks to all of you for sharing in today's celebration," Carman said. "As members of the Wolf Pack family know, the University of Nevada, Reno was recently elevated to the R1 Carnegie classification - this classification recognizes the very high level of research done at our University which is committed to learning, discovery and engagement. This afternoon, we recognize and celebrate many of those who have made this University what it stands for today and who have helped us achieve this R1 status."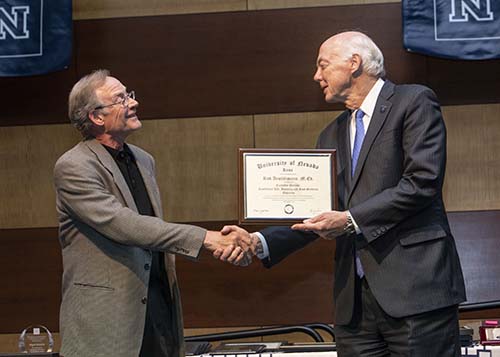 Since 1970, the "Honor the Best" ceremony has been a gathering by the campus to recognize the outstanding achievements of faculty, staff and students.
University President Marc Johnson continued with welcoming remarks before the presentation of awards.
"Awards help our institution applaud individuals whose deeds are extraordinary - and they also help remind us that our campus is a place where teamwork and partnership and a belief in one another are central to the success of everyone here," President Johnson said. "I'd like to congratulate all of our honorees today. We have a unique story to tell here at the University, and each of the people we honor here today have helped make our story richer, more meaningful and worth remembering."
The list of honorees Tuesday included:
Emeriti Faculty: Rod Aeschlimann; Greg Arehart; Kathleen Boardman; Stacy Burton; Dale Carrison; Audrey Casey; Joseph Cline; Patrick "Tod" Colegrove; DAyue Darrel Duan; Amanda Evans; Jacque Ewing-Taylor; Adam Garcia; William Gerthoffer; Stuart Golder; Catherine Goring; Darren Griswold; Christopher Henry; Martha Hildreth; Janita Jobe; Kathleen Keef; Evan Klass; Peggy Lakey; Kenneth Lucey; Bruce Mack; Cynthia Marczynski; Gerald Marczynski; Glenn Miller; Denise Montcalm; Ronald Pardini; Pamela Jo Powell; Robert (Jerry) Qualls; Alan Ramelli; Jennifer Ring; Nelson Rojas; Dan Ruby; Janet Sanderson; James Sedinger; Mark Simkin; Ed Smith; Terence Smith; Debra Stiver; Gregory Stone; C. Richard Tracy; Deborah Verstegen; Shernaaz Webster; Leah Wilds; and Joseba Zulaika
Foundation Professors: Marjorie Matocq; Monica Miller; Vladimir Pravosudov
F. Donald Tibbitts Distinguished Teacher Award: Geoffrey Smith; Ann-Marie Vollstedt
Distinguished Outreach Faculty: Todd Felts
Inclusion, Equity and Diversity Leadership Award: Stephen Rock
University Foundation Innovative Impact Award: Kalena Pelekai-Wai
Outstanding Undergraduate Research Faculty Mentor: Angela Smilanich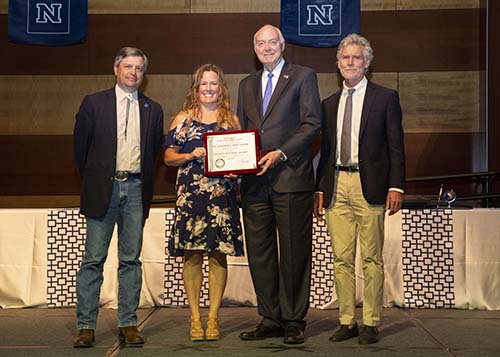 Postdoctoral Award for Exceptional Mentoring: Jorge Monteiro
Student Employee of the Year: Payton Smith
Cavanaugh Community Volunteer Award: Ryan Baldwin
Henry Albert Senior Public Service Award: Vanessa Amaya; Alec Brennan; Tania Gonzalez Contreras; Hannah Jackson
Phi Kappa Phi Award: Kaitlyn McKenna
Outstanding Senior Award: Kristopher Alighchi; Daniel Lindbergh Lang
Outstanding Graduate Student Researcher: Marcella Rosie Shrout
Outstanding Graduate Student: Jhony Habbouche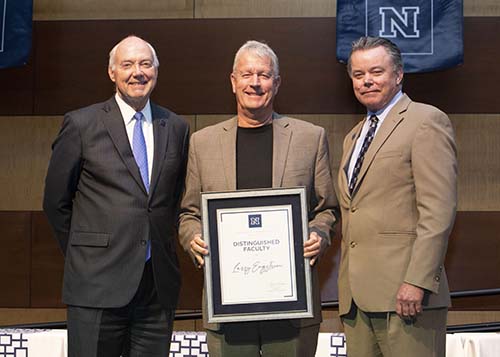 ROTC Governor's Award: Adam Khouri
ROTC President's Award: Chris Hopper
Faculty Senate's Award for Outstanding Service: Dave Croasdell; Judith Sugar
Thornton Peace Prize: Sarah Blithe
Regents' Academic Advisory Award, Undergraduate: Ivy Chin
Regents' Researcher of the Year: Jeffrey Harper
Regents' Rising Researcher Award: Yu Yang
Regents' Rising Researcher Award: Jennifer Hollander
Regents' Scholar Award, Graduate: Hector Arciniega
Regents' Scholar Award, Undergraduate: Hannah Huntley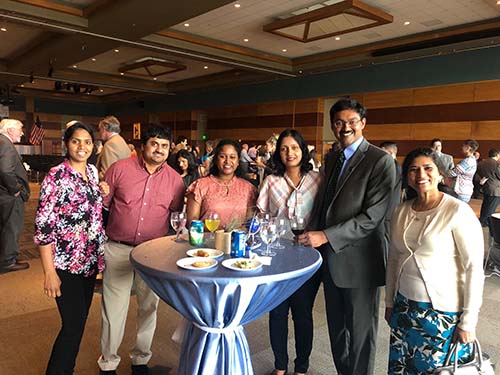 Outstanding Researcher: Peter Sebaaly
Early Career Innovator Award: Monika Gulia-Nuss
Graduate Academic Advisory Award: Mark Nichols
Established Innovator Award: David AuCoin
Global Engagement Award: Ravi Subramanian
University Foundation Outstanding Supervisor Award: Jerry Marczynski
University Foundation Administrative Faculty of the Year: Audrey Casey
Distinguished Classified Employee Award: Brendi Gertsma
Announced at Ceremony:
Distinguished Faculty: MaryAnn Demchak; Larry Engstrom
Distinguished Service: Rod Aeschlimann

Carman concluded the ceremony.
"Together, we are taking our University into a bright and prosperous future," he said.