"Outreach is about going into the community and finding new opportunities for my students. This connection can have real impacts on a student's success by connecting them not only with new ideas but with potential jobs and experiences," Dr. Todd Felts said.
Felts, EdD, APR, was awarded this week the 2019 Distinguished Outreach Faculty award during the University of Nevada, Reno's Honor the Best Award ceremony on May 14, 2019. The award recognized him for 10 years of outreach efforts at the university and in the Reno-Sparks community.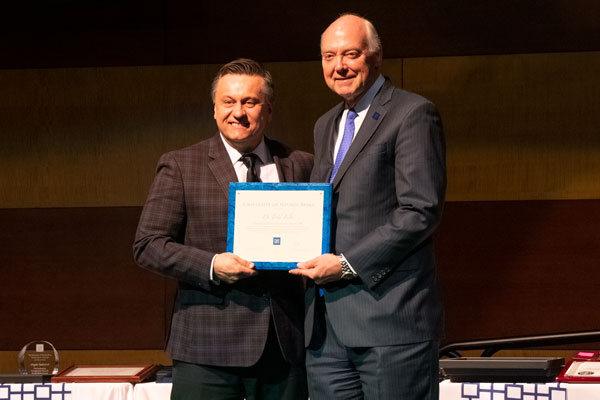 The Honor the Best awards recognize the outstanding achievements of those who display the dedication and commitment that make the University one that is dynamic and remarkable for a culture of student success, world-improving research and outreach that enhances local communities and businesses.
Felts is an assistant professor at the Reynolds School of Journalism where he teaches undergraduate and graduate students. He brings innovation to an array of classes including high-level strategic communication classes where he has secured real national clients and large introductory journalism classes where he has crafted a new approach that includes both a lecture and laboratory so students can quickly improve writing and reporting skills. He also teaches seminar-style graduate classes that help launch student careers in social and entrepreneurial endeavors.
"This is a richly-deserved award that recognizes Todd's longstanding commitment and impact toward the School and the University's mission of engagement and outreach," Reynolds School dean Al Stavitsky said.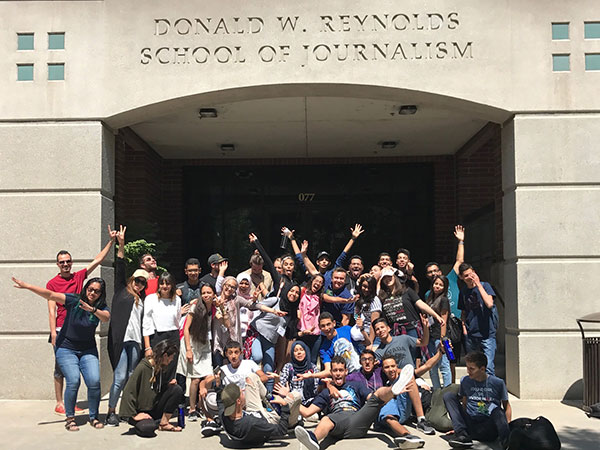 For the past nine summers, Felts has developed curriculum and educated African students during the Algerian Youth Leadership Program, a four-week leadership and civic engagement program, at the University. During the program, students envision change they would create back home in Algeria in a seminar program for two weeks working with four journalism students who serve as global ambassadors. Felts oversees the development of their projects in Reno and monitors their progress on social media as they carry them home to recreate them.
"Nevada, and particularly Reno, is an amazing laboratory to learn and teach journalism and public relations. Outreach becomes building key relationships and helping solve real community problems," he said.
In 2015, Felts joined the board of directors for Nevada Humanities, a nonprofit that fosters cultural enrichment and connection for all Nevadans. He currently serves as the strategic planning committee chair. In his role there, he has helped the nonprofit grow through messaging, enhance their engagement on social media and focus on meeting the diverse needs of Nevadans.
Felts has also served on the board of directors for Northern Nevada Hopes, a community health center that provides medical and wellness services to the insured and uninsured in Reno, since 2016. As a board member, he has helped recruit new leadership and craft new messages around the organization's mission.
In addition to teaching and serving on local boards in the last decade, Felts has provided expertise in media training, crisis response and principles of social media to members of the Reno-Sparks community.
"It's such an honor to be recognized with this important award. I believe a big part of what I do is about outreach and being an engaged scholar and teacher," Felts said.
In 2014, Felts received the University's Honors Program Distinguished Faculty Award. He also spent three years serving as the director of the graduate program in interactive journalism at the Reynolds School.
Before coming to the Reynolds School, Felts was the national director of business development for Ogletree Deakins, one of the nation's largest labor and employment law firms. Felts launched his career reporting at WGHP TV and later served as the public information officer for the North Carolina Zoological Park/NC Department of Environment & Natural Resources.
He has a doctorate in education in management and leadership from Drexel University, a master's degree in liberal studies and international communications from Georgetown University and a bachelor's degree in broadcast journalism from Lenoir-Rhyne University.