It's not easy to attend classes when you're in the field fighting fires and helping to manage a delicate balance of resources on rangelands. Yet, there are federal education and training requirements for many wildland fire personnel, to equip them with the knowledge and skills needed to do their challenging jobs and make the right decisions considering a complex web of factors. Faced with a shortage of professionals meeting these requirements, BLM Nevada came to the University of Nevada, Reno for help. It was the University's College of Natural Resources, Biotechnology & Natural Resources, known as "CABNR," that had the faculty with the expertise to develop and deliver a program to meet the need.
"This program started as a big ask of CABNR and has transformed our employees who have attended it," said Paul Petersen, former state fire management officer with BLM Nevada, who initiated the program and retired this spring. "After the first class, the enthusiasm and feedback were amazing, and I knew we had a great program. This has potential to change fire management visions and direction."
About five years later, more than 100 students have completed the two-year "Rangeland and Fire Ecology Education Program," and now meet the requirements for positions classified as "Series 401, Natural Resources Management and Biological Sciences" positions by the U.S. Office of Personnel Management. More importantly, they are fully armed with the knowledge and skills needed to battle wildfires and maintain rangelands and natural resources.
"I have multiple emails from former students that make this program the best thing I have ever done for rangeland in my entire 30-year career," said the College's Professor Tamzen Stringham, who worked with other partners to put together the program. "I love this program and the positive impact it has on the students' lives and on management of our beautiful natural resources."
Tailoring to wildland fire professionals' needs
Stringham, who also conducts on-the-ground research as part of the College's Experiment Station unit, adapted some materials used in the University's traditional on-campus classes, as well as developed new lessons and activities, to meet the needs, and schedules, of wildland fire professionals. The program consists of eight three-credit courses, each two to four weeks long, that are held January – April and October – November, to avoid the busiest wildland fire season. It is administered through the College's Extended Studies unit, which provides various professional development programs customized to provide training for specific industries and help fill workforce needs.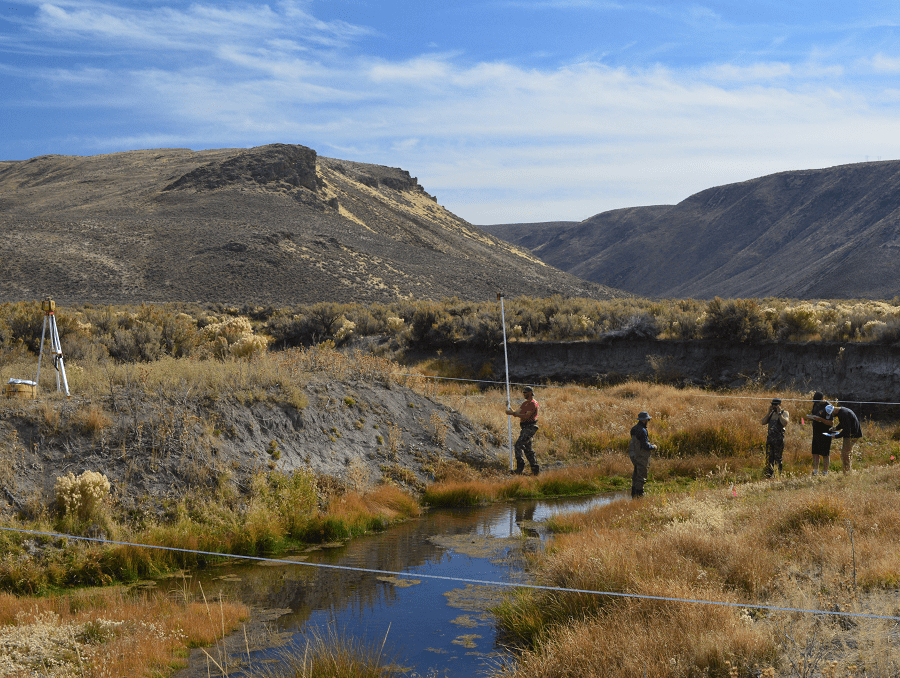 Some of the program's coursework is completed online, but the distinguishing feature of the program is the strong integration of hands-on fieldwork designed to help participants learn how to apply what they learn during online segments or field lectures. Field segments take place in a variety of ecosystems throughout Nevada and are led by academic faculty and field professionals from agencies such as the BLM, U.S. Forest Service, Natural Resources Conservation Service and Nevada Department of Wildlife. Ranchers and others working in land stewardship and resource management also help lead work in the field.
"We take them out and make them 'ecological detectives,'" said Yvette Gibson, the program's coordinator who also leads some of the fieldwork sessions and courses. "They figure out how to use what they've learned about soils and different types of vegetation to help come up with the best management decisions that align with what's going on in the landscape."
Participants learn about a variety of topics that impact their work, and that their work impacts, such as range management and restoration, riparian management and restoration, range-livestock interaction, shrubland ecosystems, and range and forest administrative policies. They learn how to analyze soils, identify vegetation, and formulate and apply computational analysis to natural resource issues.
Gratitude from graduates
Professionals who have completed the rigorous program say it helps them in their jobs in various situations.
"This program has given me the knowledge to make better informed decisions when it comes to on-the-ground things, like where to put a fire line in, when and what to seed and where," said one program graduate. "It also has given me more 'common ground' to be able to communicate to private landowners and the public, about what we are doing as land managers and why we are doing it."
Gibson said the goal is to increase the understanding of the whole picture when working in wildland fire-related positions. Professionals completing the program often share that they look at their jobs quite differently after putting in the two years of coursework.
"Having an understanding of the basic ecological function has increased my awareness and gratitude for botany, hydrology, soil and wildlife," said one participant. "I used to be really narrow minded in terms of the fire program being the best thing that ever existed. I see myself as a steward of the land now and not just a prescribed fire specialist."
Graduates of the program enjoy sharing their expanded perspectives while working on the job with their colleagues.
"This program allowed me to understand that every resource program on our forest hinges of one another from fire to fuels, to botany, to hydrology, to wildlife," another graduate shared. "I now cringe when specialists and fire folks think it's their program versus the rest of the programs. I'm honored to have the responsibility to educate one employee at a time and show them the 'holistic view' I learned while taking this program."
Growth and looking to the future
The first cohort of the program included 42 students, 24 from BLM Nevada and the rest from five other states in the West. The group started in January 2019 and finished in fall 2020. As word of the program spread, the second cohort, which began in January 2021 and finished in fall 2022, grew to 62 students – 22 from BLM Nevada and the remainder from nine other states and other agencies, such as the U.S. Forest Service, U.S. Fish & Wildlife Service, the Department of Defense, Ohio State Forestry and others. The third cohort, with 67 students, began their training this January and will wrap up in fall 2024. Stringham said the program is serving as a pipeline to fill many vital positions.
"State and BLM fire management officers, assistant fire management officers, fuels management specialists and many other fire related positions, all must be 401 qualified," she said. "In addition, most of the hazardous fuel positions – fire ecologists, district fire leads and fire planners – require the 401 education level. Seasonal firefighters and fire engine personnel do not have to be 401 qualified, but most will want to move up into higher-paying jobs at some point in their careers. These jobs typically will require the 401 education level. The 401 job series requires 24 college credits classes in natural resource focused coursework. Eighteen credits must be upper division."
New to the program for the cohort that began this year is the option to take three additional courses, which also makes them "454 qualified," a higher education level that is required for those seeking "454 Series, Rangeland Management Specialist" positions. Of the 67 students in this year's cohort, 18 are planning to complete the additional three courses to also become 454 qualified. For both the 401 and 454 programs, all students get in-state tuition rates, no matter where they live or work.
"We know there aren't a lot of programs like this in the West, or in the country, for that matter," Stringham said. "So, we want to make it available and affordable not only for our Nevada professionals, but for those in our neighboring states and other parts of the country. As we've all learned, wildfires have no boundaries. We need to do everything we can to help manage them and our natural resources nationwide."