What strategies can be implemented to increase recycling and reduce the generation of waste?
How can Americorps motivate and grow the ranks of their volunteers?
How can the City of Reno better predict floods and better mitigate damage and costs?
These are some of the problems posed by regional governmental and nonprofit organizations, and addressed by undergraduate students through the University of Nevada, Reno's Community-Based Research program. Twelve paid student researchers participated in the 2018 spring-semester program.
Coordinated through Undergraduate Research, part of Research & Innovation, the Community-Based Research internships were launched in 2017 and are offered in the fall and spring semesters.
"It is a real win-win for UNR students and our community because the students get real-world experience doing applied research and our community gets problems solved that otherwise would go unresolved," Scott Mensing, director of undergraduate research, said.
The spring-semester program concluded with a May 2, 2018, symposium at which the students presented their findings to representatives of the organizations and their faculty mentors. The interest and appreciation of the partner organizations was made clear through post-presentation comments and questions. At the conclusion of Casey Iwamoto's presentation, "How Outdoor Education Affects STEM Education," representatives of partner Sierra Nevada Journeys asked if she would give the presentation to their donors.
Through her project, "Animating a Community: Quality of Life Indictors," Sarah Ko attended several meetings of partner Truckee Meadows Tomorrow's board of directors. Marlene Rebori, a member of the board and a faculty member with University of Nevada Cooperative Extension, represented Truckee Meadows Tomorrow at the symposium and thanked Ko for her participation and final presentation, saying, "It pushes us to the next level. If we can update and improve the indicators and the data, it helps a variety of organizations, so this work has collective impact in our community."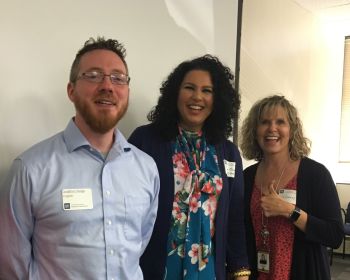 The projects resulted in specific tools or recommendations that the organizations can consider applying. As an example, the City of Reno Information Technology Department sought to better understand and bridge the "digital divide." Internet access today impacts everything from relationships to health-care maintenance to civic engagement, yet student Jonathan Sledge reported 23 percent of Americans are unable to access the internet at minimum speeds. Sledge outlined a three-prong solution involving broadband access and adoption, digital literacy and affordable devices.
The students selected to be part of 2018 Community-Based Research and their projects were:
Cortney Arrington, "AmeriCorps and Nevada Volunteers: A Survey on Volunteer Feedback," partner organization Nevada Volunteers, faculty mentor Marta Elliott, Department of Sociology
Kaitlyn Duvall, "Developing a STEM Curriculum Needs Survey for Middle and High School Teachers in Collaboration with Project ReCharge," partner organization Envirolution, faculty mentor Julie Stoughton, Department of Natural Resources and Environmental Science
Casey Iwamoto, "How Outdoor Education Affects STEM Education," partner organization Sierra Nevada Journeys, faculty mentor Glenn Waddell, Department of Elementary and Secondary Education
Sarah Ko, "Animating a Community: Quality of Life Indicators," partner organization Truckee Meadows Tomorrow, faculty mentor Scott Kelley, Department of Natural Resources and Environmental Science
Jolene Norton, "Feeding Our Future: City of Reno Local Food System Assessment," partner organization City of Reno, faculty mentor Lorraine Benuto, Department of Psychology
Heather Redman, "Measuring Neighborhood Satisfaction in Reno, Nevada," partner organization City of Reno, faculty mentor Marta Elliott, Department of Sociology
Brandon Robbins, "Assessing Environmental Injustices Across Reno," partner organization City of Reno, faculty mentor Scott Kelley, Department of Geography
Cory Rogaczewski, "Flooding in the Truckee Meadows," partner organization City of Reno, faculty mentor Adrian Harpold, Department of Natural Resources and Environmental Science
Jonathon Sledge, "Bridging the Digital Divide," partner organization City of Reno, faculty mentor Elisabeth Miller, Department of English
Adora Shortridge, "An Extreme Urban Heat Assessment of Reno," partner organization City of Reno, faculty mentor Mae Gustin, Natural Resources and Environmental Science
Hayden Smith, "Growing Pains: A Statistical Look at Student Allocation in Carson City," partner organization Carson City School District, faculty mentor Scott Kelley, Department of Geography
Courtney Talbot, "Waste Management & Recycling Legislation," partner organization City of Reno, faculty mentor Nancy Markee, Department of Natural Resources and Environmental Science