A three-year research project led by the University of Nevada, Reno will develop open-source software to help farmers better manage water supply, especially for Nevada's crucial crop of alfalfa. The project is funded by the United States Department of Agriculture's National Institute of Food and Agriculture as a grant of its Engineering for Precision Crop and Water Management Program.
The College of Agriculture, Biotechnology & Natural Resources received about $400,000 for its part in the $745,000 collaborative project with the University of California-Davis and the USDA's Agricultural Research Service in Bushland, Texas. The three institutions are working on different crops as part of the grant: alfalfa for Reno, corn for Davis and cotton for Bushland.
The University of Nevada, Reno portion of the research started in July and concludes in 2026. The University will develop precision irrigation management software, conducting field experiments to test and improve the software. The research is being conducted on an alfalfa field at the Valley Road Field Lab, which is part of the College's Experiment Station unit.
Alejandro Andrade-Rodriguez is an assistant professor in the University's Department of Agriculture, Veterinary & Rangeland Sciences, and is the principal investigator of this project, "Partnership: Making the most of a limited water supply by improving a site-specific irrigation management decision support system." Andrade-Rodriguez has extensive knowledge of irrigation hardware and software and has conducted research on irrigation management before as part of the Experiment Station unit.
More about precision irrigation
This latest research for Andrade-Rodriguez ties into his post-doctoral research in the 2010s at the USDA-Agricultural Research Service in Bushland, Texas. That is where he developed ARSPivot, decision support software for center pivot irrigation systems equipped for precision irrigation. Center pivots are the most common irrigation systems in the U.S., and they irrigate about a third of the acreage in Nevada, Andrade-Rodriguez said.
ARSPivot is the embodiment of a sensor-based decision support system created by Steve Evett and Susan O'Shaughnessy, among other scientists with the USDA Agricultural Research Service in Bushland. Evet and O'Shaughnessy are co-principal investigators of this project.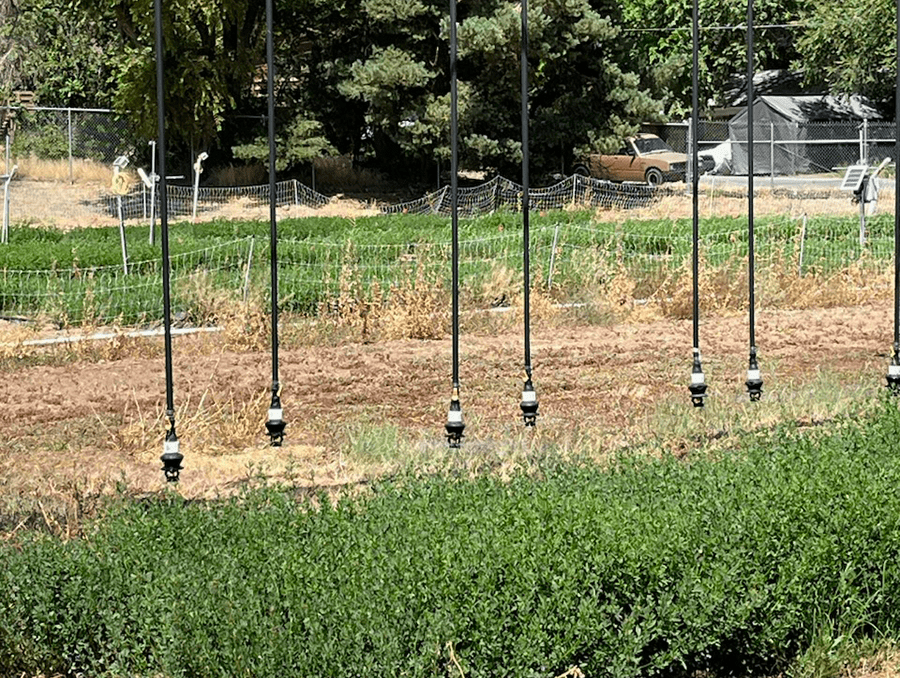 "Precision irrigation allows center pivot systems to apply variable amounts of water to a field, which can lead to water savings," he said. "These systems allow water to be applied in the right amounts required by plants growing in different parts of a field."

Andrade-Rodriguez said the objective of conventional center pivot irrigation systems is to have every part of a field receive the same amount of water.

"If the entirety of a field has similar characteristics, you don't want to irrigate more here or there, because that will cause lower yields in some portions of the field and higher yields in others," he explained. "This is why you want to irrigate the same across a uniform field. But, the reality is that you may have different soil types in a field, or there may be areas with higher or lower elevations. Applying the same irrigation amounts to such a field will result in poor water management."
Providing help for farming decisions
Through precision irrigation, growers can alter the amounts of water applied to different parts of the field, to make a more efficient use of irrigation water. Yet, adoption of these systems has been slower than expected since they became commercially available in 2004, in part because there is a lack of decision support systems capable of estimating the water requirements for a field's different sections.
ARSPivot was developed with this purpose in mind. The software automatically generates precision irrigation maps for center pivot systems using weather, soil moisture and plant sensing systems. ARSPivot uses measurements from crop canopy temperature sensors collected at different parts of a field to estimate water stress and water need.
"For example, when canopy temperatures are higher in a certain part of a field, more irrigation is needed there," he said.
This current phase of Andrade-Rodriguez's work with ARSPivot is centered on expanding the software capabilities to make it compatible with different manufacturers of center pivot systems. The current version of ARSPivot only supports center pivots from one manufacturer.
The new version of the software will also be able to operate on linear move irrigation systems in addition to center pivots. Both linear move and center pivots are self-propelled sprinkler irrigation systems used to water rectangular and circular fields, respectively.
Although center pivots are considerably more common than linear move systems, supporting linear move systems is important for agricultural researchers, since these systems irrigate the rectangular shapes of agricultural fields common in experiment stations. The new version of the software will be tested at the Valley Road Field Lab using a linear move system.

The new version of ARSPivot will also incorporate an interface to a crop water use and yield model, with the objective of allowing the software to analyze many different potential irrigation management decisions (such as when to irrigate, and how much to irrigate in different parts of a field). This effort will be led by Isaya Kisekka with the University of California-Davis, who is a co-principal investigator of the project.

The new version of ARSPivot will be released as open-source software that Andrade-Rodriguez expects to provide irrigation researchers with a much-needed open platform that facilitates the generation, testing and implementation of innovative precision irrigation management strategies.
"If someone wants to use the software for a different crop or to incorporate additional functions, they can modify its source code to do that," he said. "The idea is to open it up to others, so the technology can only improve."
The importance of alfalfa
Andrade-Rodriguez said precision irrigation using ARSPivot is being used for alfalfa for the first time as part of his research. He added that the sensor-based decision support system has been tested with corn, soybeans, cotton, grain sorghum and potatoes in several states, and there have been good results from it.
"In general, there have not been significant differences in the yield obtained per unit of water between the sensor-based decision support system and the neutron probe soil moisture sensor, which is considered the gold standard for irrigation scheduling," he said. "However, a neutron probe is not accessible to farmers due to its high cost and because it requires specialized training for its safe use."
The alfalfa portion of the project will cover several different irrigation treatments. The key benchmarks are yield and water use statistics from each of the four harvests that commonly take place in northern Nevada per growing season.
One treatment will use full irrigation to replenish soil water depletion in the top 1.5 meters of soil to the full field capacity. Other treatments will use varied levels of deficit irrigation – anywhere from 60% to 80% of full irrigation – to see how yields and water use using the sensor-based system compare against local best management practices.
Strong alfalfa yields are important to the Nevada agriculture economy. The Governor's Office of Economic Development calls it "the leading cash crop of the state," as its hay is sold to other states' dairy farmers, as well as overseas. The USDA also notes that there were more than 1.25 million tons of hay and alfalfa produced in Nevada in 2022, at a price of $313 per ton.
Andrade-Rodriguez notes that alfalfa has a reputation for using more water than other crops, and having a decision support system that can help farmers and ranchers in Nevada to make irrigation more efficient can be to farmers' advantage.

"Alfalfa is more flexible than many other crops," he said. "When there are water cuts with other crops, you can lose your entire investment. But, alfalfa can still give you two or three harvests, which can help you to reduce the economic impact of the water cuts. So, having a decision support system that reduces the amount of water used in agriculture can help farmers and ranchers in Nevada reduce the negative effects of a limited water supply."