On November 9, NASA's Chief Scientist for the International Space Station Julie Robinson stood in front of a class of high school students at the Davidson Academy and gave them a very important piece of advice:
"A lot of times we tell students they should know what they want to do," Robinson said. "Adults expect you to have an answer, and that gives you the impression that it's the right answer. The fact is, you don't know what opportunities are going to come your way. If you take those opportunities, you can wind up in some pretty incredible places."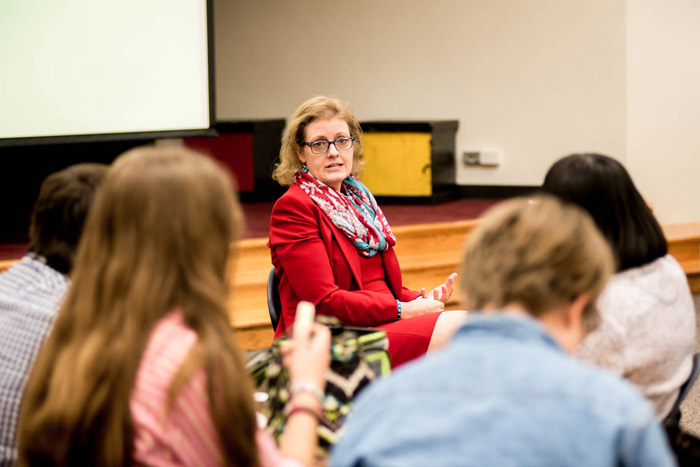 Taking her own advice, Robinson forged a unique career path for herself that ultimately led her to NASA. With her doctorate in Ecology, Evolution and Conservation Biology from the University of Nevada, Reno, she had plans of becoming a professor, but the opportunity to work for NASA persuaded her to change course. She met with students at the Davidson Academy, current graduate students in the EECB program and the College of Science Physics Club to talk about her path to NASA and the role scientists play in society.
"Julie struck me as someone who was extremely committed to the sometimes difficult job of convincing society of the value of basic research," EECB doctoral candidate Jake Francis said. "Communication with non-scientists is a really critical skill that I have found can be difficult to learn if you do not actively seek out opportunities to practice and learn from people that are experts at sci-comm - a major reason I wanted to meet with Julie."
That evening, Robinson spoke to a packed crowd for the College of Science lecture. She discussed the scientific, social and political progress made at NASA since her employment began in 2004. With over 1800 experiments completed or in progress on the International Space Station, she refused to pick a favorite when asked.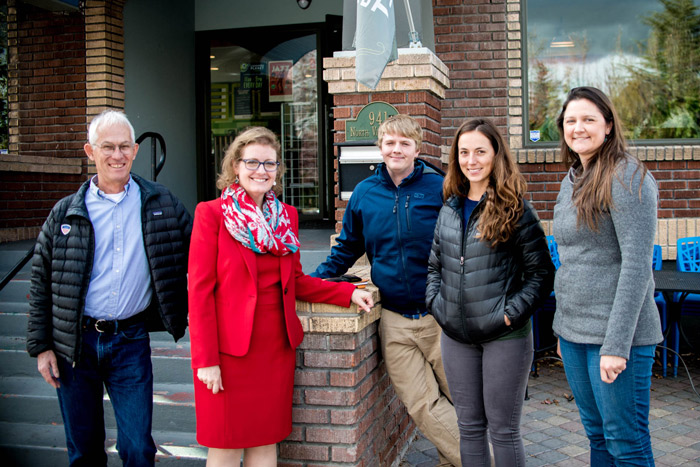 "That's like asking a mother to pick her favorite child. Each child is unique and special," said Robinson.
Robinson discussed research being done benefiting both space exploration and Earth, including research on the study of bone density loss in space which has led to the development of a drug to treat osteoporosis.
Robinson hopes that her success at NASA serves as an inspiration for young women interested in a career in science or mathematics. When a student at the Davidson Academy asked for advice on pursuing science as a female, Robinson described a book she had as a child that included a list of careers from which little girls could choose.
"It has a check box for nurse, a check box for teacher and a check box for mother. That is what the world thought was my set of options," Robinson said. "I loved [science] so much, I didn't care what people thought."
Robinson's visit served as inspiration for many at the College and in the community.
"While bringing top scientists from around the country to our lecture series to talk with our community about their work is rewarding, it's especially gratifying to bring Julie back to campus to share with the students and community not only her own incredible story but the important work she oversees with the International Space Station," Jeff Thompson, dean of the College of Science, said. "It was great to see her interact so warmly with the students, and I'm sure inspiring many of them about the multiple career paths science can lead to."
Robinson's visit and lecture on November 9 was the last one of the fall semester. The series picks back up in the spring with University of Maryland theoretical physicist James Gates, Jr. on March 8, 2018. The last speaker will be University trustee and bio-pharmaceutical researcher Mick Hitchcock on April 5.
Past speakers in the series include astrophysicists Michio Kaku and Neil deGrasse Tyson; Robert Ballard, who discovered the wreck of the Titanic; and Bill Nye the Science Guy.
Discover Science Lectures are always free to the public. They are held at the Redfield Auditorium in the Davidson Mathematics and Science Center on the University's Reno campus. Follow the College of Science on Facebook and Twitter for regular event updates, or visit the Discover Science Lecture Series website.