What does not kill you makes you stronger, they say. But, does that saying apply to venom? For some lizards, particularly the southern alligator lizard, the venom of black widow spiders, deadly for many other small animals, certainly does not kill it. In fact, the venom doesn't appear to impact these lizards at all, allowing lizards to make a nourishing meal of dangerous spider prey.
The alligator lizard is not hesitant when facing the spider. It quickly approaches the spider, moves into the perfect position for an attack, and then pounces. The spider is quickly devoured, her venom useless against the resistant lizard. Even more surprising: a single lizard will not only eat one or two, but five spiders without any affectation.
This is what a team of researchers from the Department of Biology and the Department of Agriculture, Veterinary and Rangeland Sciences from the University of Nevada, Reno found and reported in a study called Preying dangerously: black widow spider venom resistance in sympatric lizards, published in the Royal Society Open Science and featured in articles from the New York Times and Newseek.
"There are so many plants and animals that defend themselves using compounds, whether it's a toxin, like a poison, or a venom that, for example, the spiders have and can inject into prey but can also use to defend themselves"
The paper describes the potential coevolution between predator and prey, natural adversaries, that is often mediated by toxins or other chemical compounds, just like in this case.
"There are so many plants and animals that defend themselves using compounds, whether it's a toxin, like a poison, or a venom that, for example, the spiders have and can inject into prey but can also use to defend themselves," Chris R. Feldman, associate professor of biology and the associate director of the University's Museum of Natural History, explains. Feldman wanted to understand the coevolution around chemically mediated systems and the adaptations that allow species to evolve and combat toxins.
To do this, Feldman and his collaborators investigated the effects of black widow venom on the physical performance and muscle tissue in three different lizard species after being pricked with the spider's venom. Although the reptiles were more resistant than mammals, only one species was not affected in any way, the southern alligator lizard (Elgaria multicarinata), likely demonstrating physiological and molecular adaptations.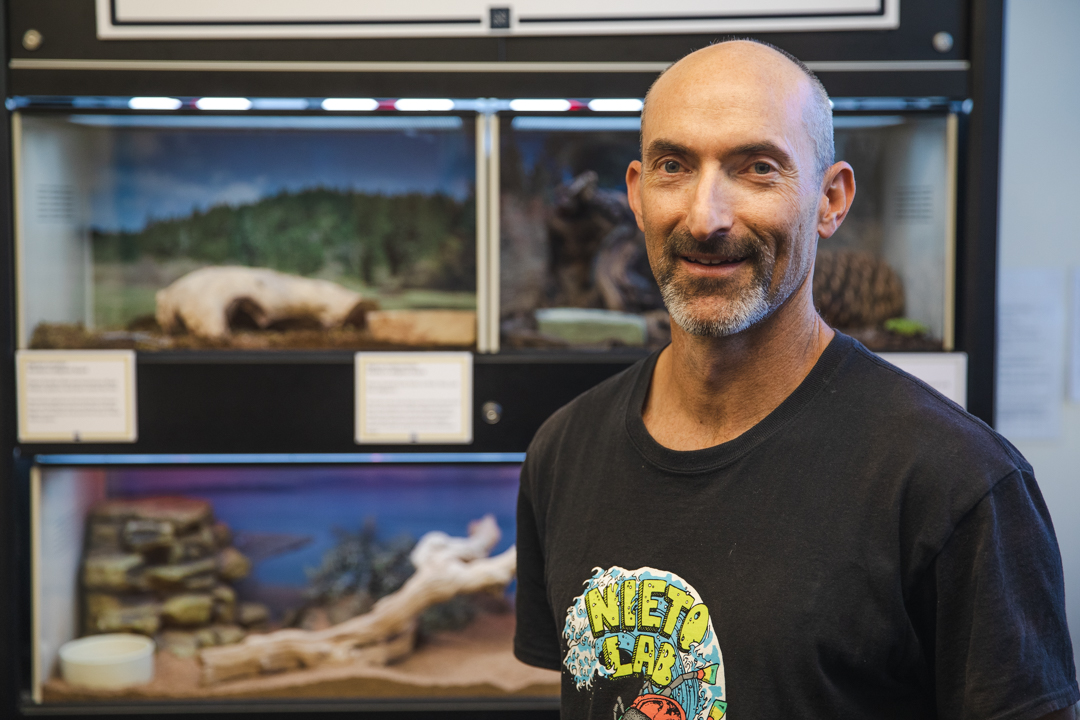 The study in depth
Feldman enlisted graduate student Vicki Thill, now a biological consultant, and other collaborators to pursue this idea of lizard immunity to black widow venom – an idea he has been interested in since a graduate student in California where black widows and lizards often overlap. Thill was excited by the prospect of working on the project for her Master's thesis with Feldman.
"This project was exactly what I was looking for – it was exciting, challenging, involved my favorite animal (lizards), and there was so much room to expand the idea and make it my own," expands Thill. "Probably the biggest challenge was deciding the best way to measure the lizard's response to venom."
The researchers obtained black widow venom from a person who breeds and milks the spiders in Arizona. Thill worked with other students to develop a three-meter-long racetrack to test the sprinting speed of different species of lizard before and after being poked with the venom. The study's control lizards would receive no venom, only a poke of saline. The other lizards would either receive the amount of venom sufficient to kill one mouse or a very high dose, capable of killing five mice.
"The sprint data gave us a sense of how much the venom can slow down these lizards, how much it might impact them ecologically. This was a 'real world' measure of resistance. For example, if the lizard gets bitten in the leg by a spider in the wild, and the venom impairs its ability to run or escape in nature," Feldman said.
From this initial test, they found out that two lizard species were resistant to black widow spider venom, the southern alligator lizard and the western fence lizard (often known as "blue-bellied lizards" in the reno area). The other species in the study responded poorly to the venom. They could not run very well after 24 hours and even after 48 hours were still impaired.
The researchers then took muscle tissue samples to see how much cellular damage the lizards experienced at the venom injection sites. Although the two seemingly immune lizards "did perform really well even after injection with venom, the western fence lizard had some muscle fiber damage associated with the venom," explains Thill. The southern alligator lizard showed minimal, if any, tissue damage and immune response, according to the paper.
Many questions yet to answer
The study demonstrates that some lizards have special adaptations that allow them to eat dangerous black widow spiders. The fact that at least one species was unharmed has opened the door to continued research to better understand the coevolution between these animals.
With the publications of this initial research, there are many more questions to be answered: What is the actual mechanism or mechanisms by which the lizards overcome the venom? Is it really coevolution? Are other species as resistant? Are there places where these lizards interact intimately with black widows and have higher resistance and places where they do not interact so the lizards aren't very resistant? How are the spiders responding? Are they able to produce more toxic venom when they have to deal with these lizards versus places where they don't?
The researchers hope to conduct similar studies with southern alligator lizards from other locations and with other lizard species to see if the traits vary from place to place, if venom resistance depends on ecological interaction, and if there are "other lizard predator and arachnid prey pairs that could yield information about antagonistic relationships," adds Thill. This is just the beginning.
---
This story was produced in collaboration with the Hitchcock Project for Visualizing Science at the Reynolds School of Journalism and was written by journalist and graduate student Vanesa de la Cruz Pavas.