A pair of recent events in Tonopah brought the community together and provided much needed resources for students and families in the rural community of northern Nye County, which is often underserved. University of Nevada, Reno Extension sponsored and organized both a career fair for students and a two-day medical clinic for families this spring at Tonopah High School. Staff at Extension's office in Tonopah worked with other partners to put on both events.
Extension is a unit of the College of Agriculture, Biotechnology & Natural Resources at the University of Nevada, Reno and has offices throughout the state, engaging with communities to address critical community needs.
Misha Allen, Extension educator in the Tonopah office of Nye County, said there are many challenges facing her community's residents.
"There is no longer a hospital and limited health provider access, no licensed child care, and no new housing being built since the 1980s," she said, adding that there are only two licensed high school teachers for area students, with most classes taught remotely from Las Vegas.
"Part of why it's difficult to recruit and retain teachers, and other critical professionals, is because of this lack of social infrastructure," Allen said.

Career Fair
To that end, Allen has sought opportunities to work with Nye County officials to help with key resources. She and Extension Administrative Assistant Anna Whiteside worked with Tonopah Schools to develop the second annual career fair, which featured 136 professionals from more than 50 businesses and agencies to talk with students and get them thinking about their paths after high school. Close to 200 young people participated in the event.
"Anna began recruiting professional participants for the fair in November," Allen said. "Her tireless efforts resulted in almost twice the number of professional participants as last year."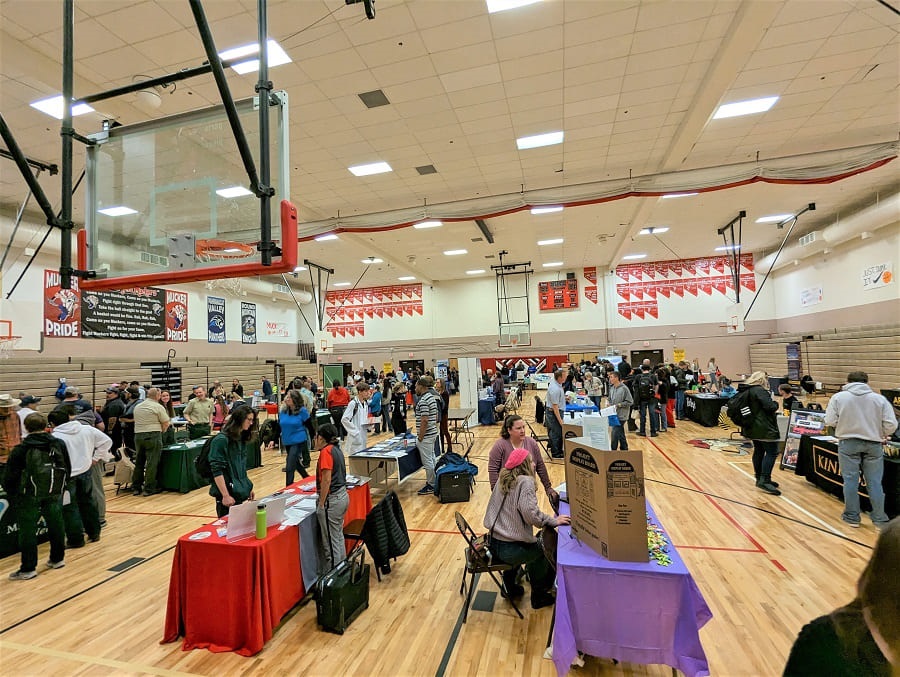 The fair is an offshoot of Extension's College Hour series of programs for students in the area, which Extension provides three times a year. College Hour events are all about future career exploration for young people, including help with filling out college and federal student aid applications.

"We want to prepare these kids for life after graduation, whether it is for college or not," Allen said. "Some of them have thoughts of working at the mines, but even then, no one has really prepared them for what it takes to work there."
Allen said the direct access to University staff and volunteers, as well as community members at Career Fair, "really opened the kids' eyes to the vast possibilities they have, and how important it is to truly plan for the future."
Among the areas where there was work interest from the young people were the Nevada Department of Wildlife and the federal Bureau of Land Management. Representatives from the U.S. military, local government agencies, Boys and Girls Clubs and major mining companies also saw a great deal of traffic, Allen said.
"It became a great way for everyone in the community to see the interest of the teens here, and the teens loved seeing everyone advocating for them and their futures," she said.
Two-day medical clinic
Allen was equally pleased by the success of the Remote Area Medical Clinic, which featured medical, dental, vision and mental health professionals providing their services to the community that is hard-pressed to find such services. The two-day event included 179 patients, while 275 volunteers and professionals worked at the event.
Although a similar event has been held in past years in Pahrump, more than 160 miles south in southern Nye County, Allen knew there was a need for a medical clinic event in Tonopah and championed efforts to bring such an event there for the first time. Allen, who served on organizing committees for the event, met several families who were positively affected by the clinic, including several teens who received dental services for the first time in their lives.
"We had one family who found it really difficult to coordinate getting to the doctor at the same time, and they'd need multiple trips out of town to get their family taken care of," Allen said. "All of them were able to get a medical checkup and dental services at our event."
Allen said the events lift her spirits, being able to see firsthand how Extension is helping lives of families in northern Nye County.
"It's so meaningful to get to see the difference that we are truly making here," she said. "You always know you are making that difference at some level, if you think about it rationally, but at these types of events, you get to really see and feel that happening."