Professor Thomas Bell, who first joined the University of Nevada, Reno's chemistry department in 1994 after teaching at Stony Brook University in New York, was fascinated by inventors as a child and he frequently devised original experiments with his chemistry set.
Bell's interest in science grew into a career in chemistry, and he still experiences the same sense of fascination when working with his research group and with collaborators.
Today, he says, "Science still feels like play to me."
In 1992 while at Stony Brook University, Bell started collaborating on an antiviral drug project with the National Institutes of Health. They discovered that the CADA (Cyclotriazadisulfonamide) compounds, which were synthesized in the Bell group for other purposes, inhibited the replication of the HIV virus in cell cultures. Through further collaboration with the Rega Institute in Belgium, he also discovered that CADA compounds inhibit the entry of HIV into human host cells by suppressing the protein necessary for the virus to enter the cell, offering a potential treatment for the deadly disease.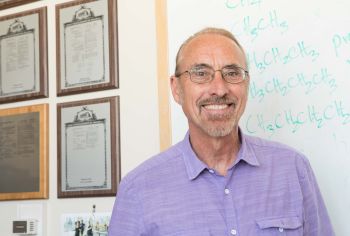 The mechanism by which CADA compounds suppress this protein is biochemically novel, and the Bell group and collaborators are now trying to extend it to other proteins of medical interest and to the treatment of certain hereditary diseases.
Over Bell's 36-year career as a professor, he has made advances in numerous fields, including blood chemistry analysis, water deionization technology, sequestering agents for toxins, nerve agent detectors, nanoscale devices, organic coatings, natural product synthesis, medicinal chemistry, and biochemistry. His work has resulted in twelve patents, including five of which he is the sole inventor.
This body of work has earned Bell the 2018 Foundation Established Innovator Award, an important acknowledgement of Bell's research, which exemplifies the spirit of innovation, commercialization and entrepreneurship.
Innovation - Treatments for life-threatening illnesses
Bell's most recent work is focused on the discovery that CADA compounds have even further-reaching implications.
Jeff Thompson, dean of the College of Science, feels that Bell's contributions to medical science are significant. "Tom has been an engaging and creative chemist for many years. He is particularly good at using his vast knowledge and experience in synthetic organic chemistry to explore and understand real issues in human health. His research group's work in medicinal chemistry has provided seminal advancements which will improve our lives."
Bell's research suggests that the compound's protein-suppressing effect shows promise in the fight against a variety of other diseases, such as malaria, which kills more people than any other communicable disease; Alzheimer's, which globally affects more than 46 million people; and breast cancer, which is the leading cause of mortality in women worldwide.
"The next step is to convince the scientific community that there is a viable way to make and use these drugs for treatment," says Bell.
Commercialization - The business of science
Bell is working to develop more treatments with the CADA compounds through collaboration with other researchers and organizations. He has already successfully collaborated with EscaZyme, a campus startup company that won the 2013 Sontag Entrepreneurship Competition for its synthesis of a molecular pheromone used to treat bark beetle infestation.
Searching for a more broadly applicable use for this molecule, EscaZyme ran a campus-wide contest, asking for innovative ideas on how to best utilize its invention. Bell won the contest by developing a process that converted the pheromone molecule into synthetic nutraceuticals used to treat age-related macular degeneration. By creating the synthetic nutraceuticals, Bell allowed for a cost-effective treatment plan for patients suffering from this condition.
"It's rewarding to know that my research can provide real-world solutions for people and make their lives better," Bell says.
Entrepreneurship - Chemistry contributes to a healthy economy
As the success of Bell's collaboration with EscaZyme shows, the University is a proven incubator for entrepreneurship. Bell thinks there's a wealth of untapped potential for the University and a patent could be obtained on the CADA compounds, or the compounds could be used as the blueprint for a new drug company.
"Really fantastic research is going on at the University," says Bell. "I thoroughly enjoy abstract research. But I feel like I need to choose to do something that will benefit others and help improve lives. My work is fun and accomplishes that goal."
Bell feels that the University's contribution to the biotech industry in Nevada can have a powerful impact on job creation and economic growth. He shares his perspective with his students in the classroom and the lab.
"I will not forget my experiences with Dr. Bell. He unleashed my potential," says Liezel Lumangrad, a former student who worked in the Bell Research Lab for five years and graduated last spring with a Ph.D. in organic chemistry. "Because of my research with him, I'm considering pursuing postdoctoral work and eventually seeking a career in academia.
Established Innovator Award - Recognition for years of work
Bell feels honored to receive the Foundation Established Innovator Award for 2018, which is given to a professor for the creation and production of inventive and progressive ideas, methods, and products that promote society's growth.
"I feel like this award is recognition of the many ways in which chemistry is useful," he says. "The award also gives recognition to my students, postdoctoral fellows, and the many other scientists that I've collaborated with through the years. The award attests to their hard work, resourcefulness and success, and without them I could not have won it."