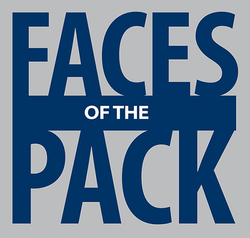 "I didn't choose to study environmental and soil science but rather, this major chose me," Christina T. Igono said.

Christina is a first-generation student. Following her passion for soil science, soil ecology and natural resources, she's earning her doctorate degree in Environmental Science from our College of Agriculture, Biotechnology & Natural Resources. In exploring her calling here, Christina said she has encountered constant challenges, support and opportunities to learn, grow and be better in all that she does.
And it all started when she was an undergraduate biology student in Alabama.
"I was just a desperate broke freshman student seeking a job on campus when I got the opportunity to work as a laboratory technician in a soil science lab," she said. "This part-time job quickly became a passion."
She realized she loved working in the lab and with its equipment, discovering things she never knew about soil. That feeling told her she was on the path to her career.
Love is a fire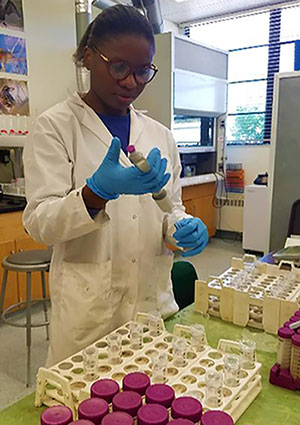 "Besides being a student athlete playing soccer," Christina said, "I knew I had found another passion, and that was being an environmental soil scientist."

In addition to her love and passion for the job, another another perk of working in her field, Christina found, is the inherent changes of scenery.

Some work is done in the field, some in the lab and some in the office. Some, such as attending and presenting at conferences, is done worldwide.

Yet one more benefit is that the work is world-changing.
Save the science, save the world
"Also important," she said, "is the fulfilling feeling that I am working to find solutions to pressing environmental and ecological challenges like the spread of wildfire and greenhouse gas emissions."
Without solutions to the world's challenges, all may be lost.
"It is imperative that we have professionals who care about protecting and sustaining our ecosystem by developing sustainable agricultural practices, mitigating greenhouse gas emissions and reducing prevalent natural disasters like wildfire," Christina said. "Without these professionals in my field who commit their lives to manage and secure our ecosystem, we might not be able to survive."
This scientist is on fire
A member of both organizations, as well as the Soil Ecology Society, Christina recently traveled to San Antonio, Texas, to present three posters to fellow world-changing professionals at the international joint conference of the American Society of Agronomy and the Soil Science Society of America.
The posters were titled:
Immediate Effects of Burning Sagebrush Vegetation on Soil Nutrient Dynamics and Fertile Island in Cold Desert Land of Northern Nevada.
Immediate Effects of Fire on Bacteria and Fungi Abundance and Community Diversities Under and Between Wyoming Sagebrush Canopies in Semi-Arid Rangeland of Northern Nevada.
Effects of Fire on Soil Carbon Dioxide and Methane Emission in Cold Desert Rangeland of Northern Nevada.
She won first place in the conference's graduate student poster competition for her poster on soil nutrients.
Learning with fire
Christina conducted the award-winning research by setting controlled fires at the College's Gund Ranch Experiment Station in Austin, Nevada. She did this to discover how fire affects soil chemistry, microbiology and greenhouse gas fluxes on cold desert lands.
"The monthly field trips to my research site have always been a thrill," Christina said. "One packed with exciting challenges and working with different government agencies."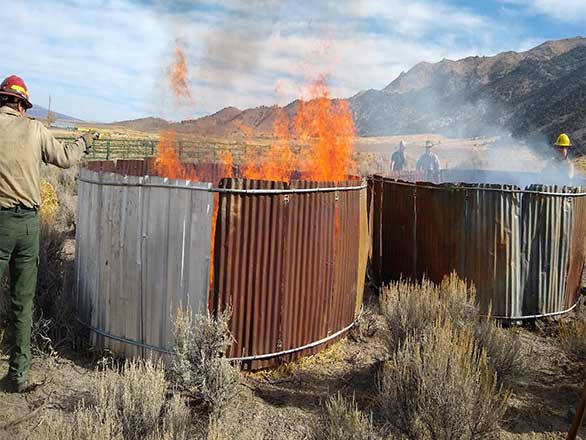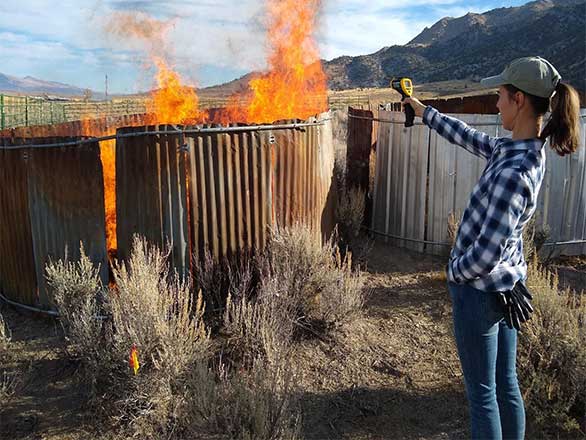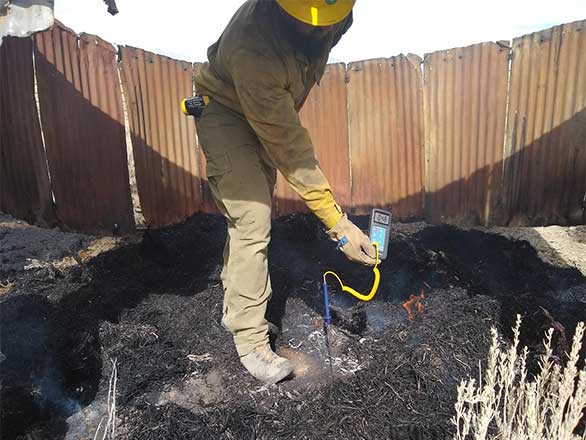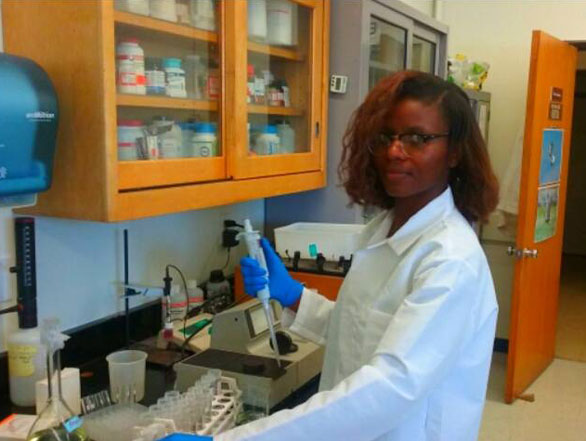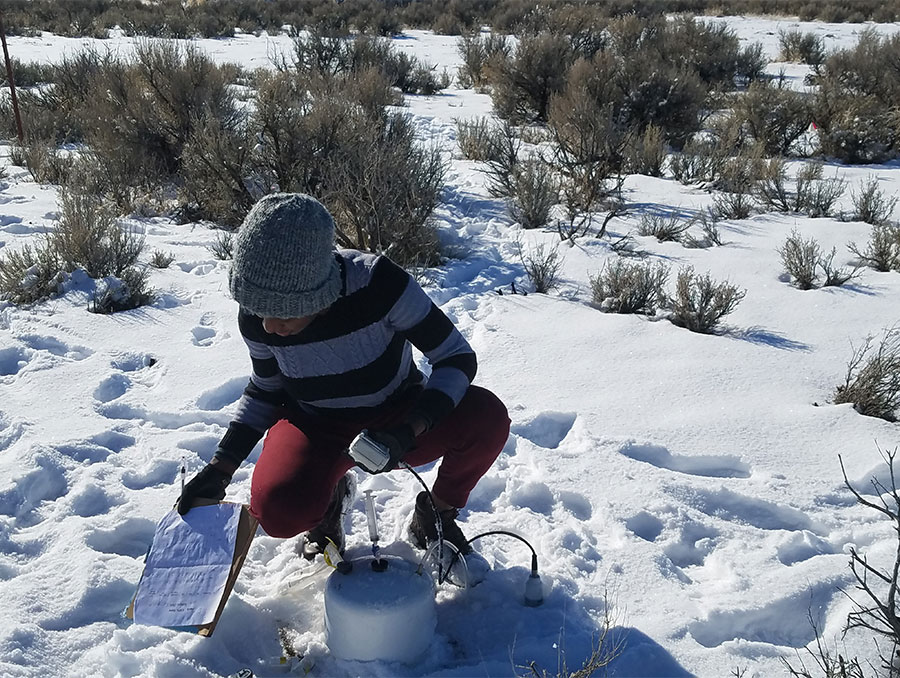 Christina also studies how the effects of fire on soil biochemistry and greenhouse gas fluxes affect the sprouting and growth of grasses such as squirrel tail and cheatgrass. This she does at the Valley Road Field Lab Experiment Station in Reno.
"The never-ending opportunity to learn and discover something new keeps me physically and psychologically active," she said.
Conducting this research and working towards her degree has taught Christina a lot, not just about fire, soil, gasses and grasses. She's also learned the importance of hard work, time management, responsibility, creativity, patience and faith.
The experience has changed her world view.
"My involvement as a graduate research assistant has been a tremendous experience, one that has broadened my view on life, dealing with challenges and working with people," she said.
The journey has also challenged her to be a better person professionally, morally and spiritually.
"Working on this major has further strengthened my belief that everything is possible in life as long as you have faith in yourself and in God," she said.
She hasn't been alone on the journey.
Fuel for the journey
Christina said the student technicians she shares her work with, the staff in the dean's office and the faculty in our College have all been there for her along the way.
She said she received hands-on help from Robert Blank, faculty in College's Experiment Station and a soil scientist with the U.S. Department of Agriculture's (USDA) Agricultural Research Service, guidance from Jeanne Chambers, faculty in the the College's Department of Natural Resources & Environmental Science and a research ecologist with the USDA's U.S. Forest Service, and technical support from Glenn Miller, emeritus faculty with the College.
Gund Ranch Experiment Station Manager Jon Wilker "has been a tremendous help throughout my project," Christina said. "He has assisted in helping with managing my research site, and has given hands-on support while we work at the site. He is an amazingly nice man."
Dean Bill Payne, Christina's advisor, has helped too.
"Working with Dr. Payne as a graduate student has been an amazing experience and a blessing," she said. "He has entrusted me with responsibilities that have overall challenged me to be stronger, more determined, responsible, independent and career-oriented."
And, Natural Resources & Environmental Science Assistant Professor Paul Verburg has been a resource for Christina as well.
"Learning in Dr. Verburg's class is one of the best experiences for me as a soil science student," she said. "Apart from him being a phenomenal teacher, he has given me helpful advice pertaining to my research projects and made his lab available to me to carry out my carbon dioxide analysis."
The College also helped Christina to receive career-defining training last summer at Colorado State University.
A bright future
Now, Christina is close to earning her degree.
"I am focused on finishing my research projects, completing my Ph.D. and graduating," she said. "I believe my future is bright."
She has one piece of advice for current and future students in our College.
"In chasing your dreams," she said, "you only need one person to believe in you, and that person is you."