University of Nevada, Reno alumna Karla Hernández may be known more widely on campus for the way she supports students in various roles she has held since graduating: as Program Coordinator of the Nevada Learn and Earn Advanced Career Pathway Program, as the Associate Director of the Ronald E. McNair Post-Baccalaureate Achievement Program and most recently as the Director of Hispanic/Latinx Community Relations in the Office of the Vice President of Government and Community Engagement.
Hernández has been familiar with the University campus for nearly two decades, though. Hernández's entire higher education career took place at the University. She received a dual bachelor's and master's degree in biotechnology in 2010 and received her Ph.D. in cell and molecular biology in 2015. But as a first-generation student and an immigrant, her path to getting a Ph.D. wasn't easy.
"The decision to leave the bench and take these positions was incredibly difficult and she's risen up. She can make a difference in many other places."
"It wasn't like I could look to someone in my family and say, 'Hey, how do I get a doctorate?'" she said.
Hernández's family moved to the U.S. when she was 10, and despite language barriers, Hernández earned straight As in high school and took Advanced Placement classes. She even had an internship in a research lab at the University while she was still in high school.
Hernández found herself particularly attracted to the sciences, despite, or perhaps because of, the language barriers she faced. She isn't quite sure, but her siblings' and son's inclination toward the sciences makes her think the love for science is more innate.
Hernández recently published the final paper in her dissertation, with the support of her advisor, Department of Biology Professor Thomas Kidd. Kidd's research lab focuses on the development of the gut and central nervous systems, using fruit flies as a model organism.
"I'm very proud of what she's done," Kidd said of Hernández. "The decision to leave the bench and take these positions was incredibly difficult and she's risen up. She can make a difference in many other places."
Seven years after Hernández completed her doctoral degree, her work is being disseminated in the field of developmental genetics.
The DSCAM story
Down Syndrome, also known as Trisomy 21, is the condition that results when there are three copies of the 21st chromosome, one more than usual. Additionally, there are about 200 genes on chromosome 21. When there are extra copies of genes, the cells may not function normally. Many Down Syndrome symptoms, including cognitive impairment and heart defects, are the result of extra copies of the gene that codes for Down Syndrome Cell Adhesion Molecule, or DSCAM.
Hirschsprung disease, which Hernández focused her research on, is characterized by a lack of working neurons in the bowels, causing decreased peristalsis, an inability to move stool through the intestine. In more severe cases of Hirschsprung disease, surgery is necessary to remove the afflicted part of the colon and connect the anus to the healthy part of the colon. People who have Down Syndrome are 100 times more likely to have Hirschsprung disease than people without Down Syndrome.
Fruit flies have a similar gene, called Dscam1, which leads to similar characteristics in flies to those in humans when there is an extra copy. Dscam1 is known to either cause changes in how neurons populate from the spinal cord to places like the colon, or in the ability for neurons to form connections with one another. Connectivity between neurons is incredibly important, as the cells are mostly meant to communicate information between the brain and body. Dscam1 and genetic engineering capabilities make flies a great model organism to study basic gut nervous systems impacted by complex diseases, like Hirschsprung disease.
When Kidd's lab received funding to study the gut nervous system, Hernández jumped on the opportunity to study how an extra copy of Dscam1 affected flies as part of her doctoral dissertation.
Hernández used flies genetically engineered with an extra copy of Dscam1 and began investigating why the neurons in the guts of the flies weren't working properly. Kidd and Hernández thought that the lack of working neurons in the gut of flies was due to an interruption of neuron migration. But that wasn't the case. Based on previous research, one might predict that connectivity between the neurons was interrupted. Hernández had a different idea.
"I hypothesized that there was going to be more innervation due to the extra copy of Dscam1 and I would I pitch that to Tom constantly," she said. Hernández proposed that there wasn't a lack of nerves at all, but that there was an excess of nerves.
Hernández collaborated with another biology faculty member, associate professor Dennis Mathew, who studies flies in the larval stage. She observed that the flies were able to eat, but they could not defecate as efficiently as flies without an extra copy of the gene. That symptomology matches what people with Hirschsprung disease experience.
While they couldn't definitively say that Dscam1 is responsible for the symptoms in their fly model, they did find evidence that Hernández was right. Too many nerves can have similar symptoms as too few nerves. Hernández points out that it's difficult to parse out the causes of certain behaviors or symptoms, and this research was conducted in one of the simplest models available.
"This is one of the simplest models of the gut nervous system," she said. "Can you imagine in the human gut, which is the 'second brain?' We don't even begin to comprehend it."
Hernández takes on mentorship roles
"[Karla] was a tremendous person to have in lab," Kidd said. "She brought a lot of energy."
Even as she worked on her doctoral dissertation, Hernández found the time to help Kidd make the lab a welcoming, inviting place. Kidd said that Hernández would organize multicultural potlucks and similar events, and said she was like a social chair in the research lab.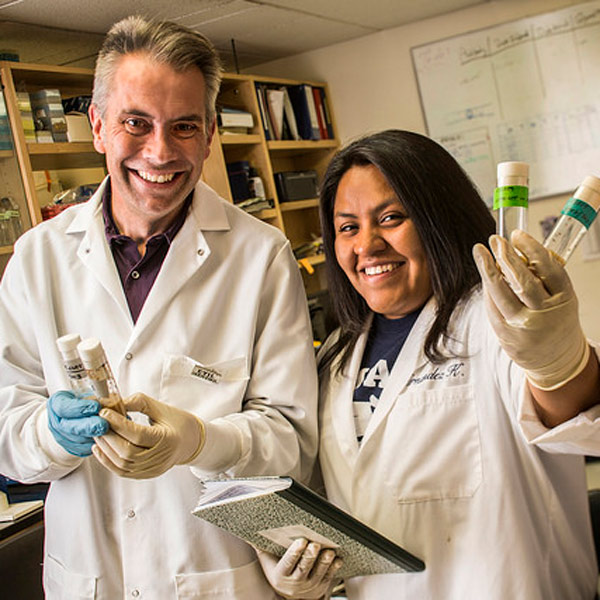 "I was really lucky to have Tom as my Ph.D. advisor because he is incredibly smart and very approachable," Hernández said. "He went above and beyond to help me succeed, as a person and as a scientist. To this day, I continue to count on his support and guidance."

Hernández has been interested in promoting community since she was an undergraduate student. She wanted to provide more opportunities for like-minded students, and founded the Iota Chapter of Sigma Omega Nu, a Latina Interest Sorority.

Hernández said she founded the sorority "to establish something new for future students that wasn't there for me."
She strongly emphasizes the academic and cultural community that Sigma Omega Nu (ΣΩΝ) promotes, and for Hernández, the sisterhood was a plus. She still stays involved with the sorority and her goal is to see every ΣΩΝ sister graduate from the University.
Hernández advocates for making higher education more accessible for all students, regardless of their backgrounds.
"And maybe that's the reason why, nowadays, students come and find me," Hernández said. "For example, I'm able to provide guidance in the form of feedback on their scientific presentations, but at the same time I'm able to provide moral support. Sometimes it's just about holding space for students who don't feel like they belong."
Hernández credits her mentors with demonstrating a meaningful way to give to students, even if it's just in the form of time. Hernández received mentorship from several people, including Olivia Graeve and Patricia Berninsone, both Latina professors in STEM. Graeve, now a professor at the University of California, San Diego, had a unique approach to mentorship.
"[Graeve] taught me persistence and grit. Dr. Grave was very 'matter-of-fact' and she always held her students to high standards and expectations," Hernández said.
Berninsone, a professor who passed away from cancer in 2019, was very important to Hernández. She was an immigrant as well, who fled the Dirty War in Argentina after finishing her Ph.D.
"She wanted to protect me from falling into this category of being 'the emotional Latina' and not to be seen like that, like weak or emotional," Hernández said. But she also gave Hernández the space to talk about what she was going through in the rigor of graduate school and simultaneously navigating the complex immigration system, and Hernández said her mentorship style is inspired by Berninsone's.
"I've learned to give people grace while striving to excel," she said.
---
If you would like to donate to the Patricia M. Berninsone Memorial Scholarship Endowment, you can do so in a couple ways. One is by check with a reference to the Berninsone Scholarship Endowment or its fund number (175811) in the memo line. You can also make the gift online by going to the University Advancement website and clicking "Give Now." Under "Designations" search for "Biology Department" and at the bottom of the page under "Gift instructions or comments, type either "Berninsone Scholarship Endowment" or its fund number.