Dr. Karla Hernández, former associate director of the McNair Post-Baccalaureate Achievement program, is the University of Nevada, Reno's new director of Hispanic/Latinx community relations. She has held the position since July 2022.
"Our campus is fortunate to have Karla Hernández in this important role," University President Brian Sandoval said. "Dr. Hernández is a proud University alumna and a dedicated servant to both our University and the Hispanic/Latinx communities of Northern Nevada. I am excited to have her continue to represent the University in the community and truly embrace The Wolf Pack Way."
Hernández was born and attended elementary school in México City. When she was 10, her family received legal residency in the United States, and they relocated to Reno. Growing up, she worked in her family's business, selling produce at the local swap meet for 15 years. While attending high school in Sparks, Hernández was part of a gifted and talented internship program, which partnered her with various research mentors at the University's School of Medicine.
"Being that I was the first in my family to go to college and coming from a traditional Mexican family, there tends to be a desire to stay close to family, so [staying in Reno] has been a win-win," Hernández said, adding that her siblings also went on to graduate from the University. Her brother Carlos graduated with a bachelor's in civil engineering, and her sister Alejandra earned a bachelor's in neuroscience.
Hernández went on to complete her undergraduate degree at the University finding support from various departments, including TRiO Scholars, and she became a founding sister of a Latina Interest Greek organization focused on academics, culture and sisterhood to promote a sense of belonging on campus.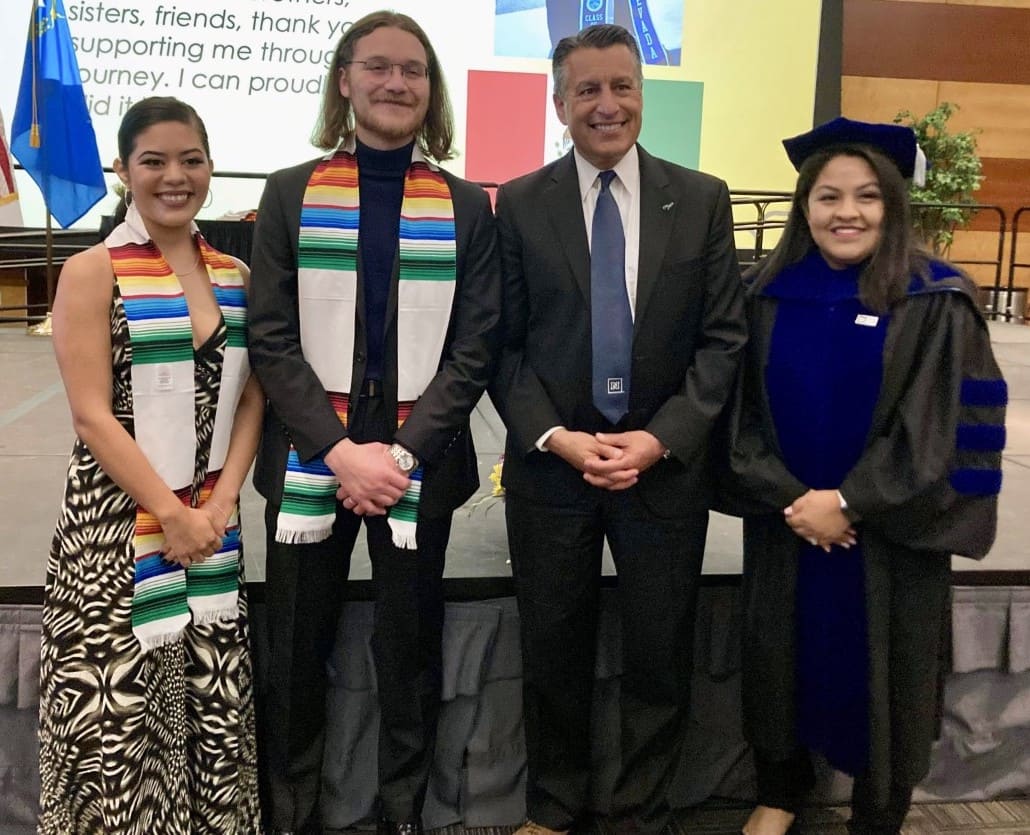 Hernández graduated from the University with a dual degree (bachelor's and master's degree) in biotechnology in 2010. She received her Ph.D. in cell and molecular biology from the University in 2015. After, she became a postdoctoral research fellow in the pharmacology department of University's School of Medicine.

"I feel a strong commitment to the University. I have received a world-class education here that goes beyond the wildest dreams of my parents, and I think the University has given me a lot of opportunities," Hernández said.
She subsequently served as research scientist and program coordinator for the Nevada Learn and Earn Advanced-Career Pathway (LEAP) Program. The LEAP Program is a collaborative effort between the Nevada Governor's Office of Economic Development, the University, Washoe County School District and local industry partners.
Hernández then went on to work for the McNair Scholars program for nearly four years, mentoring students, some for their entire undergraduate careers, before accepting the position as the University's director of Hispanic/Latinx community relations.
"I was able to use my academic and research perspective to serve students, and my own personal experience was invaluable, having navigated through the University as a graduate, to bring it all together and mentor students," she said. "I believe that I understand things extremely well on the individual student basis and on a college level as well, having been part of CABNR, the College of Science, the School of Medicine and the College of Engineering."
Hernández's current role, which is housed in the University's Government and Community Engagement Office, focuses on building connections between the Hispanic/Latinx community across the state of Nevada and the University of Nevada, Reno campus.
"My job really is being out there in the community — interacting with families, prospective students, alumni and business owners, as well as meeting with administrators on campus to connect the dots," she said.
For Hernández, networking makes up a large part of her job, including meeting people when she is out with family or at dinner and connecting with members of the community to make them feel more welcome at the University.
"Parents feel comfortable asking me anything and everything they want to know about the University, usually in Spanish, and I don't necessarily have to have all the answers, but I need to be able to connect them with the right resources," she said.
Having been a student at the University, Hernández's biggest goal is to see a culture shift at the University in terms of diversity, equity and inclusion.
"The big picture for me is a shift in culture, and that's already taking place because I've witnessed it. For example, it's great to see events being hosted on campus and discussions happening," she said. "When I first came here [as a student], things looked different, including buildings and the campus but also the demographics. It has been wonderful to see more faculty and staff of color, folks from diverse walks of life and individuals committed to diversity and inclusion in general join the University team."
Given her connections in the community and her time on-campus, Hernández is confident in her abilities to bring together communities from the University and across the state of Nevada.
"I'm really hoping that I can support my colleagues in creating a sense of belonging and they feel like this is a place where they can thrive, feel appreciated and celebrated," she said. "I want my colleagues to know we can work together to support each other, so we can continue having a diverse faculty and staff that represents the students."