This summer, the Nevada State Museum brought on a new director, University alumnus Joshua Bonde ('03 biology). Bonde, who discovered the first dinosaur unique to Nevada, has extensive knowledge of the natural history of the state and said his experience founding and running the Nevada Science Center with his wife prepared him well for his new role. For Bonde, who went to the museum growing up, it poses both challenges and opportunity.
As a member of the Te-Moak (TEE-moke) Tribe of Western Shoshone which has historically lived in central Nevada, the Nevada State Museum and other museums weren't always welcoming spaces to Bonde. On school field trips, he and his peers saw outdated dioramas that he said presented the Native American peoples of the area as specimens more than as people.
"It kind of leaves a bad taste in your mouth, you know?" Bonde said. Bonde hopes his unique perspective, drawn from his love for the natural history of Nevada and his experience as a Native person can be reflected in the museum, to ensure that everybody feels comfortable coming to the museum. Now, the Nevada State Museum has an updated exhibit featuring the Native American tribes that live in Nevada, and each part of the Under One Sky exhibit features the perspective of Native American tribal members. The exhibit showcases basketry and clothing made by Native Americans, the story of children who survived the Stewart Indian School and the extensive history of people in the Great Basin.
Bonde described the feeling of walking into a museum and the excitement and wonder of, "Where should I go first?"
"Everyone should be able to walk through the doors of the museum and experience that, without apprehension," he said. For Bonde, there are opportunities beyond the Under One Sky project to bring other voices into the museum spaces. For those who know the history of Nevada and its mining towns, Chinese railroad workers and Basque shepherds might come to mind, but there are others that might not be so well known in Nevada's history.
"There was a Greek town outside of Ely," he gives as an example. Bonde looks forward to meeting with groups historically underrepresented in Nevada and giving them a voice and space in the museum.
"It is so nice to be back here," he said. Bonde grew up in Fallon and was a walk on for the University's football team. He graduated with his bachelor's degree in biology and was also very close to completing a geology degree. He continued his education at Montana State University-Bozeman and earned his doctoral degree at the University of Nevada, Las Vegas. But only the University of Nevada, Reno is home to Bonde.
"I'll put it this way: I'm only a member of one alumni association." The Fremont Cannon currently sits in the museum's collections as Bonde works on developing an exhibit for it. A replica of the cannon is used as a trophy when Reno and Las Vegas face off during football season. Bonde hopes the replica, which is painted with the victor's colors, stays blue.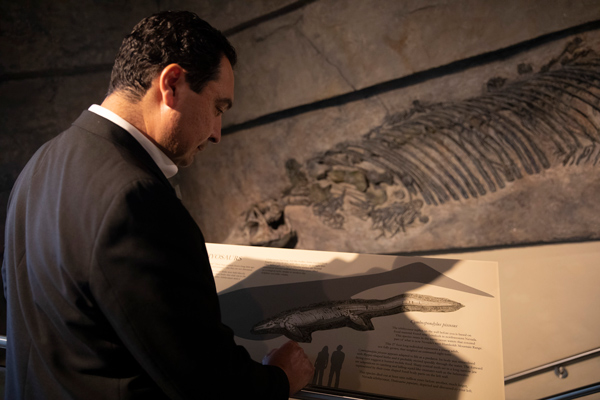 One of Bonde's first priorities as the new director is to fully staff the museum. There are two open curatorial positions right now, including the very public-facing outreach coordinator position. As the impacts of the pandemic start to recede, the director has a lot of work ahead of him.

Bonde said he tries to walk every exhibit once a day, to get away from his desk, interact with visitors and get inspired. The museum held a "Meet the Director" event where Bonde, wearing a suit and bolo tie with a piece of turquoise set in, was approached by a little girl.

"I got a solar toy!" she exclaimed.
"That's perfect for an aspiring engineer," he said, high fiving the little girl.
The Nevada State Museum is in good hands.