Just in time for the holidays, Wolf Pack Meats has a new line of locally produced beef jerky and fresh cuts of lamb. The meat processing, teaching and research facility in east Reno, off McCarran Boulevard near Mill Street, is part of the University of Nevada, Reno's Experiment Station, and is open to the public for retail sales Tuesday through Friday, 8 a.m. – 4 p.m. The new line of jerky and expanded offering of lamb products is part of Wolf Pack Meats' efforts to enhance its offerings of local meats and products to the community, which support the growth of its production capacity, along with its teaching and research missions.
Local lamb
The lamb cuts are from sheep raised by the University here in Nevada, in Eureka and Reno. In fact, the sheep are Rafter 7 Merinos, a breed that the University developed more than 30 years ago, now prized internationally for its wool and meat.
Local celebrity Master Chef and restauranteur Mark Estee has jumped on board to snatch up some of the meat for his restaurants. Estee is owner of the Reno Local Food Group, which includes Liberty Food & Wine Exchange, Great Basin Brewing Co. and other northern Nevada restaurants.
"The Local Food Group has always been committed to supporting local farmers and ranchers, and in this case, we get to also support the University of Nevada, Reno," Estee said. "Wolf Pack Meats is a key piece to a robust and successful food community here in the region, and we are happy to be partnering with them to buy these local lambs."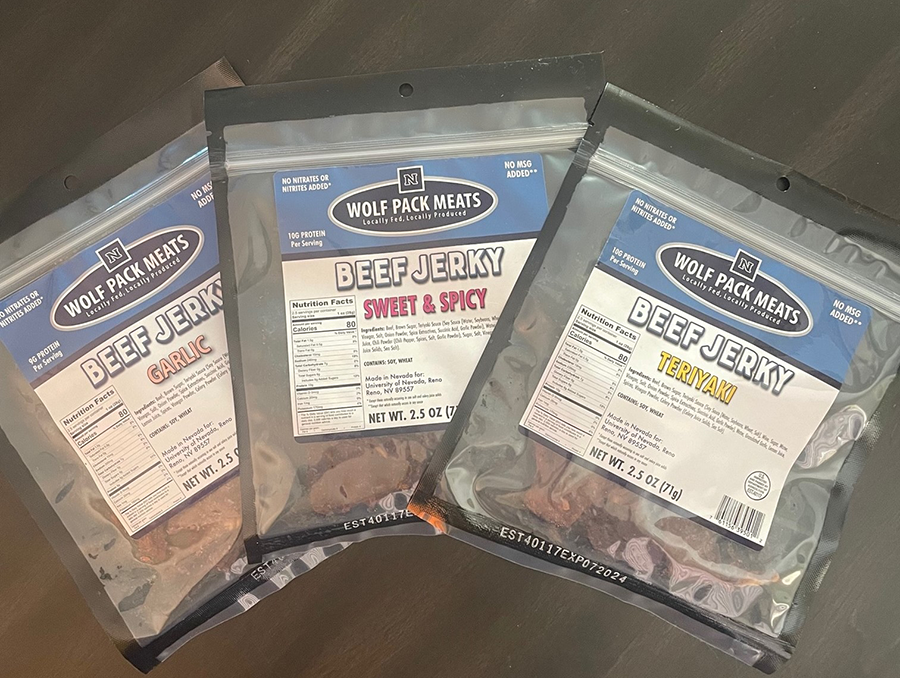 Tom Kulas, operations manager for Wolf Pack Meats, said that in addition to selling the lamb meat by the cut – lamb chops, rack of lamb, ground lamb, leg of lamb, etc. – the lamb will also be sold as a whole lamb, by the pound.

"The price for a whole lamb is $6 per pound, based on carcass weight, and carcasses are around 45 to 60 pounds," Kulas said. "The price includes cut and wrap, so there are no other fees or charges. A lot more people are focusing on trying to buy locally produced food and meat, and this just provides them with a more affordable option if they have the room to store it."
New line of beef jerky and beef products
Kulas said the beef for the jerky was raised here in Reno, at the Experiment Station's Main Station Field Lab, home of Wolf Pack Meats.
"It's the first time we've offered jerky, and we're really happy with it," Kulas said. "It makes a great stocking stuffer or gift for foodies."
Kulas said Wolf Pack Meats partnered with a local business to make the jerky, which comes in five flavors – teriyaki, sweet & spicy, garlic, smokey BBQ, and black pepper & sea salt.
Kulas said Wolf Pack Meats is also fully stocked with a variety of beef cuts produced from cattle raised by the University, including filet mignon, New York steak, ground beef, short ribs, beef liver, beef tongue and other items.
What happens at Wolf Pack Meats
Wolf Pack Meats, which opened in 1967, harvests, processes and produces fresh meat from cattle, pigs, lamb and goats. This includes cattle and sheep raised by the University as part of part of the College of Agriculture, Biotechnology & Natural Resources' educational and research programs, and for production. Kulas said the facility provides students with the chance to not only see the commercial process in action, but also receive hands-on training and experience with a real commercial business in a critical industry. Students get experience in meat production, packaging and distribution.
The facility also works closely with local farmers, ranchers and small producers to process and package livestock, supplying the state with locally produced meat and keeping a way of life alive for many local ranchers. The facility is one of a few U.S. Department of Agriculture-approved processing facilities in the state. Employees, as well as others in the community who sign up for workshops, are trained in ways to humanely process meat and guard against contamination.
Wolf Pack Meats is located at 5895 Clean Water Way. For more information on Wolf Pack Meats, call 775-857-3663 or visit its website.