It's been nearly four years since the University of Nevada, Reno announced a new partnership with the UTeach program and Howard Hughes Medical Institute as part of a national initiative to address teacher shortages and increase teacher retention in science, technology, engineering and math. The partnership created what is now known as NevadaTeach program, an interdisciplinary effort between the University's College of Agriculture, Biotechnology and Natural Resources, College of Education and College of Science. Its focus is on developing highly proficient math and science teachers by allowing students to earn a dual degree in secondary education and in their content area.
A growing program
NevadaTeach currently has 140 students enrolled and will be graduating its first cohort of seven students this May. In December 2017, NevadaTeach moved into a newly-renovated space in the William J. Raggio Building. The 3,000 square-foot space includes a teaching facility, Master Teacher Collaborative Space and student workspace and was funded by the William N. Pennington Foundation.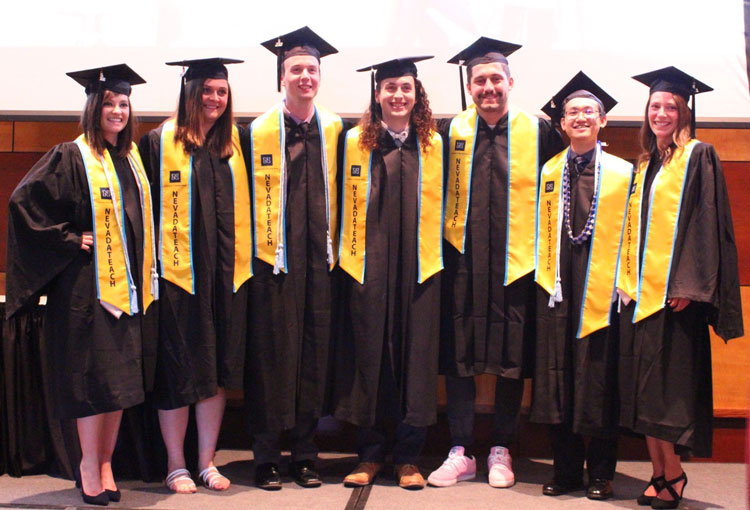 As part of the NevadaTeach program, students majoring in STEM subjects are able to take two teaching classes within their first two semesters at the University: Step 1 and Step 2. Students are subsidized for Step 1 and Step 2, allowing them to take the courses, risk free. The classes are designed to place University STEM majors in an elementary and middle school classroom almost immediately. Students teach three times and observe the teacher twice during the Step 1 course. According to Regina Tempel, NevadaTeach co-director and associate dean in the College of Science, this allows students to gain meaningful context for their coursework and provides them with the opportunity to decide early in the process if classroom teaching is the right fit for them.
"Once I started NevadaTeach, I was hooked," Hunter Fralick, University biology major and soon-to-be graduate, said. "It's cool being a part of the first group to go through the whole process. After I graduate, I'm hoping to get in the classroom right way and will be looking for open positions in the school district. I want to teach biology or anatomy and physiology but I'm also qualified to teach environmental science or life science."
Fralick's discovered enthusiasm for teaching is part of the program's overall goal.
"These students are so passionate about their subjects, it's really neat to see that passion translate into their lessons in the classroom," Megan Beckam, NevadaTeach Master Teacher, said.
Beckam is one of four full-time Master Teachers and a search is currently underway for a fifth master teacher. All are highly qualified former middle or high school teachers. In their roles, they teach courses, supervise student field experiences and support University students progressing through the NevadaTeach program. They are also committed to students for two years after graduation, serving as mentors for those beginning their teaching journey. These Master Teachers also actively seek out Washoe County School District teacher partnerships and collaboration.
"The Master Teachers make the program, there's no question about it," Tempel said. "They have such a commitment to these students. They each observe students in the classroom and provide insightful feedback to the student about how they can make that lesson better the next day."
In addition to the Master Teachers, the program offers a Peer Mentor program. Peer Mentors support freshmen entering the program in creating lessons, organizing schedules, packing lesson supplies and navigating courses.
"Peer Mentors have really been an added benefit to the program," Robert Quinn, NevadaTeach co-director and University professor of mathematics education in the College of Education, said. "They not only provide support for the students but they act as a communications liaison, bringing things to our attention that we're maybe not aware of - like when a class section is full that a student needs to stay on track for graduation. By making us aware of these things, we're able to work with students to ensure they get the courses they need to stay on track."
Why NevadaTeach?
"The mission behind NevadaTeach is to attract highly qualified students who are skilled and passionate about their content," Ashley Welch, NevadaTeach site coordinator for the UTeach Institute Austin, said. "What stands out about Nevada Teach to me is the level of support and enthusiasm at all levels of the program. From the Master Teachers and co-directors to the colleges involved and University administration and even the support received at the state level. It's clear that Nevada really cares about making sure K-12 has good secondary STEM teachers."
NevadaTeach was initially funded in December 2014 through the Howard Hughes Medical Institute with a grant of $1.45 million throughout five years. In June 2017, Nevada Assembly Bill 522 funded the program for an additional $300,000. In October, the William N. Pennington Foundation funded the renovation of a new space for NevadaTeach on the University campus.
"When you see elementary and middle school kids start to engage with science, it improves the entire teacher-preparation process," Fralick said. "It feeds into your excitement about science, therefore making it enjoyable for everyone."
A place to call home
Master Teacher Mandi Collins said one of the biggest benefits of NevadaTeach is that it gives students a sense of community.
"By choosing NevadaTeach, it gave me a place to call home," Tessa Hubert, University junior agriculture major, said. "The program really works on building community with all students, regardless of major or year in the program."
While students are encouraged to begin NevadaTeach the first semester of their freshman year, having flexible entry points is an important premise of the program. This allows students to enter the program early in their University careers even if they were initially not aware of the program or only became interested later.