The College of Science Scholarship Luncheon, held Wednesday, October 25, gave students the chance to meet some of the donors that have helped to support their education with scholarship money. These scholarships give College of Science undergraduates and graduates the opportunity to focus on their education, internships, research and extracurriculars. Students Brian Huynh and Brandon Conner spoke at the event.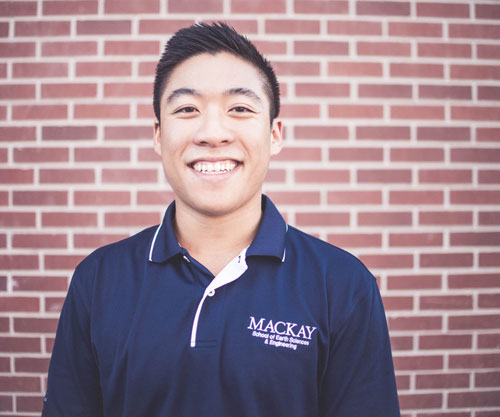 Brian
Huynh

| Mining Engineering Undergraduate,

Mackay

School of Ear

th

Sciences and Engineering

Brian Huynh started his college career as a pre-med student. However, after his freshman year, Huynh found his interests had shifted. He was drawn to the Mining Engineering program at the Mackay School of Earth Sciences and Engineering, and he soon took his first class.

"That's when I went underground for the first time," Huynh said. "Being in the mud - it's really wet and muddy, cold and dirty - it was a completely different environment than being in a hospital where everything is sterile and sanitary. I realized this is what I really wanted to do. I liked being outside, getting my hands dirty and using my brain."

Soon after, Huynh officially declared his major in Mining Engineering, and became a leading member of the student population. Over the course of his education, Huynh was involved in 11 extracurriculars including serving as President of the John Mackay Club and Vice President of the University's Nevada Blue Key Honor Society. He spent two summers as a project engineer intern and was ultimately offered a full-time position upon graduating as a Mine Engineer 1 for Freeport-McMoRan, a global leader in the mining industry.

As a first-generation college student, Huynh spent his freshman year working and attending school seven days a week to help pay for his education. Being a recipient of the Mackay School scholarships greatly benefited his education.

"Leading the John Mackay Club and being a representative for Mackay at Nevada Bounds greatly benefits my career rather than working at a minimum wage job trying to cover my tuition" says Huynh.

Huynh's incredible drive and passion is apparent in all areas of his life. When he isn't working or studying, you'll find him at the gym training for Olympic Weightlifting competitions!
Brandon Conner | BS-MD Accelerated Medical Degree Program, College of Science
Brandon Conner is currently in his third year of the BS-MD Accelerated Medical Degree Program. Conner's certainty in pursuing medicine comes from a strong desire to help those in need.
"I have a lot of family members who live in rural Georgia, and they don't have a lot of access to healthcare" Conner said. "I've seen the fear that has arisen because they are not sure what is going to happen to them. If I could one day help alleviate that fear in other people, that would be absolutely amazing."
Over the last three years, Conner worked as a Biology Discussion Group Leader, Learning Assistant, Peer Mentor, and Course Coordinator helping his fellow students to succeed. In addition, Conner also worked at the Family Research Center mentoring children in the Early Head Start Program.
Throughout his college career, Conner has found the supportive community at the College of Science and the scholarships he has received to be invaluable.
"I've found these amazing people that support me through my academics who I can go to whenever I need anything," said Conner. "No one can lone-wolf-it when you're going the pre-med route, and it's been nice to have that support."
As Conner prepares to enter medical school here at the University of Nevada, Reno, he recalls one of his first days on campus as an undergraduate.
"The President of the University gave a speech to all incoming Freshman. He said 'Get involved - it's awaiting you.' I feel like I really tried to do that, because this is the time in your life to explore and to embrace the things that you are really passionate about and the things that really interest you before you move on to a career and the professional world."