RFID barcodes
Tracking Chemical Containers with Radio Frequency Identification (RFID) Barcodes
The EH&S chemical inventory group is pleased to announce that we will begin using new Radio Frequency Identification (RFID) barcode stickers to manage chemical inventory. The new barcode stickers will appear on all inventoried chemical containers starting in October 2018, and once fully implemented, RFID barcode technology will greatly facilitate EH&S collection of chemical inventory data.
The RFID tags are encoded with an 8-digit barcode number. The 8-digit numbers are also visibly printed along with a UNR CHEM ID one-dimensional barcode. The RFID stickers are designed to protrude off the side of the container as "flag tags" (shown in the picture). Please DO NOT REMOVE or tape down these tags.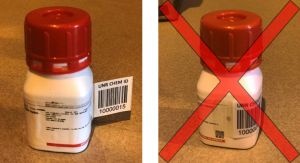 Procedure for Applying RFID Barcodes to Chemicals Shipped in Sealed Cans
Some chemicals are shipped inside metal cans and it is safer to deliver them inside the cans preserving the original seal. The end users are thus responsible for placing the chemical inventory Radio Frequency Identification (RFID) flag-tag barcode on bottles after opening the can in the laboratory. Follow the steps below when affixing an RFID barcode to a chemical container.
Remove the pre-folded RFID barcode from the waxed paper backing.



Adhere the label vertically to the right of the chemical label.



Ensure that the barcode sticks out horizontally like a flag.



If you have any questions about RFID barcodes or chemical inventory procedures on the University of Nevada, Reno campus, please contact Luis Barthel-Rosa at (775) 327-2270 or luisbr@unr.edu.