Self-paced polling
Conducting a Self-Paced Polling session
Learn how to conduct a Self-Paced Polling session in your face-to-face class.
Self-Paced Polling is generally used for administering quizzes and exams in a classroom. Your students take a paper-based quiz while using the PointSolutions app on their mobile devices to record their answers. The quizzes are auto-graded, excluding short answer or essay questions. Below is the procedure for administering a quiz or exam using Self-Paced Polling.
Launch and log in to the PointSolution desktop app. Click Enable under Mobile Responses, then Start Session to generate a session ID.
Make sure the course and the question list are selected. If you do not yet have a question list, please refer to Creating a Question List in PointSolutions. Click Start now under Self-Paced Polling to begin.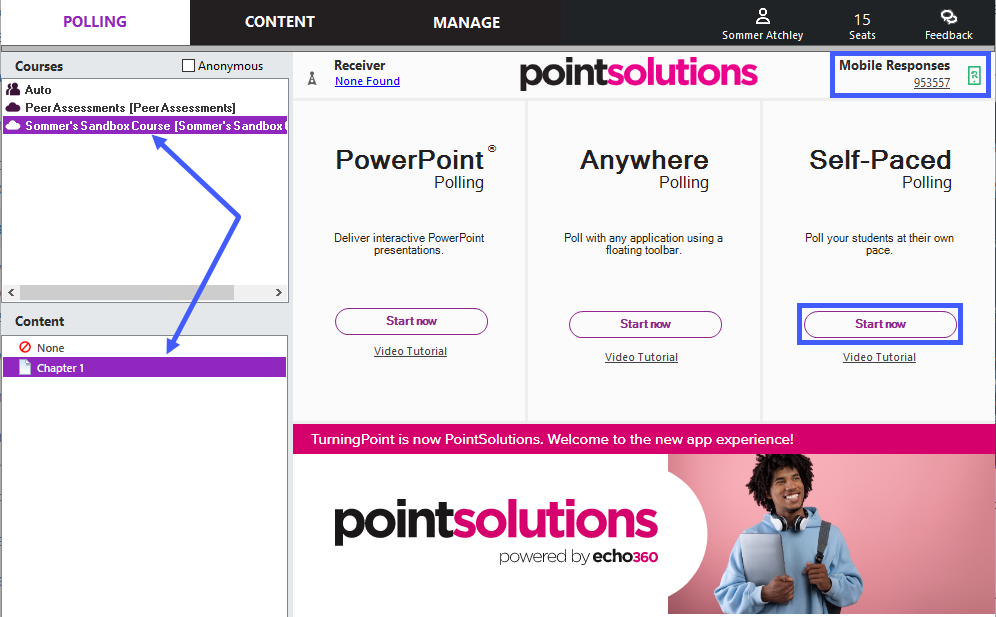 The Self-Paced Polling window will open. Click Accept Sign In at the top left corner to continue.

Another dialogue box will open, where you can adjust quiz settings and enter a custom message that will display to students once they have completed the quiz. The custom message is optional and the default text is "Test received." Click OK to continue. (Note: For Participant Sign In, use the default option: Off.)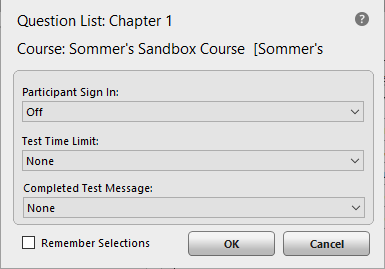 You will be brought back to the Self-paced Polling window. Click Start Polling to begin the quiz.

Hand out the paper quiz for students to begin. From the polling window under the Session ID, you can see how many students have logged in to the session and completed the exam. Under the Status column, a green triangle indicates the exam is in progress, and a check mark in a green circle indicates the student has submitted the quiz. Students will receive the "Completed Test Message" upon completion.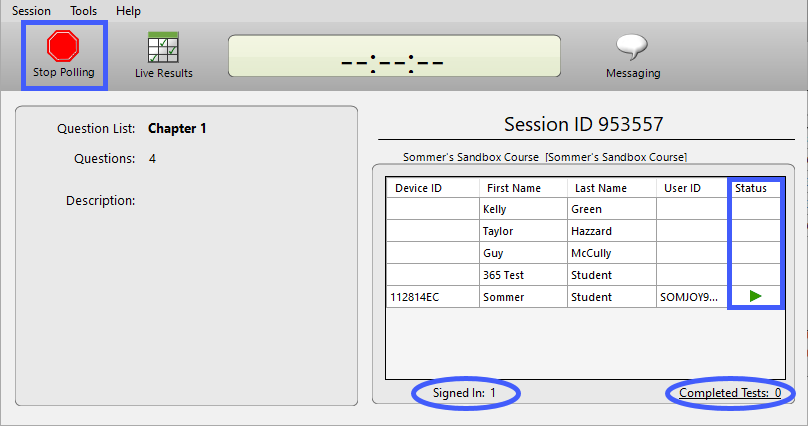 Live Results allows you to view students' progress while they are taking the exam. Do not project this screen!
When the time is up, click Stop Polling to end the exam. Click the Save button to save the results on your flash drive or network drive, or upload to Nevada Box.