Securing your Zoom sessions
Removing a participant from a Zoom session
You can remove any participant from your Zoom meeting using the Participant Management window. Once removed the participant will be unable to rejoin from the same devices/IP address. Any participant removed from a recurring Zoom meeting will be unable to join future meetings as well.
To remove a participant from your meeting
Step 1. Once in your Zoom meeting, click on Manage Participants on the bottom toolbar in the Zoom meeting window.
---
Step 2. Mouse over the participant name you need to remove from your meeting in the Participant list.
---
Step 3. Click on the More fly-out menu that appears and select Remove.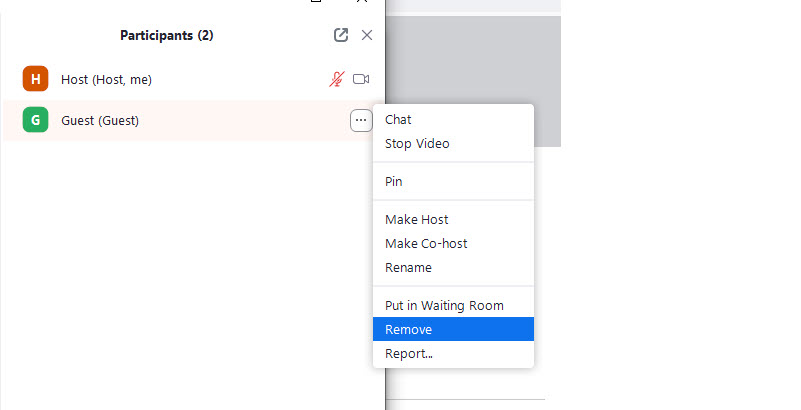 ---
Step 4. The participant should now be removed from your meeting and will be unable to rejoin from the same device.
How to prevent Zoombombing
Zoombombing is a form of internet trolling in which an unwelcomed participant joins a Zoom meeting with the purpose of being disruptive and/or offensive. In most cases, these unwelcome participants have no affiliation with the University.
The University has put in place additional security settings to help reduce the likelihood of these incidents.
Waiting rooms have been turned on for all new meetings. This will allow authenticated users to automatically enter the meeting room. User without University of Nevada, Reno Zoom accounts will need the instructor to permit them. We recommend all students visit the University's Zoom portal to set up their accounts if they have not done so already.
Remote control during screen sharing has been disabled. Only the user sharing their screen will be able to control it or annotate on it.
Please use the strategies and settings recommended below to limit the opportunities for your class or meeting to be "bombed". If you have questions about these settings or about meeting security in general, please contact the Office of Digital Learning.
Zoom Classroom Management Strategies
Recommended Zoom meeting settings