Using Turnitin
Tutorial on Turnitin
Learn how to create a Turnitin Assignment in WebCampus.
Creating a Turnitin assignment in WebCampus
Turnitin must be activated for each WebCampus Assignment in which it is to be used in advance of students submitting work.
Step 1: Log in to your WebCampus course and click Assignments on the course menu.
---
Step 2: Click the Add Assignment button at the top right to create a new assignment.
---
Step 3: Enter the assignment details, such as the name, description and points. Under Submission Type click the drop-down menu, select External Tool, then click Find.
Note: If Load this tool in a new tab is selected, the Turnitin assignment inbox will not load automatically on creation and you will instead be shown a button to load the assignment in a new browser window. After creation, you will need to select this button in order for the assignment to be fully configured within Turnitin.
---
Step 4: In the Configure External Tool window that opens, scroll down and click on Turnitin LTI and then click Select.
---
Step 5: Enter the availability and due dates and click Save & Publish. You will be taken to the Turnitin Settings screen. Continue reading for more information on Turnitin settings.
Adjusting Turnitin settings in WebCampus
Whether you've just created an assignment or need to edit an existing assignment, you can access the Turnitin settings by clicking on the Settings tab (which looks like a gear symbol on the top right) to adjust basic settings. Click Optional Settings at the bottom to access additional settings.
Note that if you've assigned a due date and availability dates within the general Assignment settings, you will not be able to adjust the Start Date and Due Date under the Turnitin settings.
If you'd like students to be able to use the Similarity Report to revise and resubmit work, under Similarity Report, select "Generate reports immediately (students can resubmit until due date)" from the drop-down menu, and check the "Allow students to view Similarity Reports" option.
See the Turnitin guides on Basic Settings and Optional Settings for more information on
the different options. When you're finished adjusting settings, click Submit at the bottom of the screen.
Interpreting the Similarity Report
After students have submitted the assignment to WebCampus, the Similarity Report is generated and is visible in the Assignment Inbox for you (and students if allowed) to interpret.
For help with accessing and understanding the Similarity Report see Turnitin guides, especially:
Grading a Turnitin Assignment
Turnitin Assignments are easy to grade in the WebCampus SpeedGrader and integrate well with the Gradebook.
Step 1. In WebCampus, go to the Assignment and click on the SpeedGrader button in the top right corner.
---
Step 2. Click the Turnitin Similarity Score to view and interpret the Similarity Report as part of the grading process.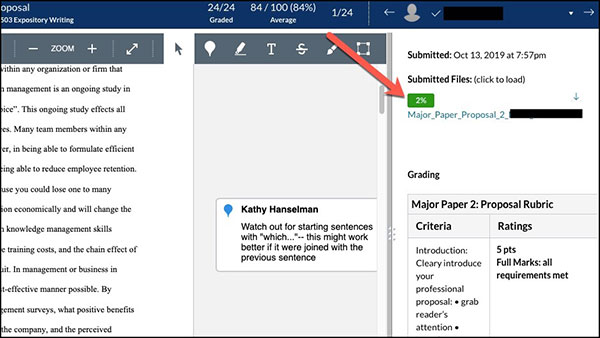 ---
Step 3. Use SpeedGrader and the assignment's rubric (if applicable) to grade the paper in WebCampus, then click Apply Score to Grade.
---
Step 4. Return to the Speedgrader and refresh. The grade from GradeMark will appear.
---
Step 5. Feedback and grades in Speedgrader and Turnitin data are synced with WebCampus grades and accessible through Grades.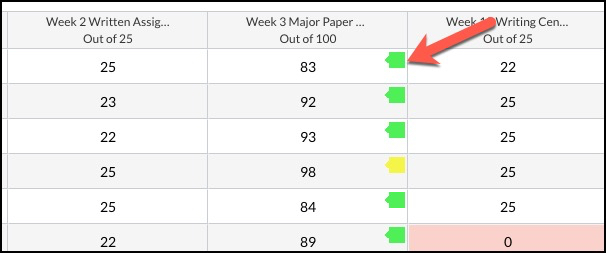 Note about Turnitin grading tools: Faculty may choose to use Turnitin grading tools instead of the equivalent WebCampus grading tools. For help with Turnitin Grading tools see the following Turnitin Guides for Instructors: Commenting Tools, QuickMarks, Rubrics, and PeerMark.
Guiding students in using Turnitin
If instructors use Turnitin, students may need some guidance using the Similarity Report. Before submitting work, students should be informed of:
What plagiarism is and how to avoid it: see for example the University Library

'

s Avoiding Plagiarism.
What Turnitin does and how to use it: make students aware of Turnitin

's

Student Guide to Turnitin.
Where to submit the Turnitin assignment: direct students to the WebCampus Assignment, not to Turnitin.com.
What file types will be accepted: generally, Word files with extension .doc or .docx. If using a Mac, students should check "

Append file extension"

when saving file. For more information, see File Types and Sizes.
Whether or not late submissions will be accepted: according to your Optional Settings.
Whether or not students will be able to view the report and resubmit an assignment after viewing the report: according to your Optional Settings.
If students are allowed to resubmit work, they may need additional instruction in how to use the report: i.e. to improve the originality of paraphrased sections, the accuracy of quotes and citations, the quantity of sources used, or perhaps the quality of sources being used.