Live proctoring using Respondus LockDown Browser in Zoom
Respondus LockDown Browser itself can be used in a proctored testing environment such as the testing center or in the classroom. If an instructor wants to monitor/proctor students in real time while they are taking an exam online, Respondus LockDown Browser + Zoom can be one solution. A Zoom meeting will need to be scheduled during the exam and the exam set up to require the use of LockDown Browser with some specific settings. Note that this is intended for small classes where the instructor can view all students on the screen, and students will need to take the exam on a computer, not on an iPad.
Follow the simple steps below to set up an exam in LockDown Browser to allow the use of Zoom.
Create an exam in WebCampus using the Quizzes tool.
After that, go to the LockDown Browser Dashboard. Click on the down arrow next to the title of the exam and choose Settings.
Check the option to require Respondus LockDown Browser for this exam. Then, under Proctoring, select the option to allow instructor live proctoring.
Under Instructor Live Proctoring, select Zoom for the conference tool, and add a start code to prevent students from starting the exam early. You may include additional instruction to students as needed.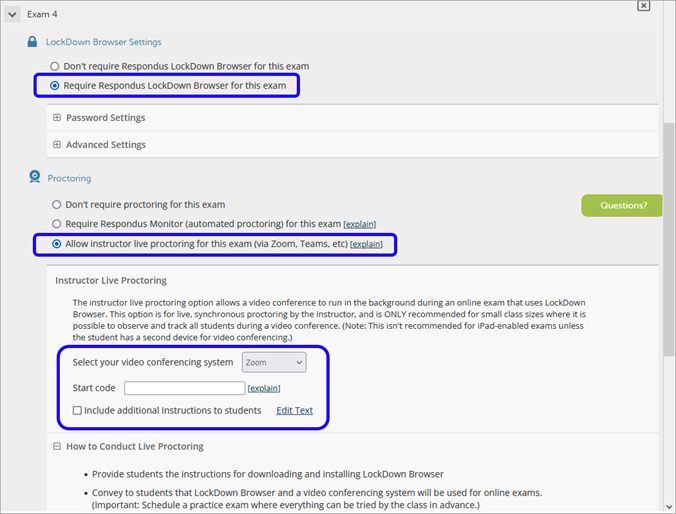 Note that during the exam, students are unable to access Zoom (or any other apps) so they will be unable to ask exam related questions.
It is highly recommended that a practice exam be offered to ensure everything works correctly for both instructor and students. There are some helpful tips provided on how to conduct live proctoring when you set up the LockDown Browser for Zoom. For more information refer to the Instructor live proctoring: getting started guide and video tutorial.