Adding streaming video to WebCampus
Adding Films on Demand to WebCampus
Films on Demand is a subscription service that is provided as a resource by the library. You can add content from Films on Demand directly to you WebCampus course wherever there is a Rich Text Editor (e.g. pages, discussions, quizzes, and assignments).
Step 1: Log in to WebCampus and browse to your course.
---
Step 2: Open/create the item (i.e. page, discussion, quiz etc.) where you want to add the Films on Demand video.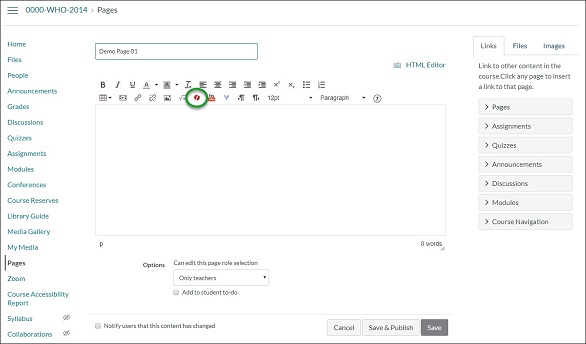 ---
Step 3: In the rich text editor, click on the Films on Demand icon.
---
Step 4: In the window that opens, enter search terms related to the video content you would like to use and click the search button.
---
Step 5: Once you have located the video in the search results, click the Embed drop-down menu to the side of the video and select the desired embed size for the video.
---
Step 6: Your video will now show up in the Rich Text Editor. Click the Save/Save & Publish button as appropriate.
Additional streaming video resources from the library
Requests for large portions of copyrighted bodies of work, such as full-length movies or documentaries, need to go through our libraries team in order to ensure they meet usage and licensing guidelines. Please use this link to our streaming media request form to notify the appropriate libraries teams of the need. You will be asked to indicate your Subject Librarian for your department or program, who can help with searches and questions about the process.
Important: Please fill out the streaming request promptly. The libraries team needs time to search for streaming options, contact the studio/copyright holder and await a reply in some instances, coordinate licensing details, etc. It can also take a week for captioning after this process is complete, if captions are needed, so please provide as much lead time as possible.
For more information, please visit the library's policies on Streaming Video for Course Use or contact your liaison librarian.