Creating a question list
Create a question list
Learn how to create a question list for use with Anywhere Polling or Self-Paced Polling in the Pointsolutions app.
With Anywhere Polling and Self-Paced Polling you may need to create questions before conduct a polling session. This tutorial will help you create, edit and import questions using the PointSolutions app.
Begin by launching the PointSolutions desktop app on your computer. Under the Content tab, click on the Content drop-down menu, mouse over New, then click Question List.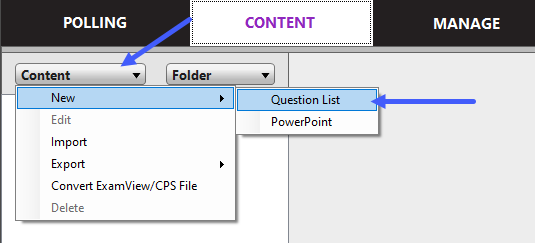 The Question List Wizard will open, where you are asked to enter a name (and description if desired) for the question list. Enter the information and click New List. On the next screen, enter your Preferences for the question list, including number of questions, question type, point values, etc. (NOTE: These settings will be the default settings for all question in this list. These settings can be edited later for individual questions.) Click Save to continue.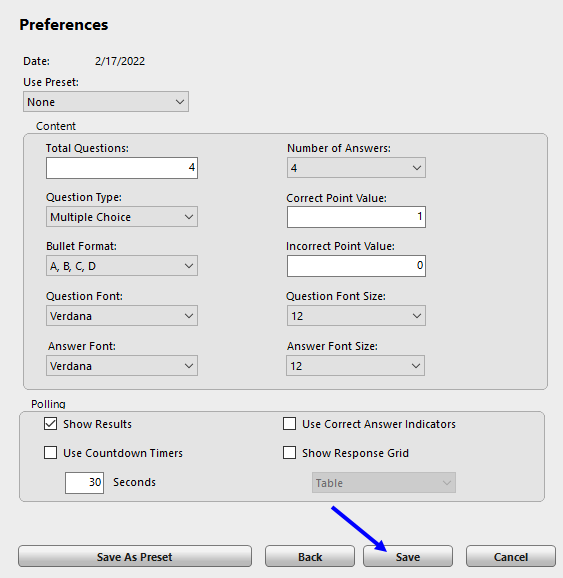 The Question List Editor will open, where you can enter the question and answer text, change the question type, set correct answers, adjust polling and scoring options, etc. If you're using Self-Paced Polling and only need a key list, you only need to enter or choose the correct answer for each question on the list. If you're using Anywhere Polling, you may want to enter the text for the questions and answer choices so that they are presented to the students during polling.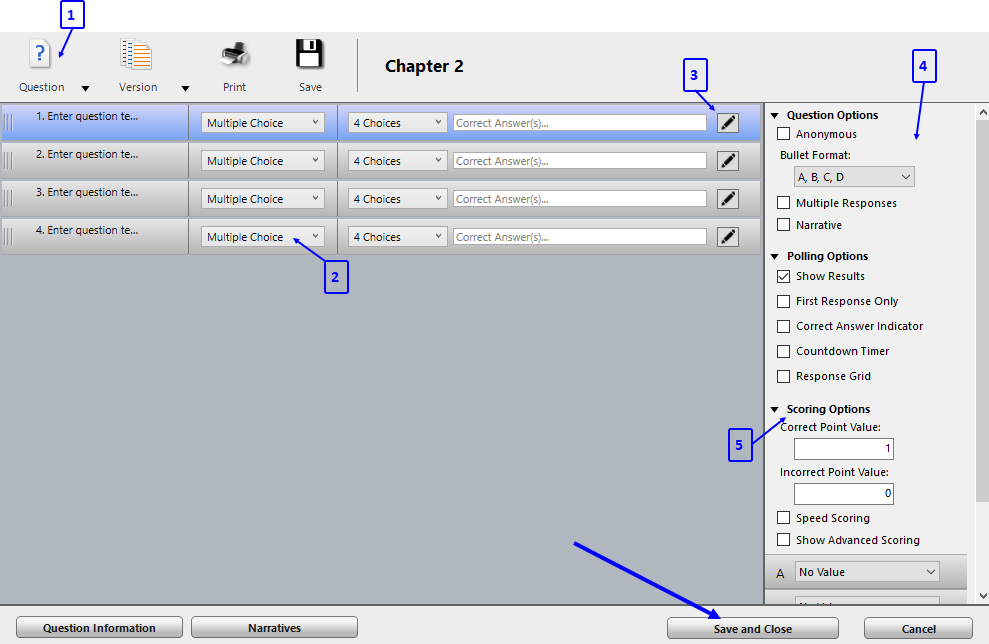 Add more questions, delete a question, update Question List preferences, etc. by clicking on the Question

Click on the Question Type drop-down menu next to a question to change the type of question (e.g., Multiple Choice, True/False, etc.).

Edit question and answer text by clicking on the Edit button (looks like a pencil icon) next to the question.

The Question Editor will open, where you can edit the text and options (please note that options are slightly different for each question type). Use the Navigation arrows to move through the question list. Click Close when you are finished to be brought back to the Question List Editor.
Adjust the options for a question by selecting the question, expanding the menus for Question Options and Polling Options and making your selections.

Adjust the correct answer(s), Correct and Incorrect point values, etc. by selecting the question and making your changes under Scoring Options.
When you've completed adding and editing questions, click Save and Close to be brought back to the dashboard.