Deleting Zoom cloud recordings
It is good practice to remove any Zoom cloud recordings you no longer need. The instructions below walk you through the process of removing any recordings that are no longer needed/in use. For recordings you plan to use long term, it may be worth migrating those recordings to your My Media repository.
Step 1: Sign in to the University of Nevada, Reno Zoom web portal.
---
Step 2: In the left navigation menu, click Recordings.
---
Step 3: You will see a list of your cloud recordings. Click on the More drop-down button associated with the recording you would like to delete.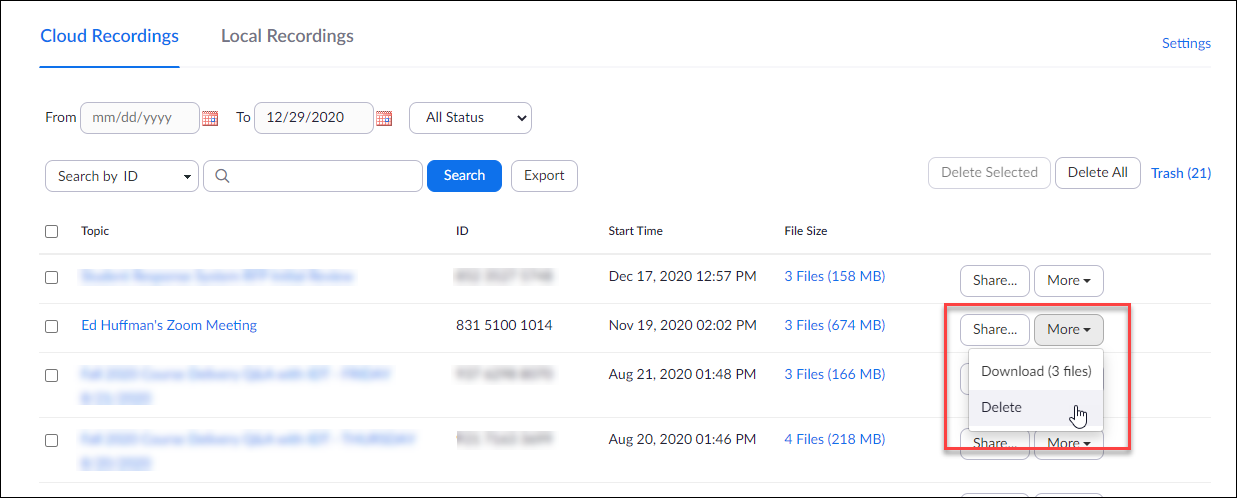 ---
Step 4: Select the Delete option to delete the recording.
---
Step 5: You will receive a conformation pop-up message. Click on the Yes button to move the recording to the trash.
NOTE: Files placed in your trash are recoverable for 30 days, after which time they will be permanently deleted. You can access your trash to immediately purge files, if needed. For more information contact the Office of Digital Learning (ODL).