Recommended Zoom settings for meetings with the University of Nevada, Reno community
With the advent of "zoombombing," it is critical to keep your meeting safe from unwanted participants. We strongly recommend using the following Zoom meeting settings and in-meeting management strategies to ensure you have a secure and productive meeting, while also allowing for input from the University community.
In your general Zoom settings, you should set the following meeting options:
(You will need to adjust these from the University's Zoom portal.)

Make sure private chat is disabled. Leave the normal chat enabled and restrict once in meeting so the Host/Co-Host can send messages to the group but no one else can send chat messages.

Under screen sharing, make sure sharing is disabled for participants. You should also disable Annotation and Whiteboard functions as well.
Make sure nonverbal feedback is enabled. The Nonverbal feedback setting is located just a little below the sharing settings, make sure this is enabled so participants can raise their hands and engage in other nonverbal communication.
When you create/schedule your meeting, use the following settings:
These options are set when you schedule your meeting. They will help to ensure that you meeting is attended only by those participants who you intend to invite.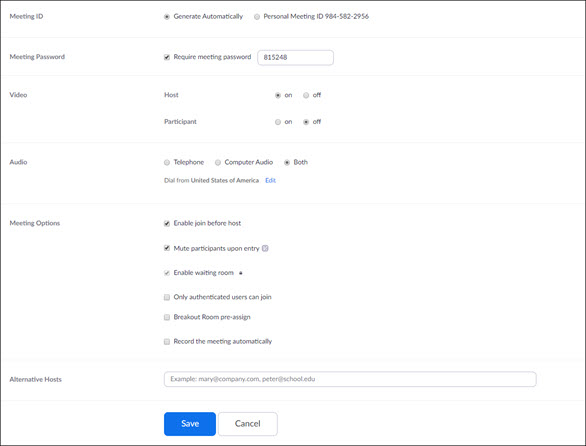 Enable join before host – This will place any meeting participants in waiting room if they join the Zoom meeting before the meeting Host. If the waiting room is not enabled, these users would join the main meeting room.
Mute participants upon entry – This will mute all participants when they enter the meeting. The host or co-host will need to unmute users before they can speak.
Enable waiting room – This feature places all participants in a waiting room until allowed into the room by the meeting host/co-host. (This feature should now be locked "On".)
Once in the meeting, disable participant chat:
The first thing you should do immediately after you start the meeting as host, is restrict the Chat function. This will allow only Hosts and Co-Hosts to send chats. All users will see chats.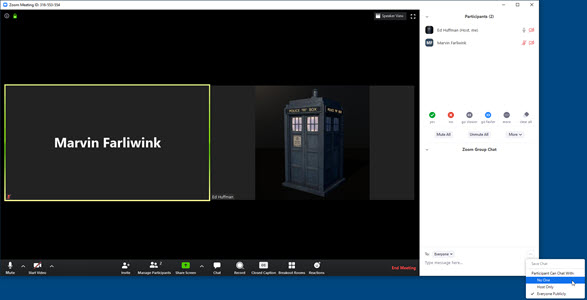 To restrict the chat function:
From the Zoom meeting window, click on the Chat button on the lower toolbar to bring up the chat panel.
In the chat panel, click on the … button and select "Participants Can Chat With: No One" from the drop-down options.
Meeting management
Ideally you should have at least one co-host to help manage participants. Most of this will take place using the manage Participants panel. Make sure you have this toggled on, by clicking Manage Participants in the bottom toolbar.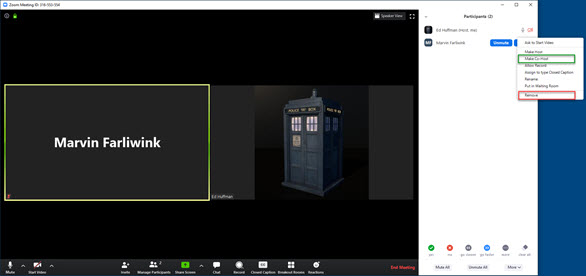 All participants should be muted on entry but if they are not you can use the Mute All button to mute and lock everyone muted.
Depending on if you are using chat at all or not, use either chat or a verbal announcement in the meeting to direct participants to use the Raise Hand function in the Participant panel to be recognized and unmuted, so they can speak to the group. Ideally this could be moderated by a co-host.
When another participant needs to present, they can be elevated to a Co-host and this will allow them to share their screen and control their own video/audio. (There is no limit to the number of co-host you can have.) When they are done presenting, you should remove their co-host privileges.
In the event that a disruptive participant gets into your meeting, use the remove participant function to remove them from the meeting immediately.
If you have questions or concerns about your meeting – or would like to discuss your meeting or a setting in specific, please email idt@unr.edu.