Apply for scholarships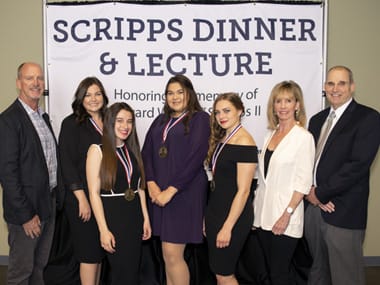 Did you know that the Reynolds School awards over $180,000 in scholarships annually?
Reynolds School of Journalism scholarship applicants, please note:
Reynolds School of Journalism applicants must complete the scholarship application in MyNEVADA between October 1 and February 15, annually.
Log in to MyNevada, go to Student Center –> Supplemental Forms –> Scholarship Application.
To be eligible for consideration for scholarships that require financial need, students must complete the free application for Federal Student Aid (FAFSA). If you are a FAFSA eligible student, learn how to apply for financial aid through FAFSA. If you are a non-FAFSA eligible student, learn about financial aid for international, DACA or undocumented students.
Our scholarships are awarded to students who are declared journalism majors and are in good academic standing. Eligibility is limited to the semesters in which you are a full-time student at Nevada (12 undergraduate credits, 9 graduate credits).
Please note that due to the large number of applicants, notification will be sent only to those who are receiving awards.