Abdou Sall Fall
Abdou Sall Fall is a researcher focused on improving Senegal's electric industry through renewable sources. Abdou has founded two technology-based startups: InternWay, an educational networking platform, and Constatel, a mobile application that enhances traffic and automobile-related services. He has gained valuable experience in startups, demonstrated through his expertise in business development and growth planning. Abdou has a bachelor's degree in Management and Trade and is pursuing a master's degree in Management of Energy and Hydrocarbon Resources. Abdou is passionate about acquiring the necessary leadership and technical skills to manage disruptive projects effectively. After completing the Mandela Washington Fellowship for Young African Leaders, he aims to work toward the sustainability of the African energy sector and contribute to strong technological development.

Amdiya Abdul Latiff
Amdiya Abdul Latiff has more than seven years of experience in menstrual solutions, gender advocacy, and community development. Currently, Amdiya is the founding director of RuGirlz EMS and Eco-Me Africa, two eco-inclusive social impact organizations. There she focuses on empowering women and girls by providing innovative, sustainable solutions for menstrual care and healthy living solutions. She also creates employment opportunities for socially disadvantaged women and youth. Amdiya researched, designed, and developed the EcoPeriod sanitary pad, a high-quality, eco-friendly, washable, and reusable sanitary pad that keeps girls in school and saves the environment from tons of plastic waste. She received the 2022 Female-Led Green Business Award and the Young African Leaders Initiative's Sustainability Excellence Award and Community Engagement Fund Award. Amdiya holds a bachelor's degree in Communication Design from Kwame Nkrumah University of Science and Technology. Driven by a passion for girls' education that she gained from her mother, Amdiya believes schooling is the sacrosanct door to knowledge, prosperity, and hope for all. After completing the Mandela Washington Fellowship for Young African Leaders, Amdiya plans to establish a Period Hub in each of Ghana's 16 regions, eventually expanding her distribution channels across the West African region.

Ayan Pierre
Ayan Pierre has over 4 years of experience in civil engineering. Currently, Ayan is an engineer and head of her own company, Pierre Consulting, focusing on the analysis structure, control of any type of construction projects. Ayan holds a master's in civil engineering and she is in her last year of her PhD in the field of construction management which is online. Ayan, since she was little, has had three convictions that as women, we are equal to men and we can do the same jobs; that everyone deserves a home whether they are poor, rich, or refugees; and lastly, we must live in a healthy planet. The first conviction has been reached as she is working in a male centric area as civil engineering is mainly thought that it is a man's job. Upon completion of the Mandela Washington fellowship, Ayan plans to provide to the poor and refugees economic, good quality, and environmental friendly houses.

Bethelhem Girma Assefa
Bethelhem Girma Assefa has more than three years of experience in aerospace engineering. Currently, Bethelhem is co-founder and chief executive officer of Afrobots Engineering PLC, a firm that provides robotic solutions for African industries. Bethelhem is also coordinator at the Ethio Space Kids Club, which recruits and cultivates young space enthusiasts in Ethiopia. Bethelhem holds a bachelor's degree in Aeronautical Engineering. Bethelhem is committed to making a positive impact on the aerospace industry and the youth in Africa. Upon completion of the Mandela Washington Fellowship for Young African Leaders, Bethelhem plans to return home and establish a drone pilot training academy in Ethiopia.

Edith Chepngetich Cheruiyot
Edith Cheruiyot has over four years of experience in communications, data analytics, and software development. Currently, Edith is a fintech software developer at Safaricom PLC, where she develops and enhances financial solutions specifically for Africa. Additionally, she is a co-founder and co-director of Afrocentric Climate & Nature-Based Solutions Limited (ACNBS), a climate consulting firm that identifies and scales up innovative, sustainable solutions for climate resilience. Edith has a software engineering certificate in addition to a bachelor's degree in geospatial information science. Edith is committed to transforming the livelihoods for those in her community by combating the effects of climate change through a fusion of innovation and technology. Upon completion of the Mandela Washington Fellowship, Edith plans to implement a project to separate Nairobi's waste and convert organic waste into clean, renewable, and affordable energy for Nairobi's citizens.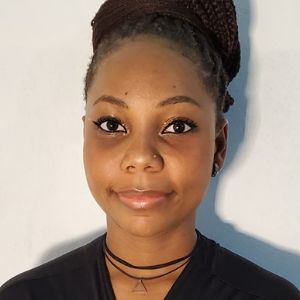 Fifanantin Adoglo
Fifanantin Adoglo is an artist and designer in Benin. She is currently a freelance illustrator, focusing on illustrating and designing books for children and young adults, and on character and concept designs for similar projects. Fifanantin is pursuing a degree in information technology. She is drawn to visual storytelling and plans to use it as a tool to shape our worldview, allowing people to connect with ideas, cultures, and perspectives that are different from their own. After completing the Mandela Washington Fellowship for Young African Leaders, Fifanantin plans to launch herself into the animation and graphic novel scene. She intends to become a griot (a musician-entertainer in western Africa), preserving and sharing people's stories and traditions. She will also teach and mentor children and youths who choose this career path as they create stories that shape the world anew.

Fishani Stuart
Fishani Stuart Msiska has more than nine years of experience in social enterprise development and entrepreneurship innovations. Currently, Fishani is the founder and CEO at Zasolar and focuses on distributing renewable energy for last-mile delivery in Malawi. He has worked as a finance manager for different organizations, including Solar Aid, and has engaged in many volunteer positions that benefit needy communities. Fishani is a trained accountant and an enthusiastic renewable energy practitioner. He is passionate about enhancing access to affordable renewable energy in Malawi. After completing the Mandela Washington Fellowship for Young African Leaders, Fishani plans to grow his enterprise by expanding catchment areas and introducing new products and services.

Fragoso Muhae
Fragoso Muhae has more than 10 years of experience in project management. Fragoso works at Vulcan, a major coal mining company, and focuses on leading the mine master plan, conducting feasibility studies, and developing key investment projects. He is also responsible for the operational readiness of new mining areas and coordinating the processes for involuntary resettlement, project licensing, and infrastructure development. Fragoso started as a marketing consultant at CEFPAS, where he delivered branding projects with funding from the Mozambican government and international partners. In 2017, he founded his first advertising company, which has served more than 100 local and international clients. He then founded Brainstorm, a social enterprise that upskills young Mozambicans through innovation and technology and bridges the gap between employers and recent graduates. Through the Carreira project, Brainstorm teaches on-demand skills required by big employers with a special focus on the energy sector because of the country's huge natural resource discoveries. Fragoso holds a bachelor's degree in Mining Engineering with a postgraduate specialization in Project Management. After completing the Mandela Washington Fellowship for Young African Leaders, Fragoso plans to continue to address local problems in his community and drive positive change through technology.

Gad Niyomukunzi
Gad Niyomukunzi has more than seven years of experience in recycling plastics. Currently, Gad is the chief executive officer and founder of Makerspace Burundi, and he focuses on recycling plastics into flowers and other ornaments to protect the environment and create jobs for youth. He has more than 10 years of experience working as a volunteer in American Corners in Burundi, where he facilitates English-learning programs and live streaming. Gad holds a bachelor's degree in English Language and Literature from the University of Burundi.
Gad is passionate about protecting the environment through plastic recycling to create jobs for youth. After completing the Mandela Washington Fellowship for Young African Leaders, Gad plans to create plastics recycling clubs in schools and universities all around Burundi so that young people can grow with an environment-protection spirit and can create their own jobs through recycling.

Gettie Ezolestine Mulokoshi
Gettie Mulokoshi-Shiinda has more than nine years of experience in groundwater management, water quality monitoring, and investigation. Gettie is a hydrogeologist at the Ministry of Agriculture, Water, and Land Reform, focusing on conducting water research, project planning and design, and project management. Gettie has demonstrated effectiveness in working with multi-cultural and multi-disciplinary teams. She is involved in a wide range of regional, national, and international groundwater programs, transboundary aquifers, and river basin organizations. Gettie holds an honors degree in geology and is currently pursuing a master's in water resources management. Gettie is driven to change how water is managed, in particular emphasizing the importance of water research in water management. Gettie hopes to learn about the intersection of business with civil society and government, as well as the role of public-private partnerships, in order to establish a reputable water institute. Upon completion of the Mandela Washington Fellowship, she plans on establishing a water research section or institute.

Grace Akinyi
Grace Akinyi has more than two years of experience in the mining industry, focusing on exploration for critical minerals for energy transition and precious metals. Grace is a geologist and founder of Women in Mining Kenya. Grace has four years of volunteer experience in organizations aimed at collectively building Africa, be it through policy, activism, philanthropy, or public engagement. Grace holds a bachelor's degree in Geology and aspires to see a more human rights-centered mining system in Africa, especially artisanal mining. A major goal is to see men and women who work tirelessly to earn a living on mining sites do so in a dignified manner. Grace chose mining as a profession to bring attention to this very important yet underrepresented industry. After completing the Mandela Washington Fellowship for Young African Leaders, Grace hopes to use newfound knowledge and networks to pilot a project with women in gold mining, who will create jewelry from their hand-panned gold and use storytelling to share the process with the public.

Henristudio Solofoniaina
Henristudio Solofoniaina has more than seven years of experience in the tourism industry, working as a tour guide. Henristudio owns and manages a Cyber Internet Café. He also volunteers as a coordinator and mentor at Ambalavola Orphanage in Antsiranana, Madagascar, where he works with orphans and financially disadvantaged children, helping them gain a high-quality education. Henristudio believes orphaned children should have equal access to education and resources. He previously was a language and cross-cultural facilitator at Peace Corps Madagascar, where he taught American volunteers the Malagasy language and culture. Henristudio holds a master's degree in International Business Management and a bachelor's degree in Applied Languages for Tourism from the University of Antsiranana. In addition to Malagasy, he speaks English, Spanish, Chinese (HSK Level III), Italian, and French. Henristudio is committed to promoting Madagascar's tourism industry and sharing his knowledge and culture with people from around the world. After completing the Mandela Washington Fellowship for Young African Leaders, he plans to operate his own tour company and foster sustainable tourism development in Madagascar. He also plans to found an educational organization that will help financially disadvantaged children achieve their full potential, thereby promoting equity and equality in his beloved Madagascar.

Hortensia Margarita Bodipo
Hortensia Margarita Bodipo has more than three years of experience in information technology and content creation. She is currently a project coordinator and communication assistant for a project at IDENTIC that focuses on girls' inclusion in technology. As project coordinator, she mentors girls and women interested in pursuing careers in science, technology, engineering, and mathematics. She also creates Equatorial Guinea-related content for her YouTube channel and other social media handles, which has strengthened her expertise in digital media and in leveraging digital media for societal benefits. In addition, she writes for her blog (Guineoecuatoriando), where she shares her passion for content creation and life in general. She previously worked with Odysee.tv. Hortensia Margarita holds a bachelor's degree in Information Technology from Ghana Technology University College. She also has a certificate in Broadcast Journalism from All Stars Media College in Ghana. After completing the Mandela Washington Fellowship for Young African Leaders, Hortensia Margarita plans to expand her opportunities to encourage the inclusion of women in information technology.

Jean-Paul Mangata Ntetika
Jean-Paul Mangata Ntetika has more than three years of experience in viticulture, particularly in the production of wines based on endemic fruits of the Congolese Terroir. Currently, Jean-Paul is President and Founder of TOMELA WINES, focusing on the production of palm wines, avocado leaf wines, Carambola wines and MBILA ESOBE (anisophyllea quangensis) wine. He runs the NGO PELISA MWINDA where he volunteers, helping communities in need - and especially orphans - by providing them with school supplies.

Jeremiah Thoronka
Jeremiah Thoronka is an innovator, entrepreneur, and scholar from Sierra Leone with intimate knowledge of energy, climate change, the environment, sustainability, and development. In 2021, he was laureate of the inaugural Global Student Prize. He is cited for demonstrating excellence in innovating clean energy systems, promoting locally sustainable solutions, and being involved in Sustainable Development Goals. Jeremiah's expertise in creating solutions has equipped him with advanced technical skills and an understanding of how solutions can create meaningful societal and environmental impact. Since 2017, Jeremiah has been exploring using piezoelectricity for clean energy generation and consumption in urban areas. He holds a Master of Science in Sustainability, Energy, and Development. After completing the Mandela Washington Fellowship for Young African Leaders, Jeremiah plans to use the skills, knowledge, and network he obtained to scale up his energy solutions and solve the lack of energy access in disadvantaged communities.

Kaleb Abebe
Kaleab Abebe has more than four years of experience in medicine and public health. Currently, Kaleab is chief executive officer of MEDKET Tech Solutions, a health technology startup that emphasizes the use of software technology to revolutionize hospital-level human resource management. In response to the COVID-19 pandemic, Kaleab joined Ethiopia's Federal Ministry of Health and oversaw the collaborative efforts and response plans of multiple governmental sectors. He responded to the emergency task force's summons during the pandemic's peak and oversaw several quarantine facilities. He also provided frontline medical care at one of the COVID-19 treatment facilities. Kaleab holds a bachelor's degree in Medicine from the University of Gondar. He is committed to using innovative technology to improve the standard of care at hospitals because he thinks it is the most practical solution available right now. After completing the Mandela Washington Fellowship for Young African Leaders, Kaleab plans to apply all the skills he acquired to his current project and vows to improve the service that is provided at hospitals.

Laura Benifield
Laura Benifield has more than eight years of experience in the financial services industry and nearly four years of experience in the information and communications technologies (ICT) industry. Currently, Laura is business development manager at Netsecure Solutions, where she focuses on establishing strategic partnerships with cybersecurity vendors, growing the company's sales and marketing department, and maintaining excellent client relations. Laura is also founder of Prachtvoll Construction & Interior Designs Botswana. Outside of her work and business, she focuses on assisting girls and women with developing an interest in ICT-related studies and businesses. Laura is driven to explore the entrepreneurial path and to encourage others to follow suit. After completing the Mandela Washington Fellowship for Young African Leaders, Laura plans to establish an international professional training institute for technological studies in Africa.

Lazarus Siwelwa
Lazarus Siwelwa has more than five years experience in renewable energy and energy efficiency. Lazarus is founder and chief executive officer of Virgin Green Renewable Energy Limited, a social enterprise in Zambia that commercializes renewable energy and promotes energy efficiency by producing cookstoves that use less fuel and reduce carbon emissions. Lazarus started Virgin Green after his grandmother died as a result of cooking with dirty fuels. He discovered that of the 1 billion people who use dirty fuels, 4 million die each year from the smoke. He also found that Zambia, with a population of just 18 million, is ranked number one in Africa in terms of deforestation. By providing clean and affordable cooking fuels, Virgin Green saves both lives and forests. Lazarus has a bachelor's degree in Physics. He has received recognition as a 2022 Totalenergies Startupper of the Year, a 2022 Sahara Impact Fund Outstanding Fellow, a 2022 UNLEASH Global Talent Finalist, and a 2022 National Innovation Initiatives Award recipient. After completing the Mandela Washington Fellowship for Young African Leaders, he plans to scale up Virgin Green, bringing clean energy to millions of Zambians who currently are ravaging the forests for energy they can afford.

Mahelet Abebe
Mahelet Abebe is an aspiring entrepreneur with more than ten years of work experience in the health and digital financial sectors. She is currently working as the general manager of ShegaMuya, a digitally enabled service, at Kifiya Financial Technology Plc. She has successfully developed a digital marketplace that links informal sector workers with potential customers, creating jobs for thousands of people. Mahelet holds a master's degree in business administration. She has received a scholarship to the Women Deliver conference, a conference that is focused on implementing sustainable development goals so they matter most for girls and women, with a specific focus on maternal, sexual, and reproductive health and rights, gender equality, education, the environment, and economic empowerment. She is also the founder and CEO of Aspire Grow, a technology and service company committed to making a long-lasting impact in the lives of youth, women, migrants, and gig workers by understanding the skill gap between the needs of potential employers and employees and changing the attitude of job seekers towards ethical work behavior, entrepreneurship, and on-demand jobs. As a women-owned and led organization, Aspire Grow is committed to empowering the partners it aims to serve, with a particular emphasis on helping women have a choice, not just a chance. On her return, with a focus on inclusivity and scalability, Mahelet aims to create a sustainable solution that bridges the gap between workers and work opportunities through training and networking.

Mphatso Kalawe
Mphatso Kalawe is an engineer with more than five years of experience. Currently, Mphatso is a database engineer at NBS Bank, where she manages large amounts of data, develops data-driven solutions to improve business operations, and ensures data security. Mphatso is also co-founder of Nkhwazi Aeros, a drone services company that offers solutions in various industries, including disaster response, agriculture, and health. Mphatso holds a bachelor's degree in Electronics and Telecommunications Engineering and is pursuing a master's degree in Sustainable Development. Mphatso is committed to solving real-life challenges through drone technology and encouraging youth to embrace technology to empower themselves economically. After completing the Mandela Washington Fellowship for Young African Leaders, Mphatso plans to use her leadership skills in growing Nkhwazi Aeros and facilitating drone programs to empower fellow youth.

Murendeni Makhado
Murendeni Makhado has over 10 years of experience in the mining industry. She is currently a corporate water specialist at Implats Holdings and she facilitates the development and implementation of the group's water management strategy, policies, and plans. She is also the membership lead for Women in Mining South Africa, which is a nonprofit organization that creates an empowering network to inspire, support, and develop the progression of women working in the South African mining industry. Murendeni holds a master's degree in International Business. She is passionate about sustainable development, including access to clean water and gender equality, which she believes are basic human rights. After completing the Mandela Washington Fellowship for Young African Leaders, she plans to apply the skills she learned to advance to an executive position and to improve her perspective on sustainable business practices.

Susanne Ogunleye
Susanne Ogunleye has eight years of experience in the healthcare industry. She is chief executive officer and co-founder of Jasmine Ultra Blue Solutions and focuses on overseeing medical and diagnostic services at the center and fitness and wellness programs for women. She is the chapter lead of Future Females Lagos and works to empower female entrepreneurs through knowledge-sharing and networking opportunities. Susanne holds a bachelor's degree in Biochemistry. She is passionate about public health and entrepreneurship and is motivated to improve healthcare outcomes and create opportunities for female entrepreneurs. After completing the Mandela Washington Fellowship for Young African Leaders, Susanne plans to continue building her businesses and expanding her impact in the healthcare and entrepreneurship space in Nigeria.

Triomphant Tchulang Kouogue
Triomphant Tchulang Kouogue has more than eight years of experience in the renewable energy field and is the chief executive officer of Clean Energy Services. He focuses on solar energy, energy transition, solar cooling, and access to essential services in remote areas. Triomphant holds a Master of Engineering in Renewable Energies and is committed to helping communities in even the most remote places have access to electricity, water, and other essential services. He has won numerous awards for his work, including first prize in the EDF (Électricité de France) Pulse Africa Tour 2019 and, in 2021, being named one of the top three most innovative Sustainable Development Goal 7 project leaders by SE4ALL (Sustainable Energy for All). He holds a patent for the Bi-Solar Tech Fridge. After completing the Mandela Washington Fellowship for Young African Leaders, Triomphant plans to train youth and women in energy efficiency and green entrepreneurship and to work with the Cameroon Association of Renewable Energy Engineers to influence energy decisions. He also plans to build a factory for solar freezers that will help preserve foods and vaccines for more than 200,000 entrepreneurs.

Wendy Egyirkoom
Wendy Anna Egyirkoom has six years of experience in administration, as a textile and fashion design professional and health facility assistant. She assists Ghanaian photographer Steve Ababio as the head of protocol and coordinator for Destination Africa, which promotes tourism and improves rural incomes and livelihoods in Africa. Wendy is the founder of Wenette Hope Foundation, a nonprofit that provides social and economic relief to underprivileged people. Wendy partnered with the Aseda Foundation to initiate the Skill Up project, which equips single mothers and others with vocational skills. The project was piloted at the Nyamedua Children's Home in Accra, where a team of professionals trained youth in the orphanage and caregivers in soap making, bead making, hair styling, pedicures, and manicures. Wendy is also the financial manager and social media director for Chasing Waterfalls, a project that promotes sustainable ecotourism within Africa. Wendy holds a bachelor's degree in Industrial Art from Kwame Nkrumah University of Science and Technology. After completing the Mandela Washington Fellowship for Young African Leaders, Wendy plans to set up clubs at schools to help students identify and use their talents, and to organize seminars to equip owners of nongovernmental organizations with management and fundraising skills.