University projects under construction
Leifson Physics and Chemistry buildings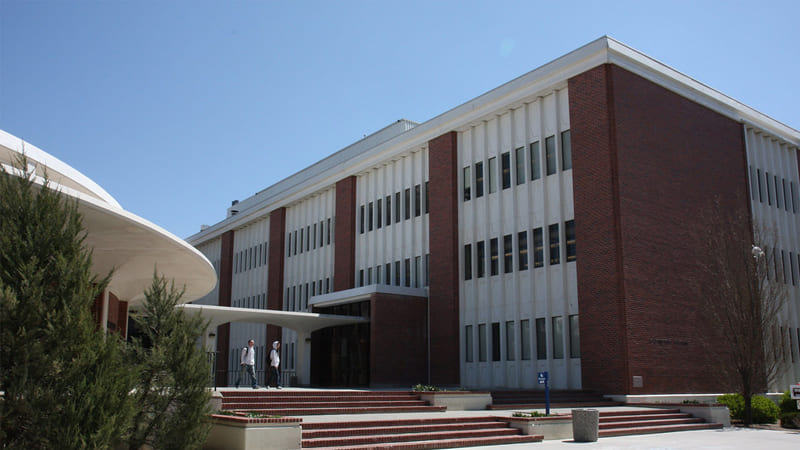 The Leifson Physics and Chemistry Buildings were originally construction in 1967 and house the College of Science Departments of Physics and Chemistry, respectively. In support of University and College of Science research and educational objectives, the first floor of the Chemistry Building and the third floor of Leifson Physics will undergo extensive renovations to provide state of the art facilities to students and staff. Research laboratory, classroom, and office spaces are being modernized, ventilation systems upgraded and expanded, and overall building safety enhanced with the addition of building wide fire alarm systems, and fire sprinklers on all floors of each building. New ADA compliant restrooms are included in both buildings. Due to innovative design, the Chemistry Building assignable space will increase by 1,778 square feet and the Leifson Physics Building assignable space will increase by 839 square feet. The University is using a Construction Manager at Risk (CMAR) construction delivery method for this project.
Project overview
Architect: Van Woert Bigotti Architects
Contractor: Clark & Sullivan Constructors, Inc.
Square footage of renovated space: 32,174 (Leifson Physics: 13,929 / Chemistry: 18,280)
Layout - Leifson Physics: 3 Classrooms; 7 Laboratory Spaces; 2 Laboratory Support Space ;11 Offices; 1 Graduate Student Work Area; 1 collaboration Room; Modernize Elevator Cab
Layout - Chemistry Building: 5 Laboratory Spaces; 8 Laboratory Support Spaces; 8 Offices; 4 Graduate Student Work Spaces; 1 Collaboration Room; 1 Conference Room; Modernized Elevator Cab
Estimated cost: $23.4 Million Projected
Construction start date: Summer 2019
Projected completion date: Summer 2020
---
William N. Pennington Engineering building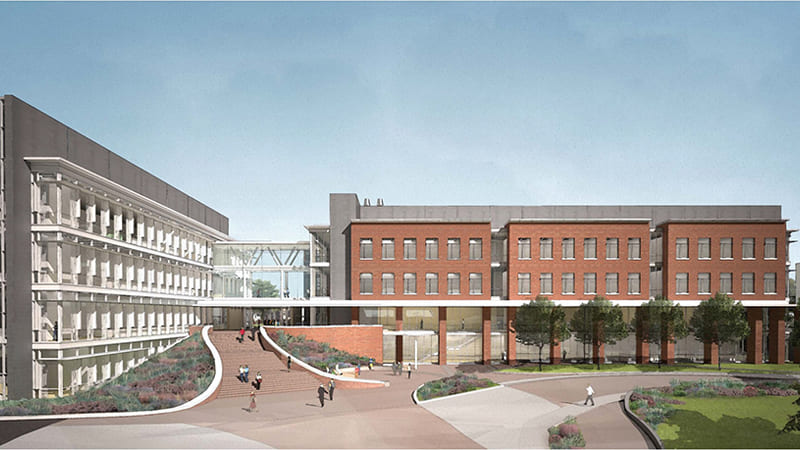 The new William N. Pennington Engineering Building will be comprised of research laboratories, teaching laboratories and administrative offices. Each of the College's five departments will have space in the new building: Chemical and Materials Engineering; Civil and Environmental Engineering, Computer Science and Engineering; Electrical and Biomedical Engineering; and Mechanical Engineering.
It will join the well-established engineering complex with Paul Laxalt Mineral Engineering, Paul Laxalt Mineral Research, Palmer Engineering, Scrugham Engineering and Mines, Harry Reid Engineering Laboratory and the Earthquake Engineering Laboratory. The two building halls are connected on the first, third and fourth floors, with the second floor providing exterior access from Evans Avenue down to a new plaza on the east side of Palmer Engineering.
Project overview
Architect: H+K Architects
Contractor: CORE Construction
Square Footage: 100,114
Layout: Four stories with 40+ faculty offices, 150 graduate work stations, 40+ laboratories, a clean room, large-scale computer lab, 200-student classroom, food services and the Dean of the College of Engineering's offices.
Estimated Cost: $91.97 Million (The State of Nevada will support $41.5 million of this project; the remaining $50.4 million in funding will come from the University of Nevada, Reno and from University donors)
Construction Start Date: Summer 2018
Projected Completion Date: Summer 2020