Recently completed campus construction projects
Gateway Parking Complex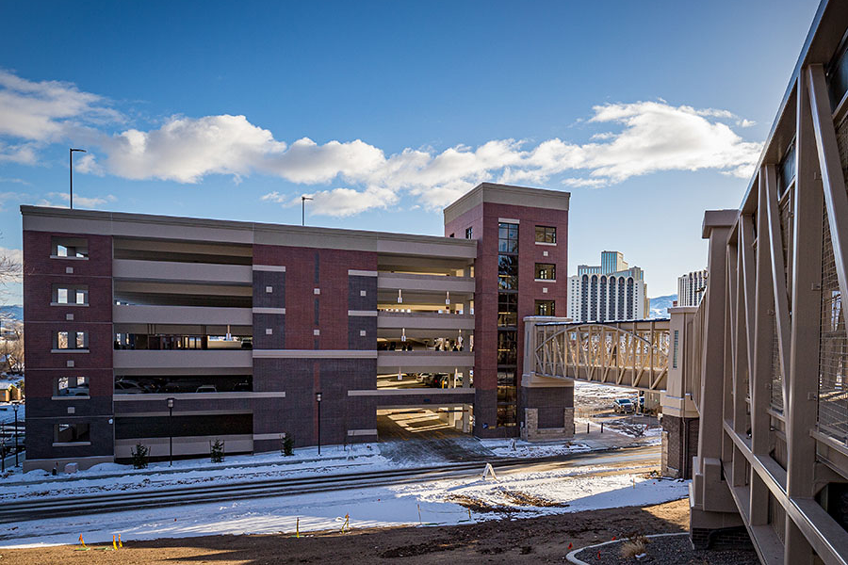 Construction of a seven-story parking complex located in the University Gateway was completed in January 2023, adding an additional 811 parking spots in a desirable location at the south end of campus.
Project overview
Architects: Watry Design, Incorporated | CMAR: Clark & Sullivan Constructor, Inc.
Total cost: $40.4 Million
Approximate square footage: 287,000
Construction start date: June 2021
Construction completion date: January 2023
Project funding: Debt service for the complex will be paid with funds the University receives from parking permit sales
William N. Pennington Engineering Building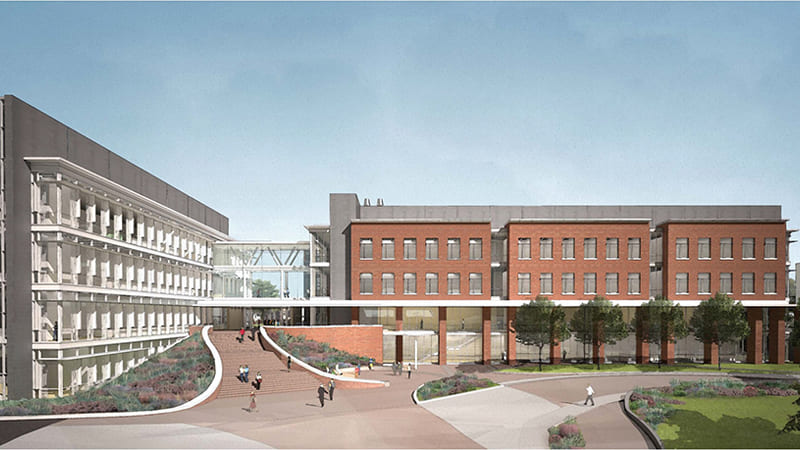 The new William N. Pennington Engineering Building is comprised of research and teaching laboratories, graduate work stations, faculty offices, a clean room, food services, and a 210-student classroom. Each of the College of Engineering's five departments occupy space in the new building: Chemical and Materials Engineering, Civil and Environmental Engineering, Computer Science and Engineering, Electrical and Biomedical Engineering, and Mechanical Engineering.
It joins the well-established engineering complex which includes Paul Laxalt Mineral Engineering, Paul Laxalt Mineral Research, Palmer Engineering, Scrugham Engineering and Mines, Harry Reid Engineering Laboratory and the Earthquake Engineering Laboratory. The two building halls are connected on the first, third and fourth floors, with the second floor providing exterior access from Evans Avenue down to a new plaza on the east side of Palmer Engineering.
Project overview
Completion date: August 2020
Square footage: 108,170
Architect: H+K Architects
Contractor: CORE Construction
Project cost: $91.6 Million (The State of Nevada provided $40.2 million for this project. The remaining $51.4 million was provided by the University of Nevada, Reno and from University donors.)
Leifson Physics and Chemistry buildings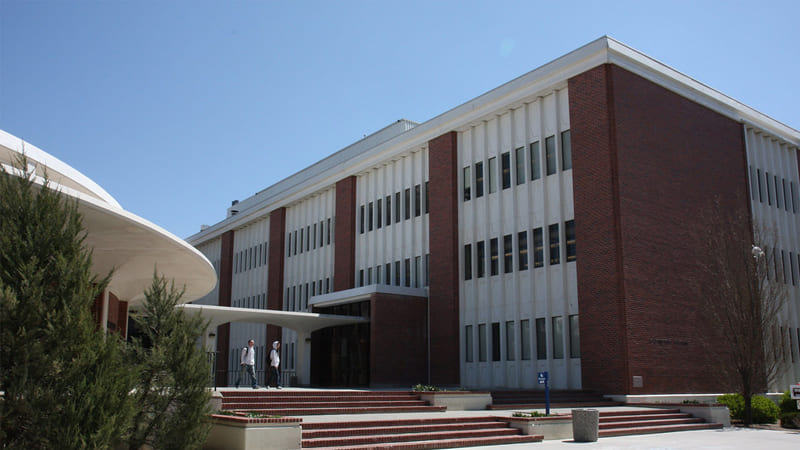 The Leifson Physics and Chemistry Buildings were originally construction in 1967 and house the College of Science Departments of Physics and Chemistry, respectively. In support of University and College of Science research and educational objectives, the first floor of the Chemistry Building and the third floor of Leifson Physics will undergo extensive renovations to provide state of the art facilities to students and staff. Research laboratory, classroom, and office spaces are being modernized, ventilation systems upgraded and expanded, and overall building safety enhanced with the addition of building wide fire alarm systems, and fire sprinklers on all floors of each building. New ADA compliant restrooms are included in both buildings. Due to innovative design, the Chemistry Building assignable space will increase by 1,778 square feet and the Leifson Physics Building assignable space will increase by 839 square feet. The University is using a Construction Manager at Risk (CMAR) construction delivery method for this project.
Project overview
Architect: Van Woert Bigotti Architects
Contractor: Clark & Sullivan Constructors, Inc.
Square footage of renovated space: 32,174 (Leifson Physics: 13,929 / Chemistry: 18,280)
Layout - Leifson Physics: 3 Classrooms; 7 Laboratory Spaces; 2 Laboratory Support Space ;11 Offices; 1 Graduate Student Work Area; 1 collaboration Room; Modernize Elevator Cab
Layout - Chemistry Building: 5 Laboratory Spaces; 8 Laboratory Support Spaces; 8 Offices; 4 Graduate Student Work Spaces; 1 Collaboration Room; 1 Conference Room; Modernized Elevator Cab
Estimated cost: $23.4 Million Projected
Construction start date: Summer 2019
Projected completion date: Summer 2020
---
Manzanita Hall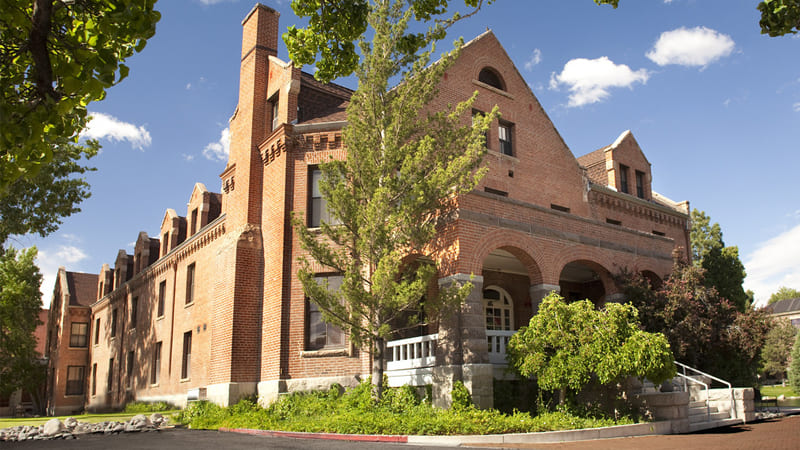 A major renovation and structural upgrade of the historic Manzanita Hall transformed it into a co-educational residential housing unit. Manzanita Hall is one of 13 buildings in the University's historic. Providing students with a quality on-campus living experience helps showcase the culture of student success. Living on campus provides students an authentic, total college experience. Manzanita Hall, originally known as "The Cottage," was built in 1896 in an L-shape and was half the size it is today. In 1910 an addition and an eastern-facing porch were added, although the porch was removed when the building was remodeled in 1950.
Project overview
Architect: Collaborative Design Studio
Contractor: Clark and Sullivan Constructors, Inc.
Built in: 1896
Square Footage: 32,493
Estimated Cost: $9.4 Million
Funding Source: Residence Life and Housing Construction
Start Date: August 27, 2018
Completion Date: Summer of 2019
Renovations and structural upgrades
103 student beds
6 resident assistant rooms
A laundry facility Student lounges
Study areas
Seismically retrofitting the structure
Life safety upgrades
Removal of ADA barriers
---
University Arts building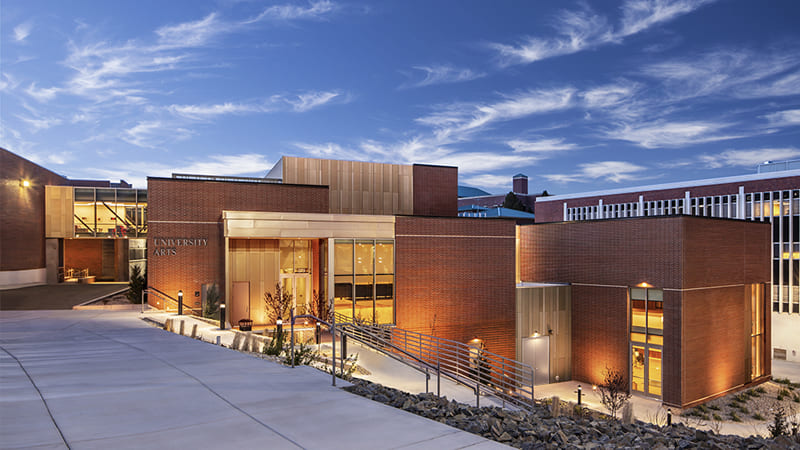 The University of Nevada, Reno and the School of the Arts are expanding their roles and footprint on campus and in the community. The new University Arts Building will be connected to the Church Fine Arts building through a sky-walk. It will enhance the quality of music and art programs with new spaces that will inspire creativity and artistic excellence. A new recital hall, art museum, fabrication lab, multiple rehearsal and practice rooms, and teaching studios will support students and staff in producing their best work.
The building will amplify the role of the arts within the community, while at the same time increase the public's accessibility to world-class performances and exhibitions. Scholarly, creative and instructional efforts within the College of Liberal Arts produce some of the most visible connections between the campus and surrounding community. The University wants to further enhance the arts presence on campus and in the community by expanding the number of artistic performances and exhibitions. By promoting and cultivating the University's arts programs in this manner, the University will strengthen its leadership role in arts education in northern Nevada and continue to showcase top student and professional performances and exhibits in music, theatre, dance, and art.
The new building will further the University's connection to the Reno community and create a model of cooperation that also will positively affect the region's economic impact. The project is in the planning stages and expected to feature a 287-seat recital hall, a new art museum, fabrication lab, electroacoustic lab, soundproof rehearsal spaces, music practice rooms, faculty office spaces and a recording studio.
Project overview
Architect: DLR Group Architecture & Engineering, Inc.
Contractor: Q&D Construction
Square footage: 42,500
Estimated cost: $35.5 Million raised through donor grants and pledges
Construction start date: May 2017
Grand opening date: February 22, 2019
---
Great Basin Hall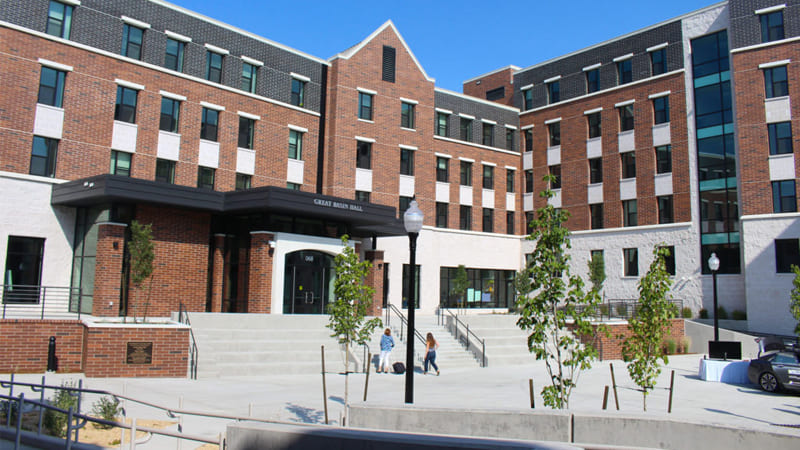 Great Basin Hall was built to keep up with the increasing demand for on-campus student housing, which currently exceeds 122 percent. The hall will have a STEM theme - science, technology, engineering and mathematics - to promote academic success within these disciplines. While the University is able to accommodate all current residence hall requests, new facilities are needed to increase capacity and continually improve on the quality of accommodations offered to new students.
Great Basin Hall is designed to house 400+ students, 90 percent freshmen and 10 percent upperclassmen. The concept behind the new hall will be for informal mentoring to take place in an effort to continue to recruit and retain students in the STEM fields. Freshmen who live on and connect with campus in their first year at the University are more likely to persist, re-enroll into their second year and ultimately graduate. Providing students with a quality on-campus living experience helps showcase the culture of student success.
Project overview
Architect: VanWoert Bigotti
Contractor: CORE Construction
Square Footage: 114,151
Construction information: Environmentally sensitive construction will be LEED Gold
Estimated cost: $62.7 million
Funding Source: Residence Hall fees and bonds
Construction start date: Fall 2016
Completion date: Summer 2018
---
Lombardi Recreation Center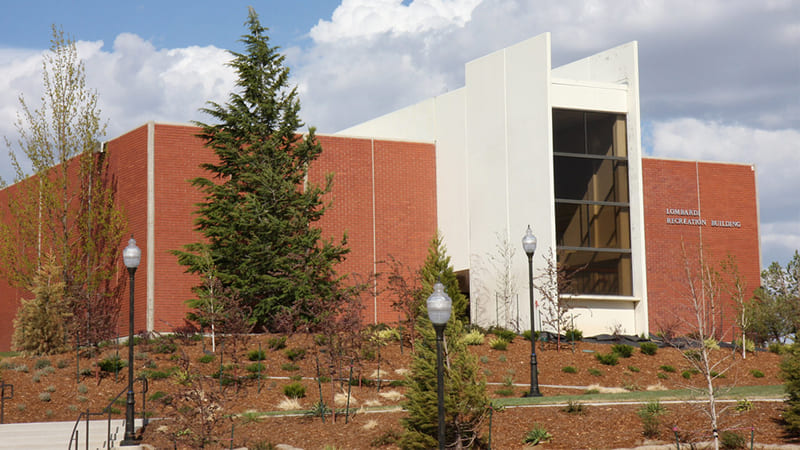 Renovation of basketball practice facilities for athletics, and new space for the Liberal Arts Theater and Dance program.
Project overview
Completion date: Summer 2018
Project cost: $5.2 Million
Project manager: Ariel Lauzardo
---