Senator Reid Donation and Lecture Series
The Senator Harry Reid Doctoral Fellowship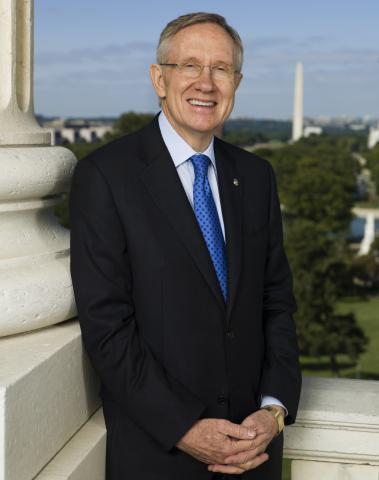 Senator Harry Reid's donation of his papers to the University of Nevada, Reno provides a significant resource to future generations. His collection will offer insights into a long career in public service, as well as his historical interests and activities. By virtue of the range of important regional and local issues with which the senator has been involved during his career, the papers also promise to be a rich source for the study of Nevada and western American history. Important developments such as the negotiation and implementation of the Truckee River Operating Agreement, establishment of Great Basin National Park, restoration of Native American lands and protection of Lake Tahoe clearly have consequences that extend beyond a single lifetime and career. The senator's papers will enable researchers to understand the complex negotiations required to implement these measures and perhaps better appreciate the role of politics in enhancing public welfare.
Because of Senator Reid's involvement in such a large number of important environmental issues, this collection will be of great interest to historians and environmental scholars. The ultimate outcome of efforts to preserve Walker Lake, for example, will not be known for decades. The Reid Papers preserve an important record of what was envisioned at the time the efforts were undertaken, and will help future scholars to assess both the intentions and the impact of the public funding that went into the Desert Terminus Lakes Project. Similar studies can be envisioned for much of the long-term work with which Senator Reid has been involved.
In order to insure that this rich repository is fully mined for the wealth of subject matter it covers, a doctoral fellowship in Nevada and western history is established in the Department of History at the University of Nevada, Reno. This fellowship will be awarded competitively, to a Ph.D. student intending to study western American or environmental history. It is envisioned as a Public History Fellowship, with an assignment involving work with the Reid Papers rather than teaching. Through the department's Shared History Program, the Reid Fellow would assist in bringing topics from Reid Papers to a broader public audience by means of exhibits, oral histories, or other public forms of presentation. Ultimately, a research topic drawing on themes or materials from the Reid Papers would result in a dissertation in western American, Nevada, or environmental history. Multidisciplinary approaches would be actively encouraged, as would both public and academic presentations by the Reid Fellow. By this means, the University will not only facilitate completion of new Ph.Ds. in History, but also ensure that the complex issues Senator Reid worked on during his career continue to be engaged and appreciated by subsequent generations.
Applying for the Harry Reid Doctoral Fellowship
The Harry Reid Doctoral Fellowship is a fully-funded, five-year Ph.D. fellowship and includes a research stipend and summer funding. Potential applicants are encouraged to contact Sarah Keyes who will serve as the fellow's dissertation advisor. Interested applicants should include a section in their statement of purpose that describes why they are a good candidate for the fellowship. Applications to the University of Nevada, Reno graduate program are due February 1, but applicants are encouraged to apply as soon as possible.
Further information about the department's graduate program can be found on the graduate page. Additional questions may also be directed to the Director of Graduate Studies, Linda Curcio.
Current fellow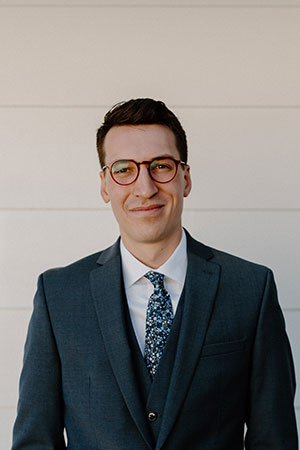 Christian Filbrun is the Inaugural Senator Harry Reid Fellow. In this new position, he will bring topics and content from the Senator's papers to the public. His hope is that it allows the public, as well as future historians, the chance to examine and understand Senator Reid's legacy.

Filbrun is a historian of the 20th century United States. He graduated in 2020 with an M.A. in history from California State University, Stanislaus. At Stanislaus, his research focused on how government policy impacted the social and political fabric of people's everyday lives. His new position as the Inaugural Senator Harry Reid Fellow will allow him to further pursue research focused on government policy and its effects on people and the environment.
Harry Reid Public Engagement Lecture Series
In honor of Senator Harry Reid's many contributions to the University and the state, a bi-annual, university-wide Harry Reid Public Engagement Lecture series will be organized jointly by the Office of the President, the Department of History and the Core Humanities program at the University of Nevada, Reno. Reid lecturers will include high-profile individuals whose careers in government, public service, or community activism demonstrate the contribution of humanities disciplines to public life.
The two academic units are ideally suited to insure that the Reid Lectures have broad range and historical sensitivity. The Core Humanities program offers the University's interdisciplinary humanities course sequence that all students must take. Faculty from five different departments within the College of Liberal Arts (English, History, Philosophy, Political Science and World Languages and Literatures) cooperate to offer courses that examine the history, philosophy, cultural values, political systems, literature and artistic works that have shaped societies in every continent from ancient times to the present. Core Humanities courses impart an understanding of the historical forces that created modern, diverse human cultures and the ways these cultures are interconnected both within the United States and across nations. The Department of History encompasses scholars whose studies range from Nevada and the west to Africa and the Middle East. Their broad interests and expertise will help ensure that the Reid Lectures construe public engagement in diverse terms and global contexts.
A prominent lecture series focused on public engagement complements the goals of both programs by helping students to develop informed perspectives on the major issues confronting humanity in the 21st century. Successive speakers are both inspirational and informative, enhancing students' desire to participate in democratic processes as both American and global citizens. For so long as he might wish to be engaged, Senator Reid will participate in designing the Reid Lecturers in cooperation with the University President. The responsibility will then be assumed by a committee made up of representatives from the President's Office, department of history and Core Humanities faculty. In addition to presenting a public lecture on a topic to be determined in consultation with the committee, the Reid Lecturer will meet informally with faculty and students to discuss the rewards and challenges of careers in public service. This will allow students who have an interest in this area to gain encouragement and advice and may inspire more University graduates to consider public service as a career option.