Standard 5. Assessment and feedback
5.0: Course includes frequent and appropriate methods to assess students' mastery of content.
Consistent and regular assessments help students demonstrate their progress and reveal deficiencies. As students move through an online course, they should encounter regular assignments, activities, and interactions designed to assess how well they have mastered the learning content, and how close they are to meeting program, course, or module learning objectives.
Authentic online assessment is an essential part of an effective high-quality online learning experience. One way to design online learning assessments and evaluations of student learning/mastery is by considering approaches that are more effective and appropriate in online learning environments. For example, instead of relying on one or two high stakes multiple-choice-type exams, consider leveraging assessments that enable students to make their thinking, understanding, and learning visible to both the instructor and fellow classmates in the course for feedback and guidance. Effective practices online include opportunities for more frequent self-assessments, peer evaluation, and formative assessments.
They key to establishing an appropriate assessment strategy is first making sure that established goals are measurable, and then mapping activities back to those goals to see which best lend themselves to conveying learner mastery. According to Palloff & Pratt (2013), "A learner-centered assessment is an assessment that links what the student is learning in the course to the assessment process." Multiple choice tests and quizzes may be easy to grade, but writing assignments, collaborative exercises, case studies, and interactive discussions provide a more authentic assessment of learner mastery by requiring reflection, synthesis, and the creation of new knowledge.
Students can become lost in online courses that fail to measure mastery on a consistent or regular basis, as they have little to motivate their participation or track their progress. Mastering competencies on a regular basis within an online course helps students succeed by developing competence, understanding, and comprehension, which leads to the ability to demonstrate competence and elicit feedback (Hulleman et al., 2010).
Map out your course using the Office of Digital Learning's course map template and/or with the aid of an ODL Instructional Designer to ensure that all activities, interaction, content, and assessments are meaningful and align with course-wide and program objectives.
Explore Bloom's Taxonomy and associate resources to better understand ways to measure success through outcome drafting and alignment.
Complete the Applying the Quality Matters Rubric (APPQMR) certificate to learn more about how to assess and practice learning outcome/objective alignment with online course design.
Break complex projects/assignments down into smaller components and provide feedback at each step.
Use rubrics to articulate and provide detailed expectations for assignments and student performance.
Consider using self-assessment quizzes formatively to help students check their own understanding.
Incorporate self- and peer-assessments to promote student teaching presence and community, deepen their understanding of your rubrics, and reduce your workload.
To maximize your time and efficiency, consider where you may have opportunities to provide feedback to the entire class—be strategic in where you spend your time producing individual feedback. If you find yourself writing the same/similar feedback on a particular assessment/assignment, consider group feedback.
Review textbook companion materials for quizzes and activities that can be integrated into WebCampus.
Learn to use the grade book, grading, and rubric features within WebCampus to guide the development of your assessments, and to help you to provide rich feedback.
Prepare a Road Map of assignments and assessments in each module to visualize the balance of work that students will be taking on throughout the term.
Be explicit in instructions and guidelines about how each course activity and its assessment aligns with specific course learning objectives.
This standard can support regular and substantive interaction by including a variety of ways to assess learning, and by ensuring that students receive timely feedback on their work and course progress, and scheduled opportunities to review or discuss their work with the instructor. Some suggestions include:
Place a higher value on online course interactions and discussions than you would in your face-to-face class.
Provide students with choices in how they demonstrate their learning/mastery.
Provide opportunities for students to make their thinking and learning visible to you in ways that demonstrate how they can apply their learning and understanding. Instructors can establish this in the design of the course by providing explicit instructions and expectations, rubrics, models/examples, opportunities for peer evaluation and self-assessment, and details on how they will provide feedback, and evaluate work.
Focus on the importance of timeliness, interaction, and feedback from the instructor.
UNR Resources:
Anderson, L., & Krathwohl, D. (Eds.). (2001). A Taxonomy for Learning, Teaching and Assessing: A Revision of Bloom's Taxonomy of Educational Objectives. Longman.
Bilon, E. (2019). Using Bloom's Taxonomy to Write Effective Learning Objectives. Edmund Bilon.
Cho, M., & Cho, Y. (2014). Instructor scaffolding for interaction and students' academic engagement in online learning: Mediating role of perceived online class goal structures. Internet & Higher Education, 21, 25–30.
Faculty Focus. (2021, July 1). Assessing Online Learning: Strategies, Challenges, and Opportunities Report. Faculty Focus.
Robler, M.D., & Ekhaml, L. (2000). How Interactive are Your Distance Courses? A Rubric for Assessing Interaction in Distance Learning. Online Journal of Distance Learning Administration, 3(2).
SUNY Online Resources:
Wiggins, G., & McTighe, J. (2005). Understanding by Design (2nd ed.). Association for for Supervision & Curriculum Development. (The first edition of this text is available through the UNR Knowledge Center.)
5.1: Criteria for the assessment of a graded assignment are clearly articulated (rubrics, exemplary work).
Rubrics are recommended as a best practice for communicating criteria and achievement levels for assignments in online courses. Elikai and Schuhmann (2010) found that grading policies and associated rubrics motivated learning by associating levels of mastery and performance with a specific grade, and guiding achievement progress.
According to Worlf & Goodwin (2007), rubrics do the following:
Make learning targets clearer
Guide the design and delivery of instruction
Normalize the assessment process
Give students self- and peer-assessment guidelines
Guidelines or rubrics for the assessment of graded work should include performance criteria, setting desired performance/proficiency levels for students, and creating performance descriptions. This includes providing details for what constitutes the continuum of accomplishment, from unsatisfactory through to exemplary, and includes grades associated with each level along the continuum. Criteria for grading schemes (points and percentages) and ranges should be clear (what gets and A, B, and so on), and tie directly to the goals and objectives of the assigned work that is to be evaluated.
Showcasing exemplary work provides students with a clear example of what outcomes the assignment demands, and what mastery levels need to be reached. Before posting exemplary work, be sure to get permission from the student whose work you would like to showcase.
5.2: Students have opportunities to review their performance and assess their own learning throughout the course.
Self-assessments provide students with opportunities to check in to see how they are progressing, and often offer opportunities for students to explore more materials if they still need to master concepts or skills. Effective methods include pre-tests, self-assessments, and peer assessments:
Pre-tests allow students to better understand what they already know and where they have more to learn, helping them to focus their learning.
Self-assessment involves the reviewing of one's own work, determining what is good, and detailing what needs improvement, also playing a role in student self-efficacy and self-regulation, fostering abilities to construct meaning, and promoting metacognition.
Peer-assessment provides students the opportunity to assess the work of others and apply evaluation criteria to it in an objective context that they can then apply to their own work.
Leverage the features and functionality in WebCampus quizzes to incorporate rich incorrect answer feedback in all pre-tests, self-tests, quizzes, and tests. Doing so enhances the students' ability and opportunity to self-correct. It can also be used to direct students to look further into specific course content, materials, to clarify understanding.
Include a non-graded pre-assessment, such as a "Test Your Knowledge" quiz at the beginning of each module to help guide and focus student learning efforts.
Incorporate K-W-L Charts that ask students to provide information about what they Know and Want to Know about the module topic before working through it, and then direct them to return to the chart with what they Learned after completing the module.
Provide clear guidance on what students should provide in any reflective exercise, including writing style samples, questions/prompts to consider in their reflections, and objectives that they should be taking into consideration.
Ask students to rate their own participation in the discussion forum, considering questions related to what they contributed, as well as what they chose not to contribute.
5.3: Students are informed when a timed response is required. Proper lead time is provided to ensure there is an opportunity to prepare a time accommodation for qualified students.
Students need clear guidance on when learning activities and assignments are due, and what they need to do to meet those deadlines. Providing guidance on when timed responses are required enables them to anticipate workload and be better organized. It is also helpful for student services like the Disability Resource Center to help the student ensure accommodations are being made when requested.
Sample test overview information from a syllabus provided by Core Humanities. Note that it includes the days and times the test is due, the time limit of the test, whether it is proctored, if multiple attempts are allowed, and more: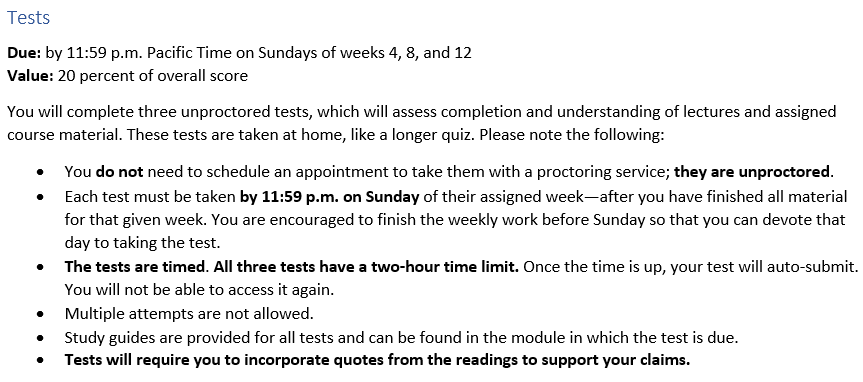 5.4: Students have easy access to an up-to-date gradebook.
By providing easy access to an up-to-date gradebook, instructors give students the ability to check in on their progress continuously throughout the course term. The added functionality and reporting features enable instructors to review and analyze the gradebook, as well as create reports on student progress and course completion. The instructor's plan for timely grading and feedback, and expectations for receiving grades and feedback are clearly communicated to students.
The WebCampus Gradebook provides the opportunity to automate, customize, and share grades and feedback with students with relative ease. Students also frequently visit and employ the features of the My Grades tool and expect an accurate and current gradebook throughout the semester. By providing this for students, instructors enable them to check their own progress throughout the semester, which benefits them by seeing which assignments and other graded activities they have not turned in yet.
Below are helpful tips and reminders when grading online assessments:
Attend an Office of Digital Learning workshop on how to get the most out of the Gradebook.
Avoid sending students to multiple locations to see their grades. Sync third-party homework managers with the WebCampus Gradebook.
Notify students when you post grades and explain how you graded. This is an important step because many students do not click on the assignment to view your feedback if they're not told to do so. Additionally, reminding students in the first few weeks of class will make sure that they receive your feedback and will make your time and effort worth it.
Keep an accurate gradebook by inputting zero grades for missing assignments. In order to keep the Total column accurate, you must enter something in the WebCampus Gradebook for all assignments.
View the Canvas Guides "How do I set a default grade for an assignment?" for instructions on default grades.
Use the SpeedGrader Comment Library (video) feature of the Gradebook to provide detailed feedback.
Speak directly to your students by providing audio and video comments on their work.
5.5: Students have multiple opportunities to provide descriptive feedback on course design, course content, course experience, and ease of online technology.
Providing mechanisms where students can offer feedback to the instructor and/or the academic department on navigation, access, and the overall learning experience can guide better design choices to support student success while the course is in progress. Students immersed in the online experience can provide useful feedback on their experience, particularly related to course design and delivery. Additionally, students should have a means of reporting issues, in doing so, they can share in solutions and insights.
Midsemester Evaluation questions:
What are the most important things you have learned so far in this class?
What don't you think you understand well enough yet?
What do you need to do in terms of understanding the material between now and the end of the semester?
What suggestions do you have for improving the course?
Did any of the technologies used help or hinder your learning experience? How so?
Muddiest Point or How's It Going questions:
How is it going?
Are you progressing at the pace at which you thought you would progress?
Are you happy with how much time and effort you are putting into learning?
Do you know where to find your grades? Are you happy with your grades? Do you know why you are getting the grades you are getting? Do you know what to do to continue getting good grades or what to do to improve your grades?
What do you need help with?
What are you unclear about?
Incorporate learning activities that ask students to reflect and express what they are learning, how they know they are learning, and what is helping or hindering their learning using a poll, journal, blog, etc.
Set up an online forum-based Suggestion Box to collect informal feedback.
Distribute a survey, or poll to collect descriptive feedback from students at mid-term and again the end of the course term.
Set up a Muddiest Point or "How's It Going?" survey that asks students to share three things that they like about the course, and three things that are not working well for them after a few weeks into the course. Repeat this activity at mid-term, and again at the end of the course term.
Include a discussion forum to collect feedback at the end of a learning activity and require participation as part of the overall activity grade.
Invite students to participate in the full course review process.
Ask your students to provide advice to future students.
Aragon, et al. (2000). "The Influence of Learning Style Preferences on Student Success in Online vs. Face-to-Face Environments." American Journal of Distance Education, 16(4), 227–243.
Crews, et al. (2017, June 5). Student Feedback on Quality Matters Standards for Online Course Design. EDUCAUSE Review.
Crisp, E. (2020, June 1). Leveraging Feedback Experiences in Online Learning. EDUCAUSE Review.
Flaherty, C. (2015, June 10). Flawed Evaluations. Inside Higher Ed.
Li, N., Marsh, V., & Rienties, B. (2016). Modelling and Managing Learner Satisfaction: Use of Learner Feedback to Enhance Blended and Online Learning Experience. Decision Sciences Journal of Innovative Education 14(2), 216–242.
Ryalls, K. (2016, April 22). From Futile Reviews to Meaningful Student Feedback. EdSurge.
Tedeschi, M. (2021). From Classroom to Online Education—An Educators Insights. 28th Conference on Pattern Languages of Programming (PLoP).