Course development team
Each Faculty Course Developer is paired with an Instructional Designer, an Instructional Technologist, and a Librarian. At the conclusion of course development, your course will be reviewed by the University's Quality Assurance Officer.
What we do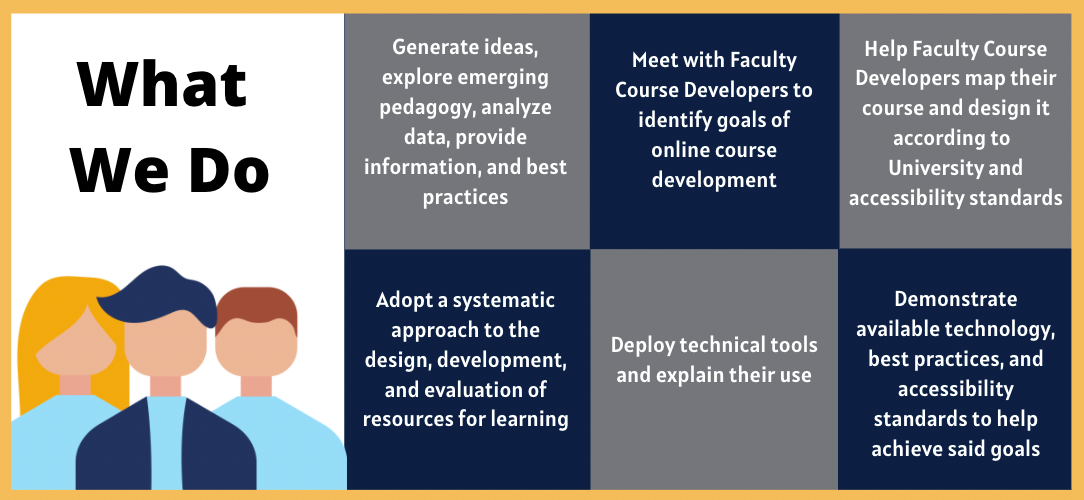 Your course development team generates ideas, explores emerging pedagogy, analyzes data, and provides information and best practices. We meet with Faculty Course Developers to identify goals of online course development and deploy technological tools and explain their use. In focusing on the systematic design, development, and evaluation of processes and resources for learning, we help Faculty Course developers map their course and design it according to University and accessibility standards. Finally, we demonstrate available technology, best practices, and accessibility standards to help achieve said goals.
Instructional Designer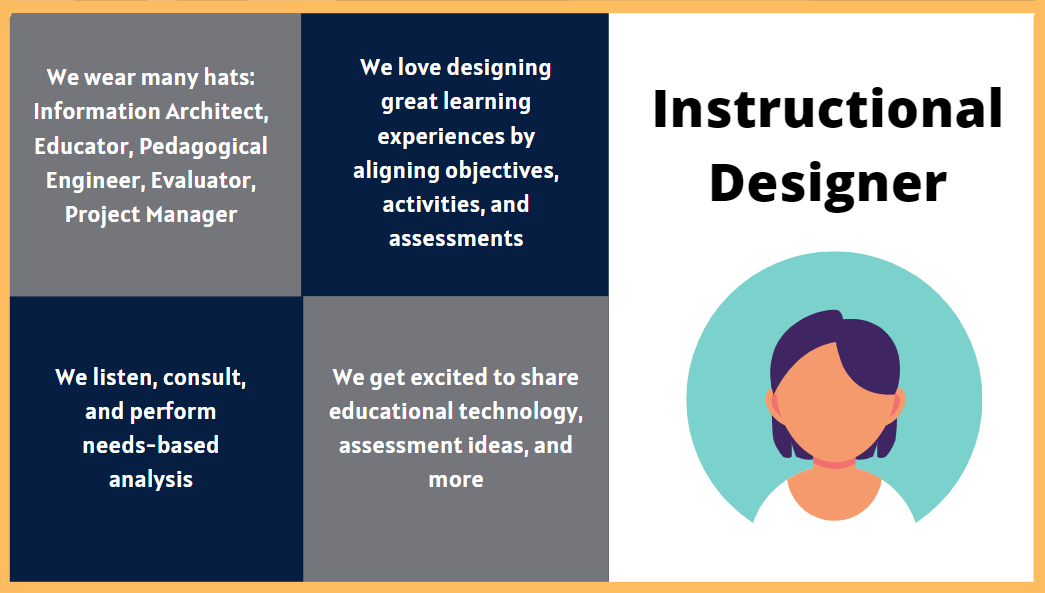 Your Instructional Designer wears many hats: Information Architect, Educator, Pedagogical Engineer, Evaluator, Project Manager. We love designing great learning experiences by aligning objectives, activities, and assessments. We hold many certifications and listen, consult, and perform needs-based analysis. Finally, we get excited to share educational technology, assessment ideas, and more.
Instructional Technologist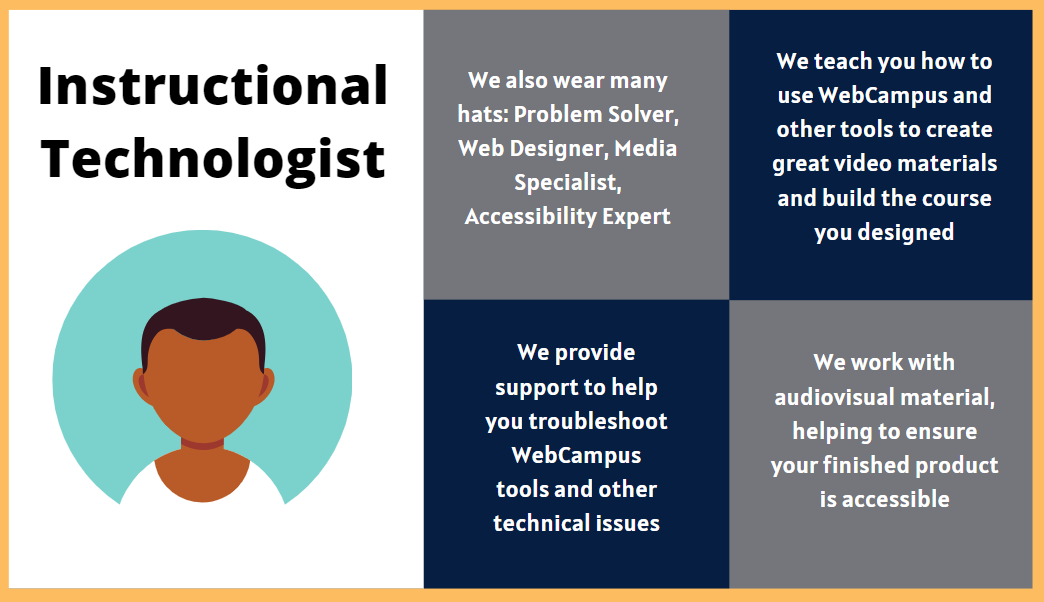 Your Instructional Technologist also wears many hats: Problem Solver, Web Designer, Media Specialist, Accessibility Expert. We teach you how to use WebCampus and other tools to create great video materials and build the course you designed. We provide support to help you troubleshoot WebCampus tools and other technical issues and work with audiovisual material to help ensure your finished product is accessible.
Librarian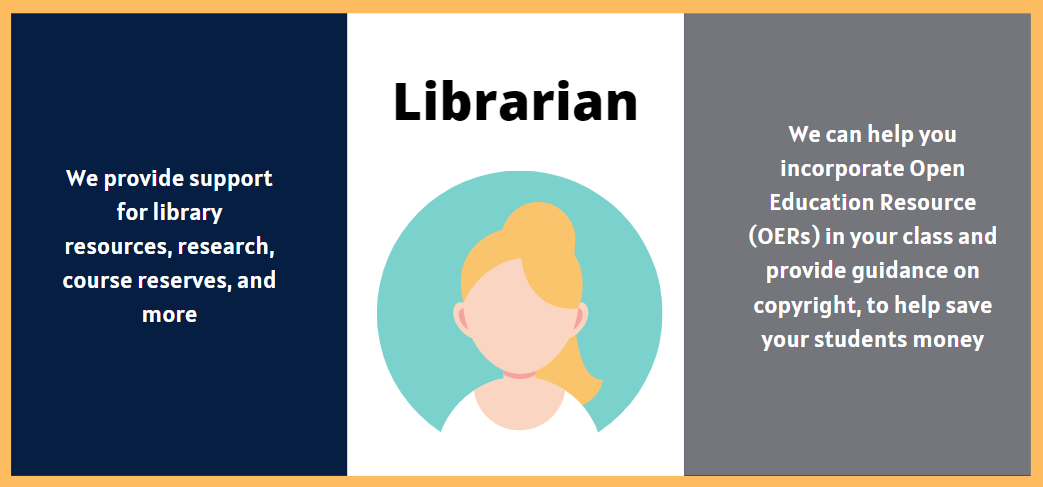 Your Librarian provides support for library resources, research, course reserves, and more. We can help you incorporate Open Education Resource (OERs) in your class and provide guidance on copyright, to help save your students money. We can also direct you to great resources on your course subject matter.
Quality Assurance Officer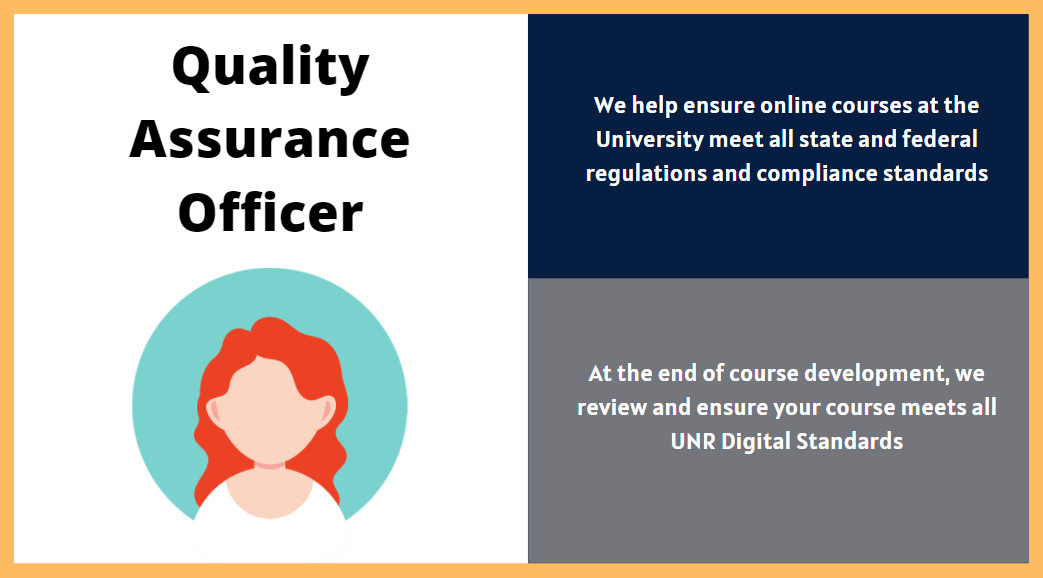 The University's Quality Assurance Officer helps ensure online courses at the University meet all state and federal regulations and compliance standards. We step in at the end of course development to review and ensure your course meets all UNR Digital Standards and is approved to be offered.
Questions?