About our College
A founding college of the University, we have a long tradition of excellence in teaching, research and engagement programs that benefit the health and economic vitality of Nevada. We offer programs in:
agriculture, horticulture, rangeland and veterinary sciences
biochemistry and molecular biology
children, youth and families
community and economic development
health and nutrition
natural resources and environmental science
University scientists conduct, shed light on microbiome research to help impoverished children grow
Changing children's digestive tract microbes key to reducing disease, improving health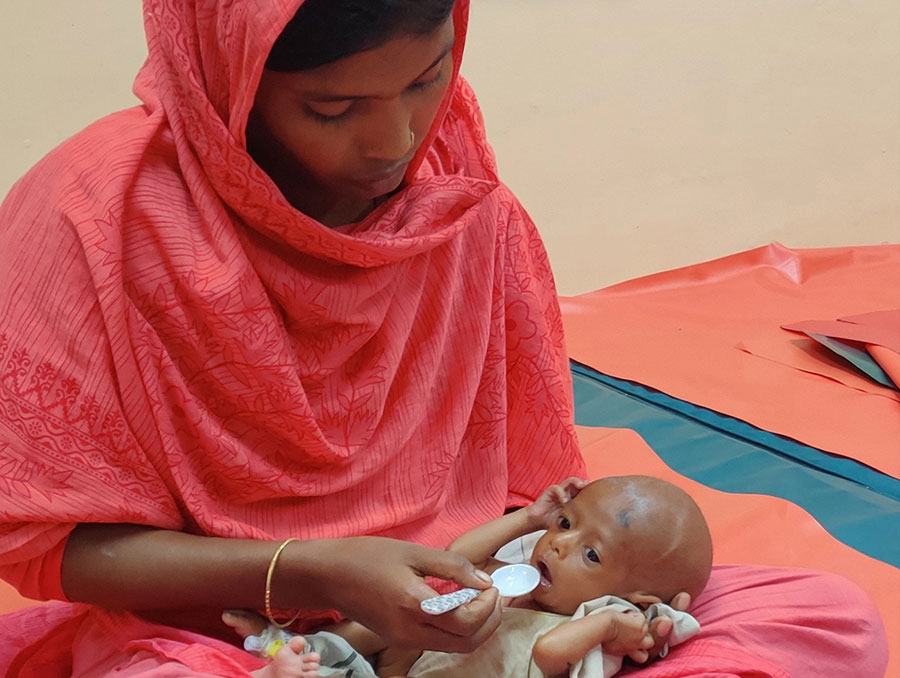 Recent research in Bangladesh by University Assistant Professor Steven Frese shows that treating severely malnourished infants with the probiotic strain Bifidobacterium infantis helps them grow. Photo by Ridwan Islam, International Centre for Diarrhoeal Disease Research, Bangladesh.

Millions of children worldwide experience diarrheal infections that cause malnourishment and stunted physical and mental growth. This is a problem not only for the children, but also on a larger scale. A country's children are its future workers, including its leaders and inventors. When one suffers, so does the other.
University Assistant Professor Steven Frese, with the College, is working to help. He recently published a study in Science Translational Medicine with scientists from around the world. The research shows that a specific probiotic strain, a live bacterium that lives in the body, helps severely malnourished Bangladeshi infants grow.
Frese also wrote an American Journal of Gastroenterology invited opinion with a colleague from the University's School of Medicine, Dr. Mark Riddle. The pair's paper summarizes existing research on the microbiome, malnutrition and stunting. It explains that at-risk children's downward spiral of infection, gut dysfunction and malnourishment has far-felt effects. And, changing the children's gut microbiome, the collection of bacteria, fungi and other microbes that live in the digestive tract, helps prevent this spiral that leads to malnourishment.
Steven Frese named Early Career Innovator for contributions to life-saving nutrition for infants
Necrotizing enterocolitis is one of the most common causes of death for preterm infants. A solution in the form of a liquid probiotic for preterm infants has been developed and launched commercially largely due to the work of Steven Frese, an assistant professor in the College.
"Families went home with their kids because of the work we did. When I started thinking about it, I got a little choked up," he said. "To go from the basic discoveries to helping get hospitals to adopt the product is a really unique [experience], and it's one that's been really rewarding. I get to see the full lifecycle: from discovery to impact. I feel really lucky to have been a part of that."
Developing solutions for people
"The positive outlook on stunting is that we have an idea of how to solve it. These solutions are challenging to develop, but the early work is promising. We'll get there, to a fast, cheap and easy solution for people." -Assistant Professor Steven Frese
Off-season cattle grazing to help control fire danger from invasive cheatgrass
New University study utilizes supplemental feeding to attract cattle to infested pastures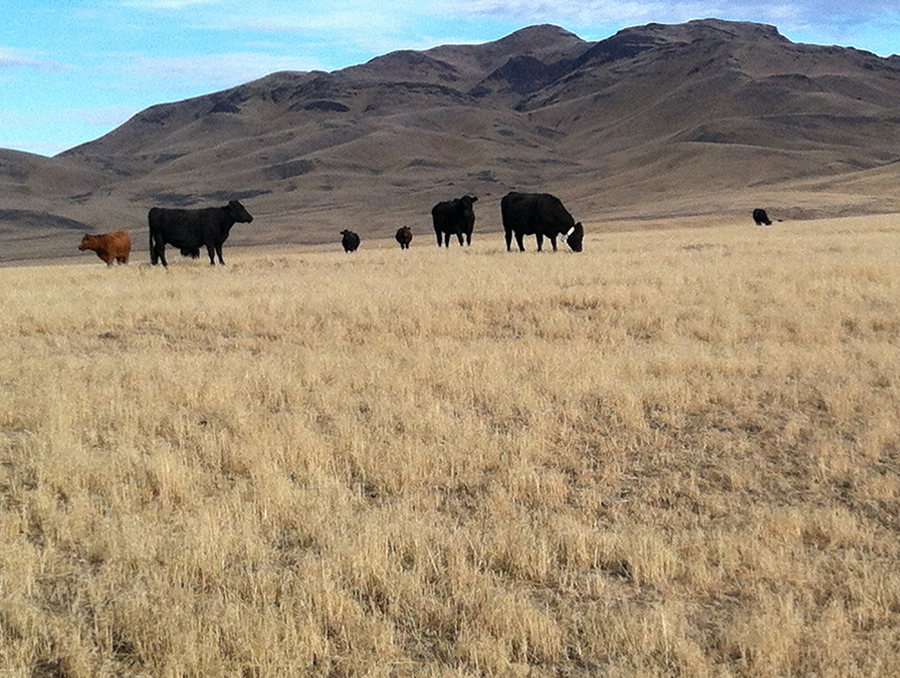 Scientists at the University have discovered that fire danger can be reduced through the application of targeted cattle grazing in the dormant growing season by attracting the cattle with feeding stations containing liquid protein feed supplements.
Cheatgrass, an invasive annual grass that has invaded Nevada rangelands, is responsible for much of the increasing wildfire danger in the Intermountain West. However, scientists at the University have discovered that fire danger can be reduced through the application of targeted cattle grazing in the dormant growing season by attracting the cattle with stations containing protein feed supplements.
"Our work establishes that protein feed supplements in the fall and early winter can attract cattle to locations dominated by cheatgrass, significantly reducing the standing fine-fuel biomass by more than 50%, while making room for native grasses to grow," Professor Barry Perryman said.
One of the greatest ecological threats to ecosystems of the Intermountain West has been and will continue to be invasive annual grasses. Strategic supplementation provides a valuable tool to target cattle grazing at specific locations within cheatgrass-invaded systems to reduce fine fuel buildup during the dormant season, according to the study published in Elsevier's journal Rangeland Ecology and Management.
Authors of the journal article include Perryman, with the College's Department of Agriculture, Veterinary & Rangeland Sciences and also part of the College's Experiment Station unit, and Brad Schultz, professor in the College's Extension unit.
Reducing the fuel for fire
"Cattle can be concentrated on cheatgrass during the fall, using supplementation as a tool. Reducing the amount of cheatgrass fuel carryover may effectively reduce the amount of total fuel available during the next year's fire season. If several hundred pounds per acre of cheatgrass can be removed during the fall, through cattle grazing, that is several hundred pounds that will not be added to the next year's fuel load." -Professor Barry Perryman
Nevada volunteer honored in national awards for over three decades of service to 4-H youth
4-H volunteer Linda Zimmerman was named 4-H Western Region Outstanding Lifetime Volunteer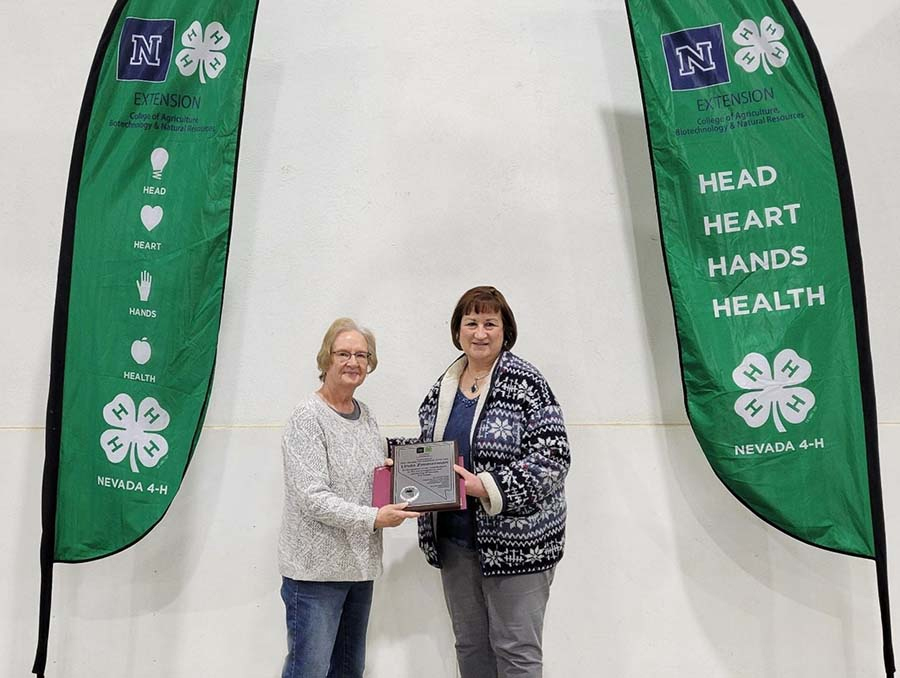 Prior to her recent award, Linda Zimmerman (left) was awarded the 2021 Nevada 4-H Volunteer of the Year by Sue Hoffman, executive director of the Nevada Agriculture Foundation.
Nevada's Linda Zimmerman, a 4-H volunteer for Extension for over 34 years and a University alumna, is one of only four 4-H volunteers nationally to have recently been named a 4-H Outstanding Lifetime Volunteer. Zimmerman was named the 4-H Western Region Outstanding Lifetime Volunteer as part of the 4‑H Salute to Excellence Awards for her dedication and service to Extension's Washoe County 4-H Horse Program and support of youth statewide.
Participating in the 4-H Youth Development Program as a youth herself, Zimmerman went from being a club member to being the parent of 4-H youth, and then a 4-H club leader and a 4-H Leaders' Council member. Her positive impact on youth in her club has inspired many past participants to enroll their own children in the program, and to become 4-H leaders themselves.
Having earned her doctoral degree in social psychology from the University, she is interested in trying new strategies for engagement and retention, while supporting youth and their families in figuring out how best to participate in clubs and activities.
Finding ways to overcome struggles
"Linda understands some youth may struggle in different areas as they join 4-H or try to engage in activities or projects. She goes above and beyond to assist them, finding a way to help them with extra time, resources and meetings to overcome their struggles. She exemplifies positive youth-adult partnerships." -Extension 4-H Director Carrie Stark
Environmental science student-researcher wins Regents' award for notable accomplishments
Nicole Choma reflects on how experiences in undergraduate research, marching band and other scholarly activities have enhanced her college journey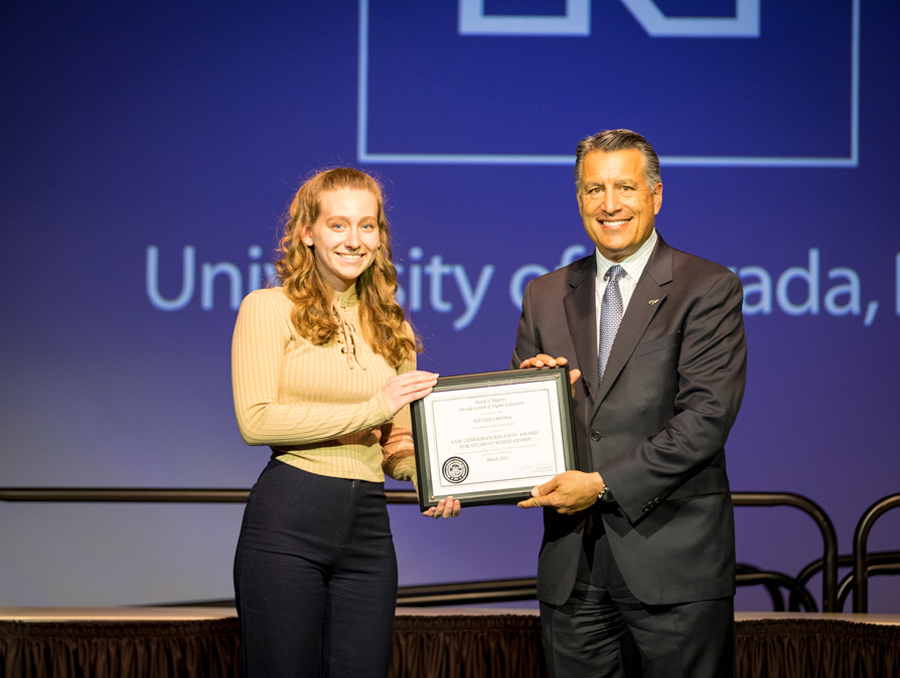 Nicole Choma received the Sam Lieberman Regents' Award for Student Scholarship at the 2022 "Honor the Best" ceremony.
As environmental science major in the College Nicole Choma wrapped up her third year at the University this May, she received the Sam Lieberman Regents' Award for Student Scholarship. Choma, an Honors College student also majoring in biology, won the award due to her outstanding student achievements, including her impressive and ongoing undergraduate research projects and participation in the Wolf Pack Marching Band.
Choma was surprised when Mae Gustin, a professor in the College, reached out and wanted to nominate her for the award. The support Choma received from Gustin and other mentors in Gustin's lab gave Choma many opportunities to develop valuable professional skills and feel more comfortable in a laboratory setting.
Sarrah Dunham-Cheatham, director of the College's Experiment Station unit's Core Analytical Laboratory, mentored Choma in funding, creating, designing and presenting her own research. Choma's research project is investigating the absorption and desorption of mercury from microplastics and the aquatic ecosystem.
She said, "Outside of the impacts of microplastics, we should know if there's anything being carried on [them], because that can change how we think about what's going into our bodies, what's going into our food, what's going into our plants."
Fostering skills in students
"The process that you go through in undergraduate research – designing your project, working with a mentor, doing your project, writing it up, making a poster or making a presentation – really benefits you as a student and gives you a ton of extra skills." –Nicole Choma
Sign-ups being taken now for preliminary Master Gardener training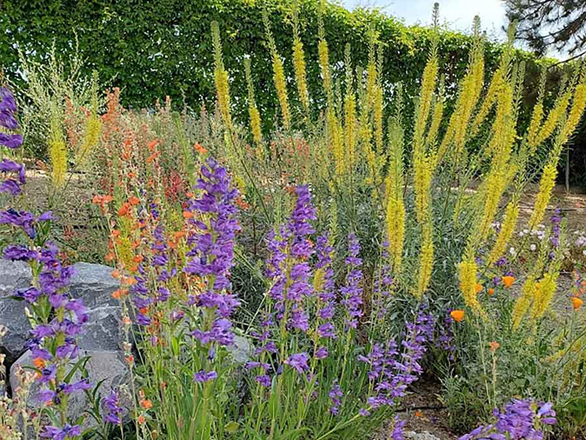 For those wanting to tune up their landscaping skills or who may be interested in becoming a Master Gardener volunteer, it's time to sign up for the Home Horticulture Certificate Program, offered online, Aug. 4 – Sept. 29, by Extension.
Besides the program being solid training for those just wanting to brush up on their horticulture knowledge to tend to their own landscapes and gardens, the Home Horticulture Certificate Program is also a prerequisite for those wanting to continue training to become a certified Master Gardener of Nevada.
Save the date | Nevada Field Day to be held in Reno
Sept. 17
At Nevada Field Day on Sept. 17, visitors will be treated to a variety of free activities and giveaways, and even some tasty food samples, courtesy of our College and its Experiment Station research and Extension outreach units.
The event will feature hands-on activities and information focusing on the latest advancements in agriculture, horticulture, nutrition, natural resources and the environment. It will be held 10 a.m. – 2 p.m. at the College's Main Station Field Lab, 5895 Clean Water Way in Reno.
Experiment Station Director Chris Pritsos said, "The activities at this event, besides being a lot of fun, really help people understand how we serve Nevadans by blending the teaching, research and outreach missions of the University."
Delivering educational events
We deliver FREE and low-cost hands-on science-based educational events in your county on topics important to you.
Our programs work together to make an impact
Our teaching, research and engagement programs are intertwined and complement one another. Faculty who teach on campus also conduct research as part of our Experiment Station, allowing students to learn about and participate in research. Extension faculty engaging with communities identify research needs, as well as join Experiment Station faculty to conduct research. Faculty on campus help to develop Extension programs in communities.
Researching critical issues
Experiment Station faculty conduct research at experiment stations, labs and research facilities across the state, as well as teach classes and share and conduct research with students. The state-federal partnership tackles issues affecting Nevada's citizens, communities and economy.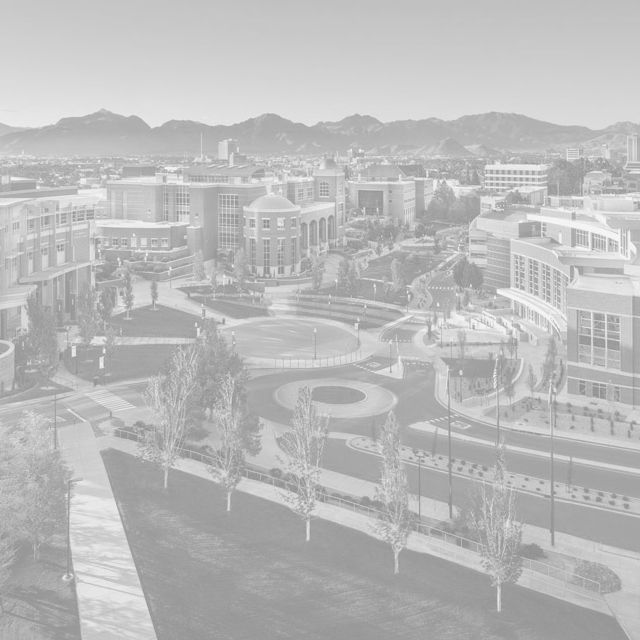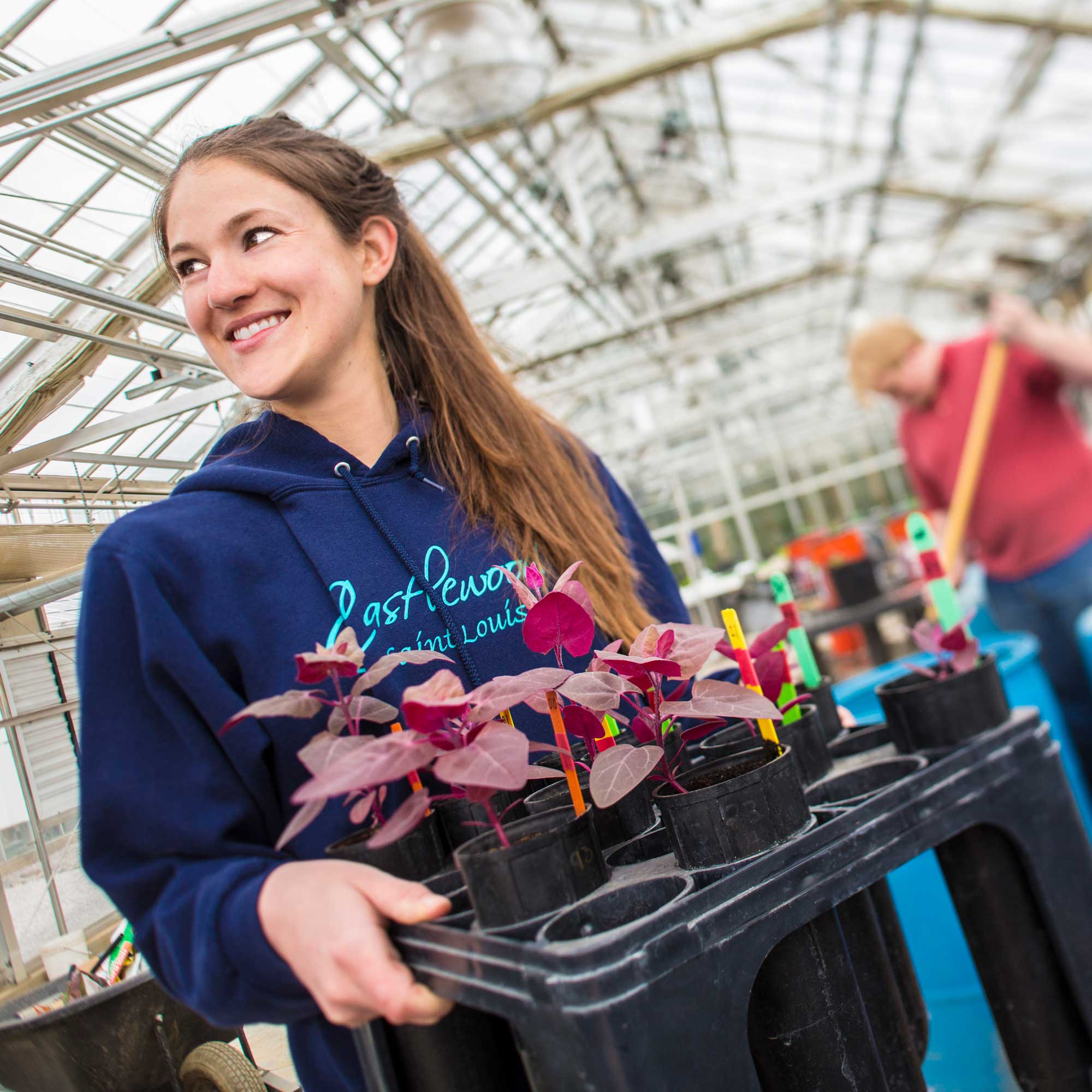 Teaching University students
We offer 17 undergraduate and graduate degrees to prepare students for high-paying, in-demand careers in agriculture, rangeland & veterinary sciences; biochemistry & molecular biology; natural resources & environmental science; and nutrition.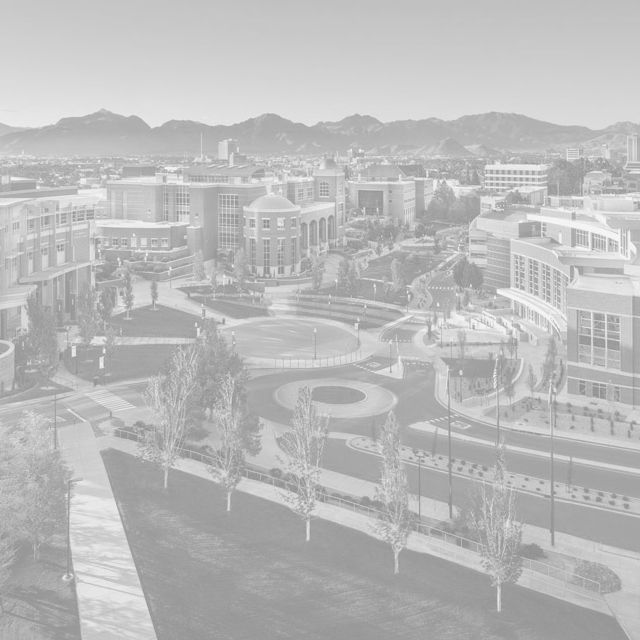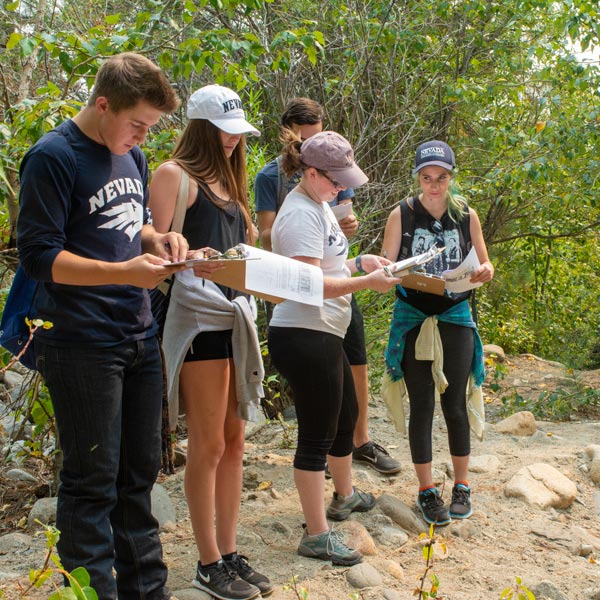 Engaging Nevada communities
Extension is engaged in Nevada communities, presenting research-based knowledge to address critical community needs. The county-state-federal partnership provides practical education to people, businesses and communities, fulfilling the University's land-grant mission.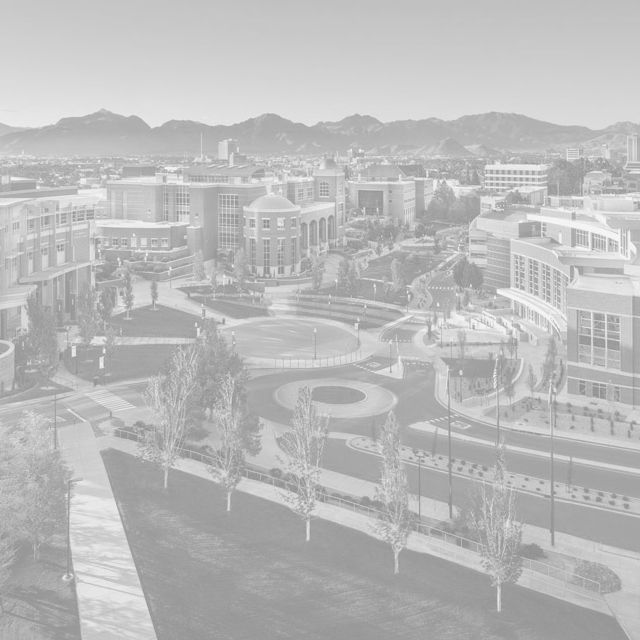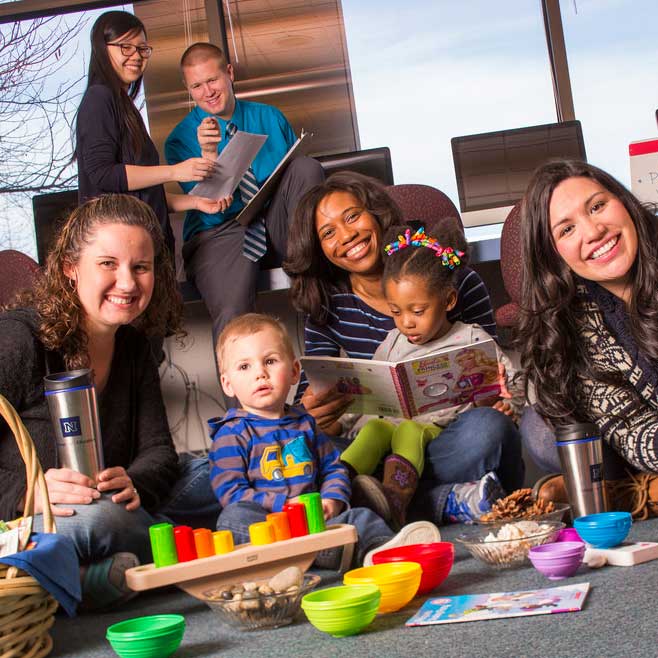 Want to help innovate for Nevada?
Consider making a contribution in support of classroom, lab or office space; graduate assistantships; student scholarships; or upgrades to Nevada 4-H Camp. To learn more, please contact Executive Director of Development Zack Madonick.